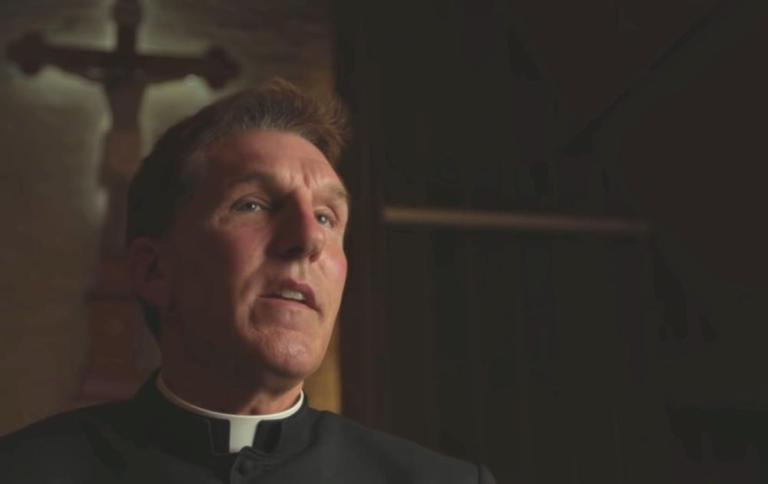 Credit to Mike Lewis, the editor of the Where Peter Is blog, for breaking the news last night that Father James Altman's bishop has asked that he resign his position as pastor of St. James the Less Church in La Crosse, Wisconsin.
Lewis transcribed Father Altman's homily on Pentecost Sunday, in which the controversial outspoken priest tells his parishioners that Bishop William Callahan of La Crosse had asked him to step down this past Friday for being "divisive and ineffective."
As this video of his homily shows, Father Altman was defiant.
"I am not the ineffective one. I am not the one disrespecting my office. They [the bishops] have done a great job being divisive. They have done a great job of being ineffective and they have done a great job of disrespecting their office all by themselves, without any help from me," Father Altman said.
He goes on:
"I've had it with anyone who says to me, oh, you have to have respect for the office. Like as if we cannot complain about bad management, or in the case of the rampant feardemic church lockouts, godless management. Dear family, it's not you or I who are disrespecting the office. 

The shepherds who locked the people out of the churches and denied access to the sacraments have disrespected their office more than we possibly could. Again, we are not the ones disrespecting the office. They are, and we need not sit idly by while they do."
"Across this whole United States, even around the world, they [the bishops] are the ones who have abandoned their sheep and disrespected their office. And the great martyr Saint Maximilian Kolbe said our duty to obey them ends when they, in even the slightest way, would contravene God's law."
"But to paraphrase the great, great Cardinal Burke. When I die, I will stand in judgment before the Lord, not any Bishop of the church, nor as the great Cardinal Burke specifically said, the USCCB."
 Father Altman  also claimed his enemies in the hierarchy want his "head on a platter" for "speaking the truth." He declared that"no good Catholics" are criticizing him; just the "pansy babies" who are looking to "cancel" him.
Said Father Altman, "And that is why they despise me because that is the truth and the truth hurts. So dear family, if I had any words to give you as a gift, perhaps a parting gift on this Pentecost, those words are thank you."
Father Altman added that, through his canon lawyer, he will be appealing his bishop's order:
"And I say all this only because I'm no expert on Canon law, but I understand only that while we are contesting Bishop's request (and we are) he could in theory appoint a parish administrator whilst I remained a pastor without duties until the appeal goes through Rome, 

which could take upwards of a year or more. I speak only on my understanding of what could happen, not what will happen, but if what could happen actually happens, then I truly do not know how much longer I will get to serve you."
He got in one last shot at the novel coronavirus pandemic, which he has called the "fear-demic" in bulletins and homilies:
"If this alleged virus was allegedly a fraction as dangerous as I said, it was all the more reason to keep our churches open and get you the sacraments so that you stayed in a state of grace. They put your eternal souls at risk! They despise me for speaking that simple truth." 
Reminder: More than 3.6 million people
have died
worldwide from COVID-19 in the past year, almost 590,000 people in the United States.
Those who have followed the controversial Father Altman in recent months are probably not surprised that things have escalated to this point. Last fall, he appeared in a slickly-produced video warning Catholic viewers that they were hell-bound if they pulled the lever for Joe Biden, a Democrat who supports keeping abortion legal.
The La Crosse Tribune – the local newspaper that Father Altman tauntingly referenced in his homily for raising his profile – reports today that the news of Bishop Callahan's order "has prompted response from both supporters and opponents" of the controversial priest:
An online fundraiser with a goal of $20,000 was started to help Altman with his legal defense against the Diocese on a Christian crowdfunding site that had garnered more than $50,000 in donations as of Sunday night.
"Thank you Father Altman. Please do not abandon us. And if the time comes when they do fire you father, please get in touch with us here," one YouTube comment read from a profile named "Conservative Lady of California."
The Tribune also reports that Faithful America, an online Christian group, issued a statement today praising Bishop Callahan:
"None of Altman's hateful words or dangerous actions speak for the Gospel of Jesus Christ, and now Bishop Callahan has thankfully made it clear that Altman does not speak for the Catholic Church, either," Rev. Nathan Empsall, director of Faithful America.
"We pray for all who have fallen victim to the lies and bullying of false prophets like James Altman, and we encourage all our siblings in Christ to receive a safe and effective COVID-19 vaccine as soon as they can," Empsall said.
Meanwhile, Bishop Joseph Strickland of Tyler, Texas – the outspoken prelate who has also posted misinformation about COVID-19 vaccines and last fall endorsed Father Altman's "You Can't be a Catholic and be Democrat" video – took to Twitter this morning to defend the Wisconsin priest from his own bishop:
Fr James Altman is in trouble for speaking the truth. I originally supported him when he spoke bold truth during the election. I continue to support him for speaking the truth in Jesus Christ. He inspires many to keep the faith during these dark days. Let us pray for him.

— Bishop J. Strickland (@Bishopoftyler) May 24, 2021
UPDATE: Father Altman will be appearing this afternoon on the traditionalist firebrand Taylor Marshall's YouTube show to talk about his situation.