I share many concerns about the new Knights of Columbus Fourth Degree uniform (pictured to the left). Not only is the beret bulky and in need of being formed, but the uniform overall resembles that of the Royal Canadian Legion.
For those unfamiliar with the Royal Canadian Legion, it is Canada's largest membership-based organization for veterans, serving military, and their supporters. Its closest U.S. equivalent would be the American Legion.
The Canadian Legion uniform–which members have worn proudly as long as I can remember attending Remembrance Day ceremonies and other events for veterans–is pictured below.
Here in Canada, it is not uncommon for male Catholic veterans to belong to both organizations. As the Fourth Degree is also the "Patriotic Degree" within the Knights of Columbus (KofC), its members often mix with those of the Royal Canadian Legion at public or social events. They will form up by organization at events celebrating national pride like Canada Day, or memorial services commemorating Canada's fallen like Remembrance Day. Previously, one could identify the participation of each organization by the distinctive dress of their members.  This will no longer be the case once the new Fourth Degree uniform comes into full effect.
Embarrassingly, I have allowed my membership in both organizations to lapse. It was not intentional. Each organization serves a valuable purpose. I continue to recommend each organization and support their aims and objectives.  Whenever possible I attend local events organized for the wider community with my family. However, somewhere in the busyness of two moves, managing a family of nine, numerous other church and job responsibilities, and two additional university degrees, my membership in both organizations lapsed. First I forgot to transfer my membership to a new city, then I forgot to renew it. (Although this year I caught up on my Knights of Columbus 3rd Degree dues, now that my home council provides the option of online payment.)
I planned to catch up on my dues with both organizations this summer, once our family settled from another move due to my taking a new position. Restarting my membership in the Legion would not be difficult, I was told. Especially as the Legion is always seeking younger members.
In contrast, I am reconsidering the renewal of my membership in the Fourth Degree.  I simply am not comfortable with how closely the new uniform mimics that of the Royal Canadian Legion. The potential for the public to mistake KofC for serving or retired veterans–especially at civic or public social functions–is too great. Already, there have been several incidents online and elsewhere of Fourth Degree knights being mistaken for Canadian veterans, or veterans sporting the Legion uniform being mistaken for knights in the new Fourth degree uniform. In my opinion this is not fair to members of either organization.
Unlike some other Fourth Degree knights, I will not be resigning from the Third Degree. The KofC's volunteer work and fundraising at the Third Degree level remains invaluable to the functioning of many local parishes. All other things being equal, there is no danger of Third Degree knights being mistaken for serving military, Canadian veterans, or members of Canada's largest veteran organization. Additionally, I will not be cancelling my KofC life insurance policy for the same reason.
Yet, while disagreeing with their decision, I can understand why some brother knights feel so strongly about the uniform change as to withdraw completely. The rich history and distinctive look of the Fourth Degree regalia being replaced is one cherished beyond the KofC. Not only by Catholics in the Church-at-large, but within the community as well.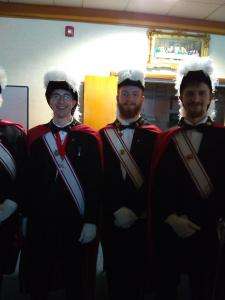 My own children were never inspired by the Legion uniform when they were younger. Only once they were old enough to join Canada's cadet programme did they begin to appreciate the value and the sacrifice of what the Legion uniform represents.
In contrast, they have always loved the colour and the pageantry of the current Fourth Degree uniform. It sparked their curiosity about the KofC and what the knights do. I imagine it is the same with these young Fourth Degree knights pictured.  They look much more sharp and colourful in cape and chapeau than they would imitating Canadian veterans.