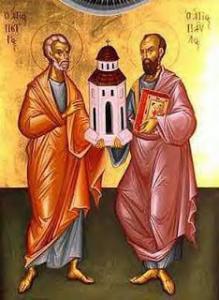 Pope Francis has released his f
raternal greeting
to Ecumenical Patriarch Bartholomew on the Feast of St Andrew the Apostle according to the Byzantine Calendar. The statement was read during the Divine Liturgy offered by the Ecumenical Patriarch. This is an important feast for Eastern Orthodox and Byzantine Catholics. St Andrew, the first of the 12 apostles Christ called, is also the founder of the See of Constantinople.
Historians often refer to the mutual excommunications of 1054 as the catalyst for the Great Schism between Catholic and Orthodox Churches. Many Christians are unaware the excommunications was one between persons and not Churches. The excommunications were lifted almost immediately as they were deemed invalid according to the canons of the Latin Church, and I believe the Greek Church as well.
Unfortunately, there had been a number of growing tensions between East and West.  Thus to Church historians the mutual excommunications came to symbolize the 350-year process through which communion broke down between Rome and Constantinople. Basically from the Photian Schism (863-867) to the Sacking of Constantinople (1204).
So where we are today in our relationship between Rome and Constantinople? I think Pope Francis summed it up well yesterday in his public letter to Patriarch Bartholomew commemorating the Feast of St Andrew the Apostle:
Our Churches have safeguarded the Apostolic tradition with great care, along with the teaching of the first Ecumenical Councils and the Church Fathers, despite the differences that developed in local traditions and in theological formulations, which need to be more deeply understood and clarified. At the same time both Churches, with a sense of responsibility towards the world, have sensed that urgent call, which involves each of us who have been baptized, to proclaim the Gospel to all men and women. For this reason, we can work together today in the search for peace among peoples, for the abolition of all forms of slavery, for the respect and dignity of every human being and for the care of creation. With God's help, through encounter and dialogue on our journey together over the last fifty years, we already experience being in communion, even though it is not yet full and complete.
In short, Catholic Churches and Orthodox Churches Churches are sister Churches that share a common Apostolic Tradition. Yet we often express it differently. Our differences in expression need to be clarified and more deeply understood as we work together to proclaim Christ to a broken world. The ecumenical good will following the Second Vatican Council included a symbolic mutual lifting of excommunications. This restored a level of communion between our Churches. However, we are still working towards full communion.
St Peter & St Andrew, pray for us!