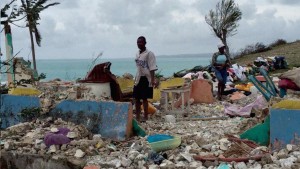 A man and a woman pick through rubble of a home in Ile-a-Vache after the passage of Hurricane Matthew. The island of 10,000 people suffered massive damage to homes. Foto: Samuel Altema | Univision
As Patheos readers and writers of many faiths the news out of Haiti triggers a considerable amount of compassion rooted in our collective belief in the importance of faith as a catalyst for helping those in need. Yet, after years of stories of relief funds being squandered by major relief organizations it is hard to know how to insure our efforts really benefit those in need.
History has demonstrated that the most effective organizations in relief zones are those that are small, have low overhead and had a presence prior to the disaster. One such organization is the:
 Good Samaritan Foundation of Haiti, Inc.
click above to donate
This organization has been doing great work building and funding a school, and engaging in projects like a Micro Credit Program, Sewing program, Dental Hygiene and Education Program. Their commitment to cost containment has been demonstrated by their volunteer flotilla's that deliver supplies from the Virgin Islands avoiding expensive cargo charges and delivering direct aid.
On a small island,  Ile-a-Vache , just off the coast of Haiti their efforts have enriched the lives of the more than 10,000 inhabitants. Unfortunately the island of was also in the direct path of hurricane Matthew. Today the destruction is massive and the islanders supply lines for food, water and supplies have been compromised. Please check out this great organization!
Whatever faith channel you follow please review this organization, its secular efforts of relief and consider making a donation, noting that you are a Patheos reader.
This is a call to action for our collective Patheos faith communities. Let us manifest an effort made up of people of all faiths to make a meaningful difference for those in need. Readers and Pathoes writers can find images of the destruction in Ile-a-Vache at:
http://www.univision.com/univision-news/environment/in-photos-southwest-haiti-after-hurricane-matthew-fotos
If Patheos readers and writers of all faiths band together we can make a difference!
Please feel free to repost this information to other blogs with or without credit to the author. The point is compassion in action from our collective and diverse faith community!
Note:
The information in this post comes from a Patheos blogger who has been a National Disaster Team member for many years. He also responded to the Earthquake in Haiti as a medical provider and is a former Board Member of 100% for Haiti.