(Note from Megan – apologies for no news round-up last week. This is a slightly earlier one which I hope makes up for this in part)
Top stories in Paganism and Shinto this week and last week:
Pagans warned of fraud connected to Summer Solstice Stonehenge livestream
Famous Shinto shrine to leave governing body
Lady Liberty League celebrates 35th anniversary of Pagan advocacy
Read more below…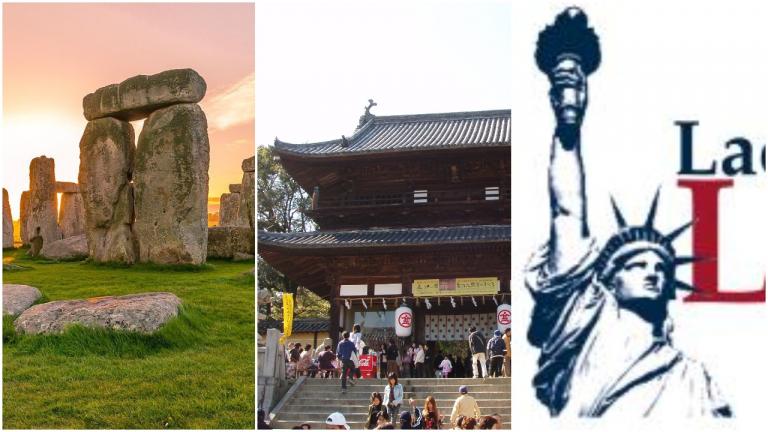 Summer Solstice coverage
UK: Druid solstice scam warning, as English Heritage says fraudsters are asking for cash for fake live stream
The Telegraph
Druids have been warned not to fall for online Stonehenge scams as English Heritage warns of pages charging fees for fake solstice viewings…
UK: Druids prepare for virtual solstice as Stonehenge asks people to stay away
The Guardian
Lockdown restrictions mean that for many, midsummer will be marked in back gardens and online…
UK: Pagans urged to avoid visiting two Scots isle stone circles on summer solstice
The Scottish Sun
Pagans have been urged to avoid visiting two Scots isle stone circles on the summer solstice over coronavirus concerns…
UK: National Trust urges people to stay away from Avebury on solstice day
Wiltshire Times
Avebury summer solstice revellers and worshippers are being urged to join a virtual celebration organised by English Heritage this year…
US: Sunwheel event cancelled to avoid crowding at mini-Stonehenge
New England Public Radio
Concerned that as many as 100 people could show up on the first day of summer at at its mini-Stonehenge during the pandemic, UMass Amherst has canceled a ritual pre-dawn solstice talk…
Solar eclipse 'ring of fire' to appear the day after Summer Solstice
Newsweek
his month, a spectacular "ring of fire" solar eclipse will be visible from some parts of the world, just a day after the June solstice…
Patheos Pagan Writers on the Summer Solstice
Patheos Pagan: Pagan Voices
We each celebrate and interpret the sabbats in whatever way makes the most sense to us personally. Here are how some of the writers at Patheos Pagan celebrate and view the Summer Solstice…
Summer Purification in Shinto
Green Shinto
Nagoshi no Harae is a mid-summer purification ritual to rid oneself of 'impurities' accumulated during the first six months of the year…
Pagan News
US: Lady Liberty League celebrates 35th anniversary of Pagan advocacy
Patheos Pagan: Astrea
The Lady Liberty League is a non-profit organization that promotes religious freedom and spreads awareness of Wiccan/Pagan beliefs. They also provide legal support to those they can assist. Selena Fox of Circle Sanctuary and others founded it 35 years ago, and today, she remains the executive director…
UK: Pagan tattoos clue in bid to identify woman whose body was found in River Forth
Daily Record
Police Scotland have released pictures of the tragic young woman's esoteric jewellery and earth, wind, water and fire tattoos…
Ásatrú Paganism on the rise in Iceland
Reykjavik Grapevine
Humanism is the fastest-growing religious or philosophical group in Iceland, closely followed by Ásatrú paganism, according to the latest National Registry figures…
Astrologers and tarot readers see rise in young people seeking guidance
South West Londonder
Millennial and 'gen Z' cohorts are embracing New Age practices in a time of uncertainty…
A busy week in the skies above
The Wild Hunt
TWH looks at the busy week ahead both in astrology and astronomy…
UK: The pagan with dreams of creating an off-grid community in the Devon woods
Devon Live
Kye Davis is determined to make this little piece of land a free-thinking heaven of peace, fellowship and open air cooking…
Why queer people love witchcraft
Refinery 29
According to a 2015 survey conducted by Pew Research Center, around twice as many queer adults as the general public say they identify as a member of a non-Christian faith group, including Wicca and paganism…
Dying Pagan: Managing a special needs kinda death
Patheos Pagan: Katrina Rasbold
Dying in America is often nuanced and emotional and that is without even considering the actual bummer of the cessation of life. It becomes exponentially more complicated when you die with some part of your not fitting into the traditional, Christian, CIS-normative lifestyle…
Shinto News
Famous Shinto shrine to leave governing body
Nippon.com
Kotohiragu, a famous shrine in western Japan, has started procedures to secede from the Association of Shinto Shrines due to its growing distrust of the governing body for shrines in the country over issues including one related to a key Imperial succession rite, it was learned Sunday….
Traditional Hiroshima Shinto dance in peril due to coronavirus
The Japan Times
The COVID-19 pandemic has driven to the brink of folding the only apparel shop in Hiroshima Prefecture that specializes in creating costumes for performers of kagura, a form of Shinto theatrical dance…
Nara deer heading farther outside park during the coronavirus outbreak, but will they come back?
SoraNews24
onsidered messengers of the Shinto gods, the animals roam free in wild herds, and no trip to Nara City is complete without posing for a picture or two with the cultural and adorable animals…
National identity: Kathleen Drew
Green Shinto
Every year there's a Shinto festival held at the Sumiyoshi Shrine in Uto City, Kumamoto Prefecture, to an English woman called Kathleen Drew…
Other News
DNA study reveals Ireland's age of 'god-kings'
BBC
DNA has been used to confirm the existence of an elite social class in the Stone Age inhabitants of Ireland…
UK: Date confirmed for Stonehenge reopening
Spire FM
English Heritage has announced the prehistoric stone circle will welcome visitors again on Saturday July 4th…
Roman statue of ancient Egyptian deity Isis discovered in Germany
Egypt Today
German archaeologists have discovered a Roman statue of the ancient Egyptian deity Isis…
Albania: Vandals destroy magnificent marble columns at Ancient Greek sacred site
Greek Reporter
The director of the archaeological site was quoted as saying that "the damage is irreparable", as ancient marble columns at the nymphaion of the site were brought down and smashed. The nymphaion, in ancient Greece, was a monument consecrated to the nymphs, especially those of springs…
Italy: Hidden temple in a buried Roman city discovered by ground-penetrating radar
Livescience
A hidden temple was recently discovered in an ancient Roman city that's mostly still underground…
UK: Bid to move memorial for witch trial women close to town centre
Irvine Times
A history group hope to move a recently-revealed memorial to Irvine's witch trial victims closer to the town centre so more people can see the plaque…
UK: Greek sea goddess Keto will take a walk over Hampstead Heath
Ham & High
Artist Clare O'Hagan will be a living installation tracing a nine mile odyssey along the Fleet river to highlight plastic pollution on Greek islands like her beloved Paros…
Hiroshi Sugimoto: Spiritual recultivation in apocalyptic times
The Japan Times
Sugimoto's artistic career is awash in references to religion, especially the Buddhist paradise, Western Pure Land, which is believed to be the final destination of the soul…
Top 10 books about witch-hunts
The Guardian
These stories by authors from Elizabeth Gaskell to Jeanette Winterson show how societies in turmoil turn on the most vulnerable…
India's goddesses of contagion provide protection in the pandemic
The Conversation
Hindus in India have had a helping hand – several in fact – when it comes to fighting deadly contagions like COVID-19: multi-armed goddesses co-opted to help contain and kill pestilence…
Maya healer burned alive in Guatemala after being accused of witchcraft
Yeni Safak
Domingo Choc died on Saturday after several members of his own Q'eqchi' community accused him of using witchcraft to kill a man who had died in a local hospital several days earlier…
India: Aunt 'beheaded' on witch suspicion
Telegraph India
A man allegedly chopped off the head of his 60-year-old aunt suspecting her to be a witch…
India: 3 killed in Odisha over witchcraft allegations
Hindustan Times
Three people, including a woman, were hacked to death and two were assaulted over suspicions of practising black magic in three districts in Odisha, police said on Monday…
India: Odisha cops exhume body parts of youth killed over suspicion of witchcraft
Hindustan Times
An 18-year-old young man was allegedly killed by a group of people in Odisha's Malkangiri district over suspicion that he practised black magic that led to the death of 17 tribals over the last 3 months, police said Sunday…
Zambia: 'Witch-hunting' children kill dad
Zambia Daily Mail
A 55 year old man of Lubafu village in Mushindamo district has allegedly been murdered by his three children who suspected him of practising witchcraft…
Nigeria – Witch burning: Victims cry for justice
Sahara Reporters
The Advocacy for Alleged Witches(AFAW) has received a photo of another victim of witch-burning in Cross River State in Southern Nigeria…
Alleged witches in Malawi: From state prisons to Sing'anga prisons

Modern Ghana
Malawi is one of the countries in Africa where witch persecution is pervasive. Alleged witches suffer egregious human rights abuses including stoning, lynching and murder…