Top stories in Paganism and Shinto this week:
Pagan Tama guest writer and Shinto priest releases new book
UK: 3% of adults surveyed are witches
Ireland: Sligo's Neolithic tombs are being vandalised 'on scale never seen before'
Read more below…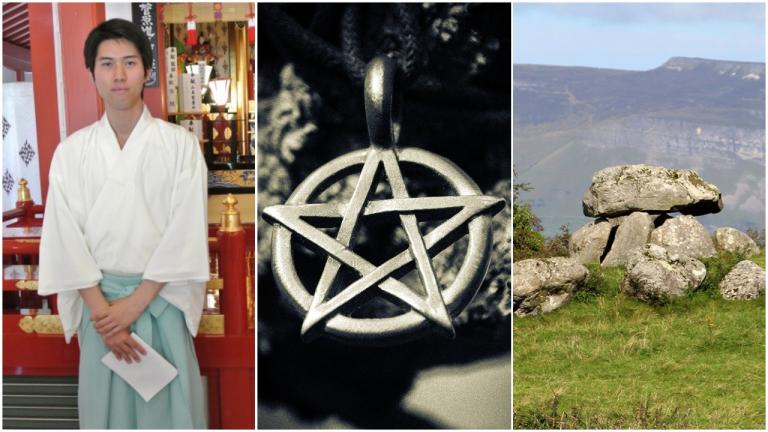 Pagan News
UK: 3% of adults surveyed are witches
The Telegraph and Argus
Modern-day witchcraft (Wicca) is gaining momentum in the UK with 3% of those surveyed by The Nursery identifying as being part of the pagan subculture…
Exorcist association accuses Santería practitioners of 'misappropriating' Catholic figure
Patheos Nonreligions: Barry Duke
Just days after the International Association of Exorcists warned that rank amateurs were encroaching on their area of expertise comes news of a warning they've issued about the 'misappropriation by occultists' of images of a 'revered' Venezuelan doctor who is due to become a Catholic saint…
UK: Comedian Julian Clary says he 'sees himself as a pagan'
The Times
Clary says "I see myself as a pagan these days. I think about trees, the universe and love."….
We asked some witches to explain that TikTok rumour about hexing the moon
Vice
The growing consensus in the witch community is that whoever started the story was doing it for attention…
History of magic goes far beyond witchcraft and wizardry
Sunday Post
Magic has been part of human life for millennia and is as integral to our evolving practices and beliefs as science and religion, says Professor Chris Gosden…
UK: Public invited to celebrate Lughnasadh in Highgate, London
Ham & High
Wicca: Seven Moons London, a group on the site Meetup, is planning to mark Lughnasadh in a socially-distanced way on July 25…
Preparing for Lammas during COVID-19
Patheos Pagan: Lisa Wagoner
It's that time of year I alternately dread and enjoy. Lammas is soon upon us, and I tend to feel wistful…
Shinto News
Pagan Tama guest writer and Shinto priest releases new book
Green Shinto
Taishi Kato, priest of Hattori Tenjingu in Toyonaka City, Osaka, has featured on Green Shinto before. His mission is to spread awareness of Shinto as a universal religion based on living in harmony with nature. Kato-sensei has previously written for Pagan Tama; you can read his pieces here and here.
Japan's shrine association rocked by exit of key member Kotohira-gu
The Japan Times
An organization encompassing some 79,000 Shinto shrines in Japan has been rocked by the recent declaration by a key member shrine that it intends to leave the body, after years of distrust…
The lesser-known festivals of Japan: Dangerous edition
Unseen Japan
Bamboo battles, precarious log rides, and a literal firefight make up three festivals in Japan that'll get your blood pumping – but not without risk…
Other News
Ireland: Sligo's Neolithic tombs are being vandalised 'on scale never seen before'
The Irish Times
Five-thousand-year-old Neolithic tombs in Co Sligo are suffering damage and vandalism "on a scale never seen before" and will not survive unless action is taken immediately, archaeological experts have warned…
Ramps for disabled people trace back to ancient Greek temples
ScienceMag.org
The ramps for disabled people that smooth entry into many public buildings today aren't a modern invention. The ancient Greeks constructed similar ramps of stone to help individuals who had trouble walking or climbing stairs access holy sites, new research suggests…
Turkey: Hagia Sophia, a mosque again, has a pagan connection at its core
The Wild Hunt
Last week, Turkish President Recep Tayyip Erdogan formally changed the status of the Hagia Sophia…
US: Liz Lerman's latest work is inspired by witchcraft imagery
Dance Magazine
Her latest effort is Wicked Bodies, a reaction to grotesque and powerful images of women's bodies spanning centuries, originally inspired by an exhibition of European witchcraft imagery…
Canada: Non-Indigenous healers asked to stop appropriating and selling Indigenous ceremony
CBC
Two non-Indigenous new age healers in Ontario are being called out by a Black-Indigenous woman for appropriating ceremonies in their practices…
India: Elderly Couple set ablaze on 'suspicion of practicing witchcraft' in Odisha's Jajpur
Kalinga TV
Brother-in-law of the deceased couple Tipu Buliuli while speaking to the media persons said that the villagers torched the house of and killed the couple while they were asleep…
Ghana: Elderly woman beaten and lynched for 'witchcraft'
Sahara Reporters
A 90-year-old woman accused of 'witchcraft' has brutally been murdered in East Gonja in Northern Ghana…
Uganda: Local defence chief loses home over alleged 'witchcraft'
KFM
The Ituba village LC1 Secretary for Defence in Nabitende sub-county in Iganga District has lost his home that was demolished by angry residents over alleged involvement in 'witchcraft'…