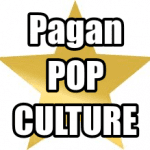 Paganism has always been treated as a curio by pop culture. It's something TV channels and newspapers wheel out at Halloween and then immediately discard. Celebrities interested in Paganism and the occult often side-step the issue, perhaps out of fear of ridicule or public backlash. The intersections between Paganism and Pop Culture are rather rare, but usually all the more interesting because of that. Here are ten of my favorites from the last 100 or so years. Since this piece ended up being extremely long and chock-full of pictures and video I split it up into two parts. You can find the first part here. Enjoy!
The Pretenders release Hymn to Her as a single in 1986. The Pretenders might be the only platinum plus rock band in history to release an explicitly Pagan song as a single. While Hymn to Her failed to chart in the United States it reached number eight on the pop charts in the UK, and got a fair amount of video rotation on MTV (I know it's hard to believe but way back in the Dark Ages MTV actually played music videos). While a lot of Pagans have looked to Hymn to Her as confirmation that Chrissie Hynde (the heart and soul of the band, and the only member to have lasted through various band incarnations) is a Pagan, the song was actually written by Meg Keene, allegedly a friend from Hynde's hometown of Akron Ohio.

The Pretenders-Hymn to Her
While the Pretenders are probably best remembered for bouncy pop music, Hymn to Her is essential Pagan listening. As a bonus, the song is free of a lot of the 80's musical cliches that make a lot of Pretenders songs hard to listen to. (I'm a fan, but I'd suggest just picking up a collection of the singles.) Also from that same album, but much less glorious, is the song Light of the Moon which might be interpreted by some as a Pagan tune.
Let me inside you
Into your room
I've heard it's lined
With the things you don't show
Lay me beside you
Down on the floor
I've been your lover
From the womb to the tomb
I dress as your daughter
When the moon becomes round
You be my mother
When everything's gone

And she will always carry on
Something is lost
But something is found
They will keep on speaking her name
Some things change
Some stay the same

Keep beckoning to me
From behind that closed door
The Maiden the Mother
And the Crone that's grown old

I hear your voice
Coming out of that hole
I listen to you
And I want some more
I listen to you
And I want some more

And she will always carry on
Something is lost
But something is found
They will keep on speaking her name
Some things change
Some stay the same
Heather Graham talks about Witchcraft on the Jimmy Kimmel show, June 3, 2009. Is Heather Graham a Witch? I don't have any idea to be honest, but she sounds like someone who knows her way around a magick circle. In an interview which aired in June of 2009 Graham spoke about spells, a coven-like group, and the four quarters. The star of the second Austin Powers movie said: "I have this group of friends and we get together and we call ourselves The Goddesses and we wish for things and then a lot of amazing things have happened to all of us." In the same interview she also added "We burn things — honoring the elements of earth, wind, air and fire. You do spells . . . .We did this thing where we were calling on the wind and the air and this whole storm started on my roof… It was amazing… empowering."
She also took some of the credit for Obama getting elected in 2009, but I think it was my spell that made that happen, or perhaps the completely inept political campaign of John McCain. Graham has also admitted to using the occasional spell to spice up her sex life . . .and with that I'm going to stop typing this section now before writing something stupid.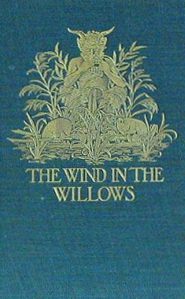 The Wind in the Willows by Kenneth Grahame is published in 1902. I'm a very organized guy. I keep my fiction books separated from my non-fiction ones, with just a couple of exceptions. Dion Fortune's fiction sits with my Pagan books, and so does The Wind in the Willows. Most of TWitW reads like children's literature; Mole, Rat, and a host of other anamorphic creatures engage in various adventures, but things take a strange turn in The Piper At the Gates of Dawn, the book's seventh chapter.
An excerpt (and the part that makes me cry):

Then suddenly the Mole felt a great Awe fall upon him, an awe that turned his muscles to water, bowed his head, and rooted his feet to the ground. It was no panic terror—indeed he felt wonderfully at peace and happy—but it was an awe that smote and held him and, without seeing, he knew it could only mean that some august Presence was very, very near. With difficulty he turned to look for his friend, and saw him at his side, cowed, stricken, and trembling violently. And still there was utter silence in the populous bird-haunted branches around them; and still the light grew and grew.

Perhaps he would never have dared to raise his eyes, but that, though the piping was now hushed, the call and the summons seemed still dominant and imperious. He might not refuse, were Death himself waiting to strike him instantly, once he had looked with mortal eye on things rightly kept hidden. Trembling he obeyed, and raised his humble head; and then, in that utter clearness of the imminent dawn, while Nature, flushed with fulness of incredible colour, seemed to hold her breath for the event, he looked in the very eyes of the Friend and Helper; saw the backward sweep of the curved horns, gleaming in the growing daylight; saw the stern, hooked nose between the kindly eyes that were looking down on them humorously, while the bearded mouth broke into a half-smile at the corners; saw the rippling muscles on the arm that lay across the broad chest, the long supple hand still holding the pan-pipes only just fallen away from the parted lips; saw the splendid curves of the shaggy limbs disposed in majestic ease on the sward; saw, last of all, nestling between his very hooves, sleeping soundly in entire peace and contentment, the little, round, podgy, childish form of the baby otter. All this he saw, for one moment breathless and intense, vivid on the morning sky; and still, as he looked, he lived; and still, as he lived, he wondered.

"Rat!" he found breath to whisper, shaking. "Are you afraid?"

"Afraid?" murmured the Rat, his eyes shining with unutterable love. "Afraid! Of Him? O, never, never! And yet—and yet—O, Mole, I am afraid!"

Then the two animals, crouching to the earth, bowed their heads and did worship.
Piper is the 19th Century Pan at full flowering. Here he's described as the "Friend" and the "Helper," the benevolent god of the eternal English countryside. While the book never mentions Pan by name, it's completely obvious who Grahame is writing about, and writing about in often hushed and awed tones. "Afraid! Of Him? O, never, never! And yet—and yet—O, Mole, I am afraid!," and check out how "Him" is always capitalized when referring to Pan. It's fun to read reviews of TWitW on Christian websites, with many of them recommending to parents that they skip Piper. Of course, I think it's Pan's appearance that makes the book so great. I'd go so far as to say that Grahame's portrayal of Pan has come to define the goat-foot god in the Modern Age. The Wind in the Willows is a true classic and is continually being rediscovered by children and adults over 100 years after its initial publication.
Lisa Simpson calls Wicca empowering on The Simpsons, April 25, 2004. I remember it like it was yesterday. I was sitting on my couch watching The Simpsons like I do almost every Sunday (and more out of habit than love for the show at this point) and then the following exchange took place:
Marge: Bart, stop fooling with the remote!
Bart: Lisa made me with a witches spell.
Lisa: It's called Wicca and it's empowering.
Bart: Wicca's a Hollywood fad.
Lisa: That's Kaballah, jerk!
Wow! As I had a DVR back then, I think I rewound that little clip and watched it three or four more times. Lisa Simpson was actually endorsing my faith! You know you've made it when you get called out on The Simpsons.
That wasn't the last time Wicca would show up on The Simpsons either. Lisa would later befriend a trio of Wiccans in the episode Rednecks and Broomsticks which originally aired on November 29, 2009, though that episode paled in comparison to the line "It's called Wicca and it's empowering." On the show Lisa is usually portrayed as a Buddhist, but I've always felt her true destiny lies in Witchcraft.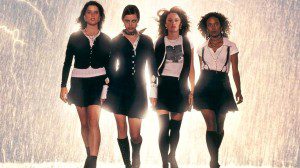 The Craft is released in May of 1996. Who remembers the swinging 90's? It was the era of Tori Amos, Silver Ravenwolf, and perhaps the most important "Pagan movie" ever made, The Craft. I'm not going to argue that The Craft was a good movie or an accurate portrayal of Modern Witchcraft because we all know better. What The Craft did offer were bits and pieces of a good movie and at least semi-accurate rituals. Take the ritual on the beach for example, there's a good solid minute there of an actual ritual, and it looks pretty and powerful to boot. (I've been searching in vain for an accessible empty beach to do my own sea-side rite since moving out there to California two years ago.)

The first minute of this is pretty good, and then it descends into stupid.
I'm old enough that I actually got to see The Craft in theaters and there were moments in the film when I found myself nodding along. Sadly, they were only moments, but back then in the early days of the internet and a Pagan Community that was much harder to find, there was something empowering about seeing even a glimmer of a somewhat recognizable Witch rite. Moments were sometimes all we got. Just to make things more interesting the film starred Fairuza Balk as Nancy, at the time a practicing Pagan. Balk also owned an occult bookstore (Panpipes) in Los Angeles for a few years after filming The Craft.