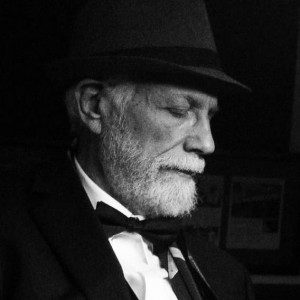 Most people slow down at age 65, not Lon Milo DuQuette. "Baba Lon" is busier than ever these days, pulling double duty as both a best selling esoteric author and as a popular and in demand folk singer-songwriter. Over the last eighteen months DuQuette has released three albums (the third, Gentle Heretic drops on Oct. 31, but you can pick it up here a week or so early) and has been involved in numerous book projects (check out the Weiser Best of the Equinox series, just fantastic work there!).
For many of us in the magickal community DuQuette is most well known for his writing; books like My Life With the Spirits, The Chicken Qabalah of Rabbi Lamed Ben Clifford, and Low Magick: It's All in Your Head … You Just Have No Idea How Big Your Head Is are classics, not just because of their content, but because of DuQuette's warmth and great sense of humor. Before embarking on a career as a writer Lon was a member of Charley D. and Milo, an "acid cowboy band" whose first album was released on Epic Records. The last few years have seen DuQuette re-embrace music in a big way, much to my personal delight. With everything going on in DuQuette's life he was still gracious enough to take some time out of his very busy schedule to play 20 Questions with me for Raise the Horns.
Enjoy the interview and pick up a copy of Gentle Heretic (along with Baba Lon II and I'm Baba Lon). You'll be glad you did. I'll be reviewing Gentle Heretic in November as a part of my "Pagan Holiday Shopping Guide."
Lon's video for I Wanna Buy a New Car
Jason: Gentle Heretic is your third album in just eighteen months. Have you been sitting on a lot of song ideas for the last 25 years or are you just in the middle of a creative hot-streak?

Lon Milo Duquette: I've been sitting on a couple (I Am He I wrote when I was 19) but I am definitely going through a burst of musical and poetic creativity. In recent years I've had several (what I guess we could call) spiritual or magical epiphanies; the song-writing seems to be one of the by-products. Whatever … this stuff is just pouring out of me at the moment, and I'm just lucky to have friends and colleagues helping me manifest it.
What's the biggest difference between teaching a workshop and putting on a concert?
Actually, very little. The workshops are usually based on a book I've written and the concerts … songs I've written. For the last couple of years I do a lot of talking at my concerts and a lot of singing at my workshops.
Are there different creative muscles at work when writing a song versus writing a book?
Obviously, yes. But the 'muse' is the same. I take a lot of time with them both.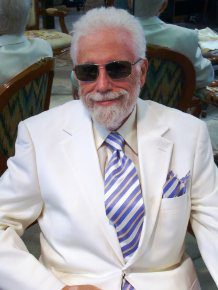 When I talk to most people about your music they make reference to the humor in your songs and the esoteric references. One of the things I've noticed is that a lot of your songs are very political. Are you channeling a more droll Arlo Guthrie or have you always been interested in the political process and issues of social justice?
I've been militantly political since my teens. My spiritual philosophy transcends politics and social consciousness only in-so-much as I believe that true liberation is entirely a personal matter and that ultimately the individual should be able to gain enlightenment spiritual awakening within the context of any political or economic environment. On a practical level, however, I believe all of us, both the enlightened and the unenlightened, are most likely to thrive physically, emotionally, culturally, and spiritually in an political and economic environment that is as free as possible of social unrest, hunger, disease, injustice, over-reaching greed, and spiritual bullying, and I believe humanity is evolving to the point where just a little cooperation could make this possible.
If you were to describe your music to someone who had never heard of you before, how would you do it?
Folk.
I was happy to see If We Believed on the new album (and just in time for Christmas!), do you think the magickal community will be singing that tune at Yule twenty years from now?
I hope so. Constance* doesn't like it because she says it's mean-spirited and insulting to a large group of people, some of whom might be entirely unaware of the nasty things 'Christianity' has done (and is continuing to do) to human consciousness. Others protest that other religions have their shortcomings too (which I certainly do not deny). But I've had a lot of first hand experience with the insanity of Christianity and I don't mind poking a hard stick in its eye… especially with humor.

If We Believed from the album Gentle Heretic
A few of my friends wanted me to ask you "something" (or "anything") about good old Uncle Al (Aleister Crowley). Most Pagans and people in the magickal community have some sort of opinion on the guy, what one thing do you think would surprise people the most about Crowley?
He was a marvelous cook, and he was against abortion.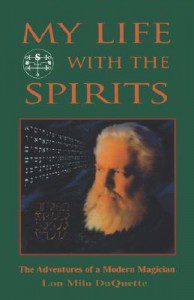 Has becoming a musical performer (again) changed the expectations people have of you? Kind of like "now we want four workshops, and a concert . . . your voice and health be damned!"
Yes, my working days are filled with workshops and my nights with music. It does feel kind of funny. At first it was all a case of people familiar with my books commenting, "Oh I didn't know you were a musician." But now I'm running into, "Oh I didn't know you write books!" Oddly enough, for the time being, the more I am called upon to do … the more energy and creativity I seem to have to do it. So …. get me while I'm hot!
For the last couple of years you've been editing a Best of (Crowley's) Equinox Series for Weiser/Red Wheel. How did that come about and how many volumes will the series be in total? (Volume 3 Sex Magick will be released on Nov. 1.)
Yes, Weiser sent me a couple copies yesterday. I have always had a wonderful relationship with Weiser. The O.T.O. is doing a marvelous job at restoring and presenting Crowley's material in the most accurate, enduring and scholarly formats. To do that properly (and it must be done properly) however, takes years of pain-staking research, money, and organization. Consequently the final publications, while well-worth the wait, too often appear too few and far between. Weiser continues to do a marvelous job of keeping original, facsimile-esque Crowley material in print at reasonable prices so new generations of students and magicians have immediate access to the source material … at least as it originally appeared. I am very happy to be part of the process.
I first became aware of you right after you released My Life With the Spirits. I looked at the cover and I was like "Damn, this guy looks so serious he scares me," and then I found out that you've got one wicked sense of humor and are completely approachable in a way many in your position are not. Is your sense of humor a surprise to some people and has it ever gotten you into trouble?
My humor does surprise many people; especially qabalah snobs and "Magi" who are more enamored with the forms and styles of ceremonial magick than what the f— the magick is actually about. If I can't get a person loosened up in the first 90 minutes what I go on to tell them in the last 15 minutes usually scares the crap out of them.
One of my musician friends made me promise that I'd ask about the tunings you use in the studio and when you perform live. So what tunings do you use?
I just use the standard E-A-D-G-B-E tuning (capo'd up at various places on the neck so I can sing the damned song in my key.) About as fancy as I get is on Roman Rider where I capo the first 5 strings at the 5th fret and play my bass line on the 6th string with my right thumb. In 'Bamboozled' I use a 'Nashville' strung (standard 6 string tuning but using only the high strings of a 12 string set). It gives a certain harpsichordish sound. I also play the ukulele on Bernice.

Sweet Babalon from the album Baba Lon II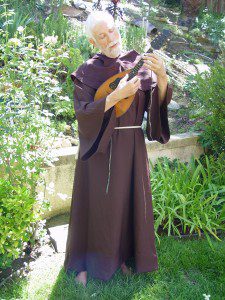 You visit a lot of festivals and conventions. Are there any that stick out in your memory more than others? What do you think is the difference between a good gathering and a great one?

I'm not much of a camper. Even great outdoor events like Starwood, Babalon Rising, and Harvest Gathering are thoughtful enough to put me up at a nearby hotel. I think a great event has at least one golden moment around a huge fire of some kind when I can't stop myself from shouting to the stars, "I LOVE THIS SHIT!"
Paid All the Dues on your new record is a departure from a lot of your other material. Is there more metal music in your future or was that just a one off for the headbangers?
We'll have to see. 'Paid All the Dues' was perfect for the heavy metal treatment and I was insanely lucky when Bob Boulding (lead guitarist of the Young Dubliners) agreed to be part of the fun, along with my regular recording pals, Shawn Nourse on drums and Jason Chesney on Bass.
A lot of your music is acoustic, but there's a broad range of instrumentation on all three of your albums. Do you ever have difficulty coming up with arrangements when playing live by yourself? With three albums now, is it getting more challenging to put together a setlist when you play?
Not really. All my songs were created to be performed just by me and my guitar. Alan, my producer, and I talk over each tune and if we think it could use a bit of clarinet or sax here, or a cello or violin part there, we will call in the best studio person in the LA area and let them do their thing. Our use of sidemen and sidewomen is pretty restrained for the most part. Less is best. I want the focus to be on the lyrics and the music, not on the production.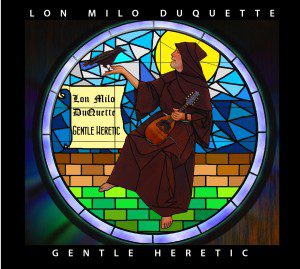 The cover of Gentle Heretic is fantastic. I want it as an LP so I can put it up in my living room. Can you tell us a little bit about how that cover came together?

Alan Corcoran, my producer, did it all. He took the original photo and then created about a dozen versions of the stained glass until the colors were perfect. I absolutely love the image. He also did the art for the other two CDs including the eight-armed Lon for I'm Baba Lon.
Back in your Charley D. and Milo days you got to gig around the United States and rub elbows with some legendary recording artists. Any stories or moments from that era that are particularly memorable?
We were with the William Morris Agency who got us a one night gig backing Sammy Davis Jr. at the Coconut Grove of the Ambassador Hotel in LA. We told our agent we were an acid cowboy band and just did our own material and that we didn't do stuff like that. He said, "They know that. It will be okay!" and we answered back that we'd do it, but that we could only do what we could do. We set up and played until Sammy showed up and started to talk to the crowd of invited celebrities: John Wayne, Nancy Sinatra, Zsa Zsa Gabor, Robert Wagner, Debbie Reynolds, and my favorite… a young George Carlin …. who was stoned and the only one to come up to the stage and tell us we were "Groovy".
Charley and I looked at each other when we realized that Sammy was starting to introduce the song Spinning Wheel. We quietly took off our guitars and crept off stage leaving Sammy all alone with only our drummer to back him on Spinning Wheel. Charley and I headed straight for the bar. We never worked with William Morris Agency again … neither did our 'agent.'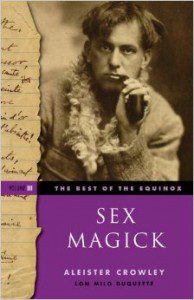 You've been the U.S. Deputy Grand Master of the Ordo Templi Orientis since 1996. What's the state of the O.T.O. today and what do you feel the biggest challenges will be for the organization going forward?
I've never been more pleased or optimistic about the condition of the O.T.O. both here in the U.S. and abroad. It's an all volunteer organization and as far as I can see is fulfilling its purpose admirably. I believe Crowley would be pleased, surprised, and gratified.
Are there any great occultists or magicians, past or present, that you wish people were more aware of?
I think more attention should be paid to the ecstatic saints of various traditions.

Class Warfare from Gentle Heretic
Completely off topic, but being a huge Led Zeppelin and Jimmy Page fan I can't help myself. Has Jimmy Page ever been a member of the O.T.O.?
I can't officially answer that either way. I can say that I have never met Jimmy Page.
(Note from Jason: Damn it!)
I've often joked with friends (and I'm sure I'm not the only one to make the observation) that you were probably the inspiration for the Dos Equis Beer "Most Interesting Man in the World" advertising campaign. Rituals, the O.T.O., books, and now music. What other talents are you waiting to spring on us?
I studied acting with Lee Strasberg in the early 70s and for awhile thought it would be nice to be an actor.
Thanks for asking my goofy questions. Good luck with the album.
Thanks so much for your very fun questions.
*Lon's wife of over 40 years, chalk another talent up to Baba Lon.