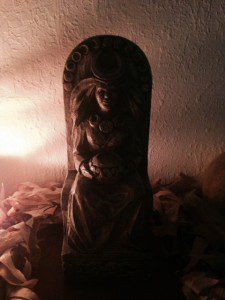 I've always found music to be a very powerful ritual tool. The right song in just the right place can sometimes turn a good ritual into a great one. What follows are songs that invoke the feeling of Samhain (and just plain old secular Halloween) within me. Not all of them are necessarily "Pagan," but they put me in a Pagan (and often Witchy) place. Not surprisingly the playlist is a little skewed towards certain artists (Loreena McKennitt anyone?), but that's only because I've used their music in ritual numerous times.
There are some who look down on recorded music during ritual. I understand the concerns, but there are times I just think it works better. There are also rituals that only call for live drums, it all just depends on the circumstances. Personally I just want to do whatever I think is going to make my ritual the best it can be.
Blessings to you, your friends, your family, and your familiars this Samhain season.

Within Temptation-Ice Queen
Perhaps my favorite "orchestral goth metal" song ever; Ice Queen ushers in the dark quarter of the year with soaring vocals, heavy metal guitar, and it's all backed up with what sounds like a full symphony. Not necessarily what I'm planning to play at my own Samhain ritual this year, but I can imagine marching through the woods with this playing.
http://www.youtube.com/watch?v=eKfbVAO6VGA
Loreena McKennitt-All Soul's Night
From The Visit, All Soul's Night is a mainstay in many a Witch's ritual music cabinet. All Soul's is a great opening up and starting the ritual tune. Despite it's European/Celtic (gods I hate the cliche of "Celtic music") sound, All Soul's Night was actually inspired by Japanese traditions.

Mussorgsky-Night on Bald Mountain
Perhaps a bit cliche, but the moment I was exposed to the version in Disney's Fantasia I was hooked on this piece of music. I'm usually hesitant to play up the idea of the Witch dressed in black, but it alway feels appropriate this time of year. The Romantic Period (most of the Nineteenth Century) is my favorite era of orchestral/composed symphonic music.

Kate Rusby-Canaan's Land
My wife and I first used this song during a Mabon ritual dedicated to the victims of 9/11 back in 2001. For me the song has always stirred up thoughts of the dead, but in a triumphant "they are home now" sort of way. Is it in old Christian song written back in 1914? You bet, still love it though.

Loreena McKennitt-Dante's Prayer
Based somewhat on The Divine Comedy by Dante, this is probably my favorite Samhain-time song. More so than most songs on this list, Dante's Prayer speaks to me lyrically and musically. Lines like "Breathe life into this feeble heart, Lift this mortal veil of fear" almost feel like a plea to the great Lady herself to take me to the edge of the veil. "Cast your eyes on the ocean, Cast your soul to the sea, When the dark night seems endless, Please remember me . . ." What is remembered can never be truly lost. The near-chant at the end is jaw droppingly beautiful.
Lisa Thiel-Samhain
Similar in sound to Loreena McKennitt, but possibly more trance-like, and with 100% Pagan Witchy lyrics, Lisa Thiel's Samhain is nearly an ancestor rite put to song. If you like the song, Thiel has an entire album full of overtly Pagan songs dealing with the turn of the Wheel.

Dave Carter & Tracy Grammer-Gentle Solider of My Soul
I'm sure it has something to do with every Dave Carter song reminding me of his untimely passing, but there's something ghostly haunting about this tune. We used it last year at a Samhain Ritual, but not the recorded version, we had a friend sing it. Surprisingly, before it was over everyone else at the ritual had joined in on the chorus. It still gives me chills.

Philip Wesley-Dark Night of the Soul
Sometimes a little solo piano can go a very long way, this is one of those times. I came across this song completely by accident but was just overcome by the beauty and emotion of it all. It's somber without being morose and I can almost feel the spirits of the Wild Hunt gathering for their Samhain night run.
http://www.youtube.com/watch?v=OE35mmZWUxM
Inkubus Sukkubus-Wytches Chant
I'm blaming Jason Pitzl-Waters over on the Wild Hunt, but ever since reading his bit on dark Pagan music in this summer's Pop Pagans I've been hooked on Inkubus Sukkubus. The classic chant of "Isis, Astarte, Diana, Hecate, Demeter, Kali, Inanna" has always held special resonance with me because I think of so many of those goddesses in late October. The Inkubus Sukkubus version has a dark edge to it along with a chorus of male voices coming in during the second half . . . love it!

Kate Rusby-Who Knows Where the Time Goes
There are many different versions of Who Knows Where the Time Goes available (originally written by the late, very great, Sandy Denny), this is currently my favorite. Time does have a way of getting away from all of us, and then we turn around and realize we waited too long to say all the things we held in our hearts. I remember the last conversation I had with my grandmother before she passed . . . . I took those calls for granted, and then after not talking to her for a little less than a month she was gone.

Loreena McKennitt-Dark Night of the Soul
I did admit that there would be a lot of Loreena McKennitt on this playlist, and I wasn't kidding. At Samhain we face down the portal and confront pain, sadness, and loss. In many ways it is a long dark night of the soul. Though the night rarely ends with dry eyes, some of the tears are happy ones. When you're able to catch that moment when a soul returns to you and it fills your being with the love and warmth the two of you shared in this life together . . . it's almost like coming out the other side.