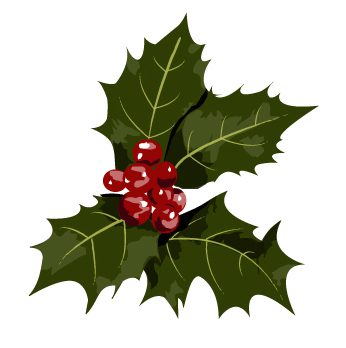 Yuletide is a complicated season. It can be a quiet time of year; a moment for self-reflection and analysis. It can also be loud, with New Year's Eve Parties and other assorted revelries. For those of us who grew up in households that celebrated Christmas there's another layer of tradition to respect and pay homage to. The Holidays are a time of festive lights and short days with little sunlight. (How many of us go to work in December before the sun has risen and then come home after it has set?) When crafting a playlist for Yule I vacillate between all of those extremes, mixing bombast with reflection and contemplation with public exhortations of joy.
As a child I grew up in love with Christmas. Any kid who gets presents from Santa Claus inevitably loves the holiday, but I think it went deeper than that for me and my family. At the Mankey household Christmas was special. My earliest Christmases were spent at my grandparent's house, and those holidays were about love and light. It was about being with my family and getting caught up in the real life fairytale that was 308 N. Garfield in Champaign Illinois. With straight faces the adults in that house encouraged us to look for Rudolph's nose in the snowy Midwestern sky and to listen for hoof-steps on the roof as we drifted to sleep. It was everything a kid could wish for in a holiday and is one of the reasons I so heartily defend Christmas now as a universal Midwinter's holiday free from creed or religious belief. Certainly our family's Christmases weren't about any one story.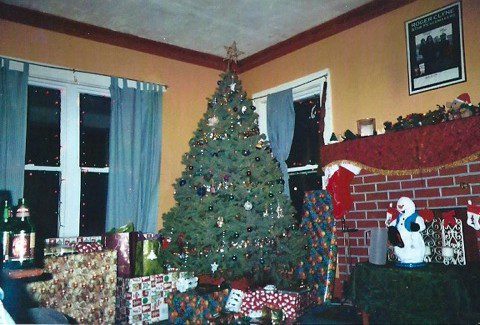 When I got older and left behind my belief in flying reindeers the Holiday Season still kept a firm hold on me. My family had an odd tradition of putting all of our Christmas presents out on Christmas Eve after the kids went to bed, and this extended well into my teen years. I used to wake up in the middle of the night every Christmas Eve and take an hour to surround myself in that magic. With four boys in the household there were mountains of gifts, and it was the only day of the year my parents kept the Christmas Tree plugged in all night. I liked to watch the blinking lights reflect off of the packages while guarded by the various nicknacks that made up the Mankey family's Holiday decor.
Those quiet moments in early Winter remain important to me, but now I find myself enjoying the festive too. I like throwing parties and there are some great songs that I only play around the holidays. My favorite pop-holiday moments are ones that feel as if they have tinsel attached to them.
As a Pagan the joy I feel at The Holiday season has extended deeply into Yule. Our Midwinter celebrations have turned into much of what I love best about my faith. With reverence we honor the rebirth of the Sun, and with a quiet breath we take in the beauty of the dark winter sky. With laughter and mirth we celebrate the bonds of friendship and shared spiritual experience that can only exist within a circle cast "in perfect love and perfect trust." I am looking forward to circling on the Solstice.
My Yuletide playlist begins with quieter and some-what spiritual moments and then gradually shifts to a more secular tone. All of these are songs that inspire the greater Holiday Season within me, and as a result some of them fall under the heading of "Christmas Carol." I'm certainly not endorsing Jesus as the reason for the season but I love some of those carols and have trouble keeping away from them.
Happy Yule!

George Winston-Joy
I first discovered the music of George Winston and his seasonal album December back in the early 90's during my first year of college. On an album full of beautiful piano solos it's Joy that's my favorite. At odd moments I find myself listening to it nearly scared to breath as to not interrupt the beauty of the track. Winston's December is probably the most played album at my house over The Holidays.

Kate Rusby-Home
"Will you declare that you love her when the light shines though? There are angels watching above her singing 'I love you.'" In the darkness of the Solstice night I can picture myself listening to this song curled up next to the woman I love waiting for the sun's rise at dawn. Kate Rusby's beautiful voice is a part of every season in our household.

Loreena McKennitt-Snow
Winters in the Midwest usually meant snow at Yuletide and in December it was generally welcome. I remember being trapped in my house many a late December-night, watching the snow fall from my attic while playing Loreena McKennitt's A Winter Garden CD. Snow captured those moments well, and ended with a few bars from God Rest Ye Merry Gentlemen tying my quiet time at Solstice to other things going on in the world during the season. (McKennitt's full version of God Rest Ye captures the drum sound that make The Visit and The Mask and the Mirror such enjoyable listening experiences. Regardless of the lyrical content it's worth checking out.)

Trans-Siberian Orchestra-Carol of the Bells
My favorite Christmas Carol has long been Carol of the Bells, and while it's near cliche to listen to Trans-Siberian Orchestra at this time of year, their take on the tune turns it into a Holiday Epic. In my minds eyes I can visualize the epic clash between the Oak and Holly Kings taking place to this song, or the triumphant rise of the Lord of the Sun from the dead upon Solstice morn.

Damh the Bard-On Midwinter's Day
Speaking of triumph that's one of the many feelings I get from Damh the Bard's Midwinter's Day. You can almost feel the cold on your shoulder in this one, but it's mixed with this strong sense of joy, a joy that has its own warmth. I really can't imagine wanting to go outside on a cold Midwinter's day to sing but this song makes me want to do just that. The last verse is great too, mixing Christmas and Yuletide elements in a celebration of everything this time of year.
Dar Williams-The Christians and the Pagans
I've written a good deal about Dar in recent days, but I find it hard to resist doing so this time of year. The Christians and the Pagans is a modern Yule classic. It's about acceptance and overcoming our differences, two virtues I tend to associate with the Holiday Season. I'll also continue to make the claim that TCatP remains the best depiction of Modern Paganism in popular music.

Tori Amos-Comfort and Joy
I've always felt that God Rest Ye Merry Gentlemen was one of the strongest and most depressing of all Christmas Carols. It's also one of the most aggressively Christian. Leave it to Tori Amos to take a few notes of it and make it something else entirely. There's a part in Comfort and Joy where you feel her gearing up to sing the classic (Christian) lines of that particular tune but at the last minute she pulls back and leaves you with: " . . . nothing you dismay remember the light is born every day with tidings of comfort and joy." I truly love the result. In fact all of Amos's Midwinter Graces is a gorgeous reflection on the return of the light, turning Christmas and Yuletide into a truly shared experience.

Blackmore's Night-Lord of the Dance/Simple Gifts
It's easy to forget that the song Lord of the Dance was originally an English hymn. It's a perennial Pagan concert and album staple, and for years I suffered under the delusion that it was written by Gwydion Pendderwen. Anytime I hear it my mind immediately jumps to the Horned God leading a dance around a bonfire, or in this case, a hearth on a cold December night. The horns and overall playfulness of the tune makes it feel like a Renaissance-era holiday classic. I got burnt on Blackmore's Night years ago, but their holiday album, Winter Carols, is a great listen.

Vince Guaralidi Trio-Christmas Time is Here
I grew up watching all of the Charlie Brown holiday specials and what I remember most about them is the music. I'll admit that there's a weird sort of charm to a lot of those cartoons, but the Christmas outing both entertains and infuriates. Much of it is a rather loud piece of Christian propaganda and I can't help but wonder what all the Jewish/Pagan/Muslim/Hindu kids did at Charlie Brown's school. Even with my reservations about the show it came from, the Vince Guaralidi score remains a favorite and always brings a smile to my face. It's also about the only time most Americans listen to jazz these days.

Great Big Sea-The Mermaid
This song is not related in any way to Christmas, Yule, Midwinter, the Solstice, or even anything having to do with December, but I first started listening to it in December so it's now a holiday song in my house. The Mermaid is a clever, weird, creepy-cute little song that I can almost see the Muppets acting out. The album this is from, The Hard and the Easy is a mostly a collection of traditional tunes from Newfoundland Canada. The Mermaid is not really one of those but works here anyway.

RunDMC-Christmas Time in Hollis Queens
There's no holiday song that delights me and torments my wife more than Christmas Time in Hollis Queens. No offense to the Rev. Run but it's the DMC's verse that's the real payoff. "It's Christmas time in Hollis Queens, Mom's cooking chicken and collard greens . . ." this tune has a great hook to it but thanks to that second verse it also invokes feelings of home and family.
The Waitresses-Christmas Wrapping
I don't know why the 1980's are home to so many modern Holiday classics, but they are. Perhaps the greatest 80's Christmas song is Christmas Wrapping by The Waitresses. The opening guitar chords and the horns in the bridge are musical heralds of the holiday season in my house. The uptempo music fuses seamlessly with the Christmas-weary lyrics and the result is a song that has been the center piece to many a holiday party. Patty Donahue's delivery, somewhere between rap and actual singing, puts a bow on top of this real holiday treat. (We miss you Patty!)

T.Rex-Christmas Bop
1975's Christmas Bop is vintage T. Rex. There's the infectious beat (T. Rex always makes me want to dance around my house like a little Puckish Pan) and the over the top full-of-himself-Bolan-lyrics (which only Marc Bolan of T. Rex could pull of). Alternating background vocals of "Christmas" and "T Rexmas" will either endear this song to you forever or will cause you to curse my name for suggesting it. Christmas here is a high party holiday sandwiched between the sounds of rock and disco.

Slade-Auld Lang Syne/You'll Never Walk Alone
At holiday time Slade is probably best remembered for Merry Christmas Everybody but it's their cover of Auld Lang Syne that gets me every year. It starts off as a mostly traditional shout-a-long (albeit with bagpipes) before segueing into You'll Never Walk Alone from the Rodgers and Hammerstein musical Carousel (often song at soccer football matches in Great Britain) and then back to a heavy and rocking version of Auld Lang Syne. Listening to this is like shooting off fireworks in your living room.
Happy Yule! Merry Christmas! And everything in between!