It had to have been in November of 1996, and my local radio station (Michigan State University's The Impact 89FM) had just played an odd little song about Christians and Pagans sitting around eating Christmas dinner together. I made my then girlfriend turn her car around so I could immediately go and buy whatever disc that particular song was on. I think the DJ said the singer's name was Dar Williams? We were off to our local Best Buy (I know, horrible right?) where I went through every CD that began with a "D" or "W," sadly for me they had no Dar Williams music.
A few days later I was talking to a friend of mine who suggested that I might want to try the folk section of the music store. Folk music? Folk section? Isn't that just where they keep the old Peter, Paul, and Mary CD's? On my second attempt I headed to the much more expensive, but sometimes more expansive independent store near MSU's campus and even asked someone there for help as I tried to find the folk music section. $18.99 and tax later I was the proud owner of Mortal City my first Dar CD and her second. When I got home and played it I found myself completely and rapturously in love. Look at that album cover too! I forgot how Pagan looked it to me back then, Dar dancing in the corn fields of what I had to assume was Iowa. (If you scroll down a little bit you can see the album cover too.)

Dar Williams-The Christians and the Pagans
I've written about Tori Amos here before, but Dar played guitar! (I should probably call her Ms. Williams, or simply Williams, but at our house she's just "Dar," like an old friend over for tea.) I was instantly hooked even though it made no sense to most of my friends at the time. Settling down with Mortal City I found a lot more to love than just The Christians and the Pagans. There was As Cool As I Am a song I was already familiar with thanks to the Impact, but nearly the whole album spoke to me in a way few records do. On her early albums Dar was a story-teller without equal. Her ability to slip in and out of characters was like nothing I had ever experienced at the time.
Amber called her uncle, said "We're up here for the holiday,
Jane and I were having Solstice, now we need a place to stay."
And her Christ-loving uncle watched his wife hang Mary on a tree,
He watched his son hang candy canes all made with Red Dye No. 3.
He told his niece, "Its Christmas Eve, I know our life is not your style,"
She said, "Christmas is like Solstice, and we miss you and its been awhile."

So the Christians and the Pagans sat together at the table,
Finding faith and common ground the best that they were able,
And just before the meal was served, hands were held and prayers were said,
Sending hope for peace on earth to all their gods and goddesses.

The food was great, the tree plugged in, the meal had gone without a hitch,
Till Timmy turned to Amber and said, "Is it true that you're a witch?"
His mom jumped up and said, "The pies are burning," and she hit the kitchen,
And it was Jane who spoke, she said, "It's true, your cousin's not a Christian,"
"But we love trees, we love the snow, the friends we have, the world we share,
And you find magic from your God, and we find magic everywhere,"

So the Christians and the Pagans sat together at the table,
Finding faith and common ground the best that they were able,
And where does magic come from? I think magic's in the learning,
'Cause now when Christians sit with Pagans only pumpkin pies are burning.

When Amber tried to do the dishes, her aunt said, "Really, no, don't bother."
Amber's uncle saw how Amber looked like Tim and like her father.
He thought about his brother, how they hadn't spoken in a year,
He thought he'd call him up and say, "It's Christmas, and your daughter's here."
He thought of fathers, sons and brothers, saw his own son tug his sleeve, saying,
"Can I be a Pagan?" Dad said, "We'll discuss it when they leave."

So the Christians and the Pagans sat together at the table,
Finding faith and common ground the best that they were able,
Lighting trees in darkness, learning new ways from the old, and
Making sense of history and drawing warmth out of the cold.
But back to that song, The Christians and the Pagans . . . . all these years later it not only holds up musically, but as a vivid and vital snapshot of Modern Paganism. So much of what I love about my faith beliefs is there in that song. The easy acceptance of LGBT folks, the ability to find common ground with others, and the love we have for friends and family regardless of their religious choices. There's also that line describing Modern Pagan Witchcraft: "But we love trees, we love the snow, the friends we have, the world we share, And you find magic from your God, and we find magic everywhere." Perhaps my description of my own Paganism might be a little more deity centric, but it's hard to argue with. I find magic everywhere because my gods live everywhere, Pan doesn't live in some sort of cloud filled celestial paradise, he's right here with me. Besides the song makes mention of gods and goddesses elsewhere, it doesn't really leave out a whole lot.
I just wrote to a friend that what I probably love most about The Christians and the Pagans is that it's the most easily accessible explicitly Pagan-positive song I've ever heard. In another life I used to manage a coffee shop for an Evangelical Christian. I was always very respectful of his beliefs and didn't play a whole lot of Pagan-type music at work, but The Christians and the Pagans? Who can disagree with that one, let alone find anything offensive in it? For many of us it's practically a traditional Holiday Song at this point. Let's play something from the Nutcracker, Jingle Bells, and a little bit of Dar Williams . . . . . it never sounds odd all together like that.

Dar Williams-The Babysitter's Here
My love for Mortal City complete and obsessive I backtracked and bought Dar's second album a few months later. The Honesty Room is a simpler album than the one that followed after it, but the songs and stories are just so strong. If your heart isn't at least a little moved by The Babysitter's Here you are made of sterner stuff than I. I was a little disappointed that it didn't contain a second TCATP but it's fun, quirky, and heartbreaking all at the same time. The gender-bending When I Was a Boy has always resonated with me over the years as well.
A Dar Williams Discography

Jason ranks Dar's studio albums:

The Honesty Room (1995) Dar's best work as a storyteller.
The Green World (2000) A big change in direction, but it works, and has only gotten better over the years.
Mortal City (1996) A few duds, like the title track, but the "hits" more than make up for it.
My Better Self (2005) Strong song-writing and Echoes is a favorite track.
The End of the Summer (1997) Really pop-influenced, but it comes together nicely.
The Beauty of the Rain (2003) Strong work, but it almost feels like a sequel to Green World.
Promised Land (2008) Includes my favorite Dar cover song Troubled Times.
In The Time of the Gods (2012) Considering the subject matter, it's odd that I don't like this album more.

Other Work:

Cry Cry Cry (1998) Collection of folk covers with Richard Shindell and Lucy Kaplansky, love this record!
Out There Live (2001) Dar is a strong live performer and her interactions with her audience are priceless.
Many Great Companions (2010) "Best of Album" with several new acoustic versions of classic songs.
Bearsville Station (2007) Recorded for a live DVD, has a cover of The Dead's Ripple.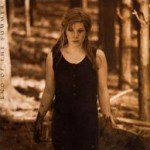 Dar's third and fourth albums marked a radical change in style. The End of the Summer (complete with Dar's muddy earth covered hands on the cover) mixed Dar's folk story-telling with more pop flourishes, complete with big sing-a-long choruses, stories about parties, and the pain of growing up. It's not Britney Spears by any means, but it took Dar out of the box she had been living in musically. As a lament on the change of the seasons and being forced into adulthood the title track has always held a special resonance for my wife and I. Though not explicitly Pagan my beloved not named Dar has sung it at Mabon rituals; it just feels right for that turn of the wheel.

Dar Williams-Calling the Moon
The Green World probably remains Dar's most spiritual album, even though the story-telling I loved so much on earlier records had been replaced by solid folkrock song-craft. Williams was very explicit in interviews at the time commenting on how much her interest in religion influenced the album. The song Calling the Moon is explicitly Pagan in sentiment, and the album's linear notes make reference to Dar being inspired to write the song after reading Drawing Down the Moon by Margot Adler. Nothing else on The Green World is as explicitly Pagan as Calling the Moon, but it's magickly spiritual the whole way through, and like life it's full of triumph, tragedy, pain, and joy.
My Grandmother died a few months after this record was released and on my way out the door to her funeral I grabbed a big stack of CD's to get me through it. I remember not being very conscious of what I grabbed, but The Green World was one of those discs. I've admitted to being a little cold to Dar's change of musical direction, but the songs on Green World got me through that very long week of tears and grief. I remember holding onto one line in the song After All as if it was the only thing that made sense of the world at the time.
Well the sun rose
So many colors, it nearly broke my heart.
It worked me over like a work of art
And I was part of all that.
That line may not be "Pagan" but it's Pagan in its connection to the universe and the world around all of us. Even during a time of great loss the sun rises, and it's still beautiful, and your heart may hurt but there can also be tears of joy mixed in with those of sadness.

Dar Williams-After All
A few years ago I thought that I had fallen out of love with Dar, sort of like I wandered away from Tori Amos a few years before that. Going through my I-Tunes library I realized that it was just the opposite. Even if her newer releases aren't my favorite in her catalog I can still hum along to every song. Heck some of her later stuff is home to a few of my all-time favorite Dar songs. Every once in awhile she even captures the storyteller I was first drawn to back in the mid-90's. Though it has nothing to do with Paganism Teen For God hits home in a sort of autobiographical way (I was a teen for God!) and is completely infectious. Her cover of the Fountains of Wayne song Troubled Times not only improves on the original, it's almost the story of my wife and I's overly complicated courtship. ("Maybe one day soon it will all come out, how you dream about each other sometimes. With the memory of how you once gave up, but you made it through the troubled times.")

Dar Williams-Teen For God
In 2012 Williams released the Pagan inspired In The Time of the Gods. Time features ten songs inspired by the gods of Greek mythology and while I've heard it described as a "concept album" that's probably too grandiose a label. It's more a collection of songs loosely inspired by Greek myth, but inspired quietly. Taken on their own merits they are simply songs which is all right by me. I can't imagine Dar turning into the second coming of 70's prog-rock anyway. Even while it's not my favorite Dar album, there's still a feeling of full circle to it. I fall in love with so many artists because I find a little Pagan spark inside of it, but it often fades quickly. Dar may not be a public Pagan in the way many of us are, but her curiosity about the natural world and her connection to the spiritual has never waned.
More Pagan Folkways:
Richard Shindell
Dave Carter & Tracy Grammer