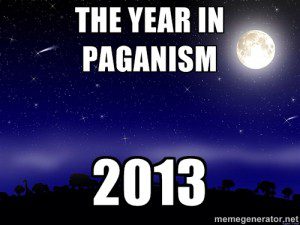 Even though it was a little contentious at times, I thought 2013 was a pretty good year for Modern Paganism. I don't think it will be looked at as a "watershed year" decades from now, but we made some progress. We won some court battles, we did good things as a community, and many of us had a lot of fun along the way. None of this is meant to be the last word on 2013, and I'm sure I've left a whole bunch of things out and failed to provide proper context a couple of times. All of this is in fun and to share what I thought was important in 2013. You and I might disagree, and that's OK, I'm often wrong.
Stories of the Year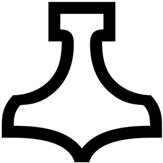 Mjolnir (Thor's Hammer) is approved for use on military tombstones. Six years after the struggle began, Thor's Hammer was finally recognized as an accepted symbol for military grave markers by the U.S. Veteran's Administration this past May. Sometimes a victory like this feels like a small thing, but it's not small; especially when one of our brothers or sisters can be laid to rest with a truly respectful memorial recognizing who they were.
Tucker Carlson apologizes to Wiccans on Fox News. I remember coming home from the PanteaCon festival and seeing my Facebook page full of stories about Tucker Carlson bad-mouthing Wiccans. Claiming that every Wiccan he's ever met is "either a compulsive Dungeons and Dragons player or is a middle-aged, twice divorced older woman living in a rural area who works as a midwife" was a pretty horrible thing to say. (For the record I don't play D&D and I'm not a twice divorced woman.) While the comment was offensive, the reaction from the Pagan Community was heartening. Over 40,000 signed two petitions asking for Carlson to apologize, and apologize he eventually did. Sadly the incident that started Carlson's rant, the University of Missouri's decision to recognize Wiccan holidays in its Guide to Religions, doesn't recommend making an allowances for the observance of Wiccan sabbats. Have a night class at Mizzou on Samhain? Too bad apparently.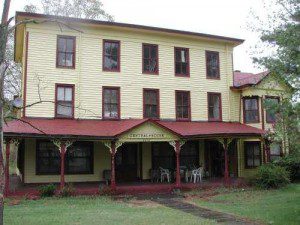 The Maetreum of Cybele, Magna Mater wins its battle with the city of Catskill New York. After years of struggle in the courtroom the Maetreum of Cybele was granted a property tax exemption thanks to a ruling from the State of New York Supreme Court, Appellate Division. The city of Catskill New York has spent hundreds of thousands of dollars in an attempt to discredit the Maetreum of Cybele, it was nice to see justice done. Sadly this story was overshadowed by a much less important event, but one that got a lot more coverage in the mainstream media and the Pagan blogosphere.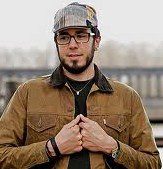 Teo Bishop kind of goes back to Christianity. When the Teo saga was breaking on Pagan social media I generally saw three different reactions. There was "good for him, go where you need to go," there was sometimes anger and feelings of betrayal, and then there was "Who is Teo Bishop?" People leave Paganism all the time, it's usually a non-story, but when a prominent Pagan blogger who just happens to be a semi-famous song-writer leaves Paganism, well then it's fodder for the New York Times. In our celebrity obsessed culture it's not a surprise that this story went viral. I promise you that when I'm on the cover of Witches and Pagans magazine it won't coincide with a return engagement to Christianity.
Cooler heads, and some sanity, prevail in Florida. A summer solstice event at the Lake Okeechobee Resort
near Pahokee was initially met with religious bigotry after a group of Christians expressed outrage that such an event was being allowed to happen. Local pastors spoke of "an abomination" at a City Council Meeting and a protest at the event was planned by some Christian pastors. Sanity prevailed when the Lady Liberty League's Peter Dybing met with Christian leaders in Pahokee; a handshake and a promise of "no protest" was the result.
Witches take over TV. Witches wax and wane as a pop cultural phenomenon. Right now Witches are firmly in a "waxing" phase as they are currently featured in three different television shows (Sleepy Hollow, American Horror Story: Coven, and Witches of East End). None of those shows depict Modern Witchcraft in any sort of accurate fashion, but they come close on occasion. What this means for Modern Witchcraft long-term is anyone's guess. If the Witch-boom in the 1990's is any indication it will probably lead to a lot of folks exploring Modern Witchcraft. The current Witch-craze doesn't look likely to wane anytime soon, several shows featuring Witches are currently in development.
Controversies and Triumphs in the Pagan Blogosphere
The Pagan Blogosphere is a great vehicle for information and opinions. It's also a battlefield of ideas with many of those battles resulting in not just hurt feelings but the fracturing of the larger Pagan Community. Here are a few of the more contentious controversies from 2013 along with a few more positive moments.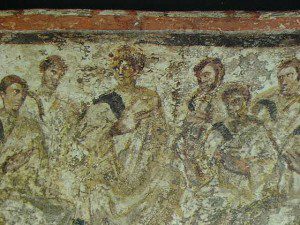 You can't be a Christo-Pagan. Sam Webster's Why You Can't Worship Jesus Christ and Be a Pagan was a scathing rebuke of Christo-Pagandom and resulted in a lot of opinions both ways. The best round-up of opinions contrary to Webster's article was at The House of Vines, but I might be saying that just because they called my response to Sam's article "one of the most comprehensive deconstructions and rebuttals" of his argument. In all honesty, I was rather proud of Jesus and Pagans: A Tired and Divisive Debate, and think it was possibly my best piece of writing on Raise the Horns this year.
An argument about pop-culture icons in Paganism turns into something else entirely. It all began innocently enough with an article entitled Making Light: Hero Worship, but it became something dark and ugly. Offense over the worship of superheroes led to an examination on the definition of "Pagan" with some arguing that it excludes non-theists. Anytime one suggests excluding someone from the umbrella of Modern Paganism hurt feelings are inevitable. This led to vulgar and inappropriate personal attacks online and culminated in a "Month of Silence" by many (certainly not all, I'm a polytheist) in the polytheist-Pagan community. It was an ugly summer of hurt feelings and name calling. This was online Paganism at its worst.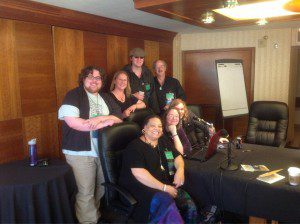 The rebirth of Patheos Pagan. I've never admitted this publicly before, but I almost left Patheos Pagan in the fall of 2012. That was a time of major transition and change at Patheos Pagan. Long-time channel editor Star Foster resigned and both The Wild Hunt and Bishop in the Grove both went back to being independent entities. For several months there was only a skeleton crew here still posting. In January Christine Hoff Kraemer took over at Patheos Pagan and the difference she's made here has been nothing short of extraordinary. We had our best month ever here last October (and my second best month ever at RtH) and all those that left Patheos Pagan seem to be doing well too. Everybody won, especially those of you who read and visit the Pagan Blogosphere.
We support Pagan journalism. Speaking of the The Wild Hunt, the Pagan Community again came out to support intelligent (and important) Pagan Journalism. I was happy to see that they not only met their fundraising goals for 2014, but exceeded them! Kudos to everyone who supported The Wild Hunt, and thanks to Jason and his crew who do an outstanding job day in and day out.
. . . . . And Now the "Hornies" or Jason's Random Superlatives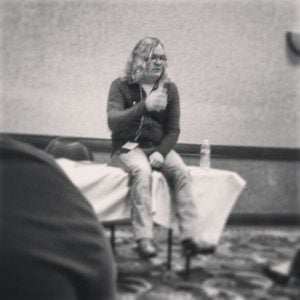 Festival/Gathering of the Year. I get to five or six major Pagan Festivals/Gatherings a year, and they are all a blast. There's no way to truly pick a "best" festival because we're all going to have different experiences; it's a completely subjective, so don't read too much into this. That being said my favorite festival in 2013 was Detroit's ConVocation festival. This was their second year at the Doubletree Hotel in Dearborn and it showed. Things were truly where "they needed to be" this time around; a little experience goes a long way. What made ConVocation my favorite festival this year? It wasn't necessarily the speaker line-up, it was just the atmosphere of the event. They threw a great party last February, but the "partying" aspects didn't get in the way of the learning or the fostering of community. It's difficult to juggle the many reasons people visit a Pagan Festival, ConVocation got it just right this year.
Album of the Year. More and more great Pagan music is released every year, and to be honest, most of us only hear a fraction of it. Of course if I haven't heard an album it can't be my favorite. That being said my favorite Pagan album by a Pagan was Sharon Knight's Neofolk Romantique. It's a good disc full of music that "feels Pagan" without being dirgy or like an all night chant-a-thon.
Single of the Year. Lon Milo Duquette's If We Believed was originally released as a video in 2009, but it's first release on CD was this year, so I think that counts when it comes to the Hornies and single of the year. (It's not like the Hornies are a real thing anyway.) It's scathing, it's funny, it's a new favorite Yuletide song, though only in certain company.

Best Pagan Sounding Album by Non-Pagans. In a world more about Katy Perry and One Direction it's nice being able to find new music that I truly enjoy. One of my favorite bands over the past three years has been Toronto's Blood Ceremony. Yeah it's Black Sabbath-derivative gloom and doom heavy metal, but when you throw a flute into the mix along with some strong female vocals you end up with something different. That some people call it "Witch Rock" is only the icing on the cake. This year's Eldritch Dark was heavy, but also full of groove and solid song-writing. Give me more 70's throwback music please.
That's all I've got, I hope your 2013 was as great as mine! Happy Holidays!