American Paganism has long been dominated by the East and West coasts, but Paganism is thriving from sea to sea here and everywhere in between. The greater blogosphere doesn't often write specifically about Southern Pagans and Southern Paganisms, but they are most certainly out there, and in large numbers. Heck, Southerners have been making an impact on Paganism since the very start, and are continuing to do so today!
(And for the record, I spent many my formative years in the American South, and to this day I love gravy, sweet tea, and Tennessee Volunteers football! I'm pretty content with being a Californian these days, but the best parts of the South are still in my blood so to speak.)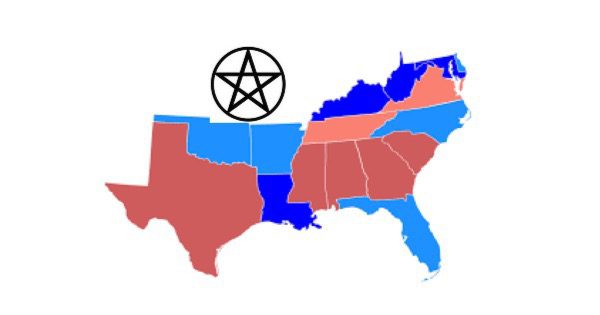 Authors
Southern authors have been a force in Paganism since 1971. That's the year that Kentucky native Jesse Wicker Bell (better known as Lady Sheba) released "her" Book of Shadows. A year later she followed that up with The Grimoire of Lady Sheba. Despite the rather nefarious origins of Sheba's books (she broke some oaths by printing someone else's BoS) there's no denying their impact on Modern Paganism. "Sheba's work" featured some of the very first Witch ritual in print.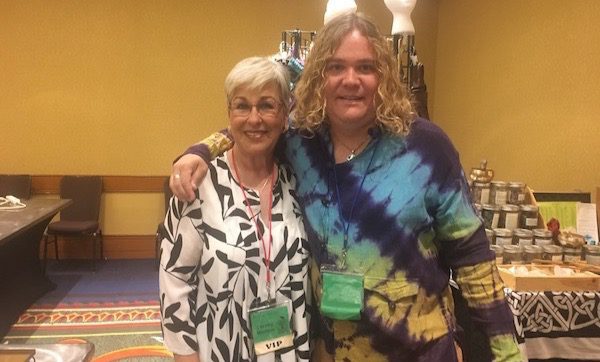 But the American South has (mercifully) given us more than Lady Sheba. It's home to Dorothy Morrison one of the most prolific, influential, and talented Witchcraft writers of the last 20 years. It's also the home of H. Byron Ballard, and that's just the tip of the iceberg. Southern writers have had a big impact on Paganism and have from the very beginning.
Bloggers
One of the most influential voices in the Pagan Blogosphere belongs to John Beckett, who born in the great state of Tennessee and now resides in Texas. John has garnered a large and diverse readership not just because he's an excellent writer, but because he writes about fascinating things and does so with care and compassion. (And he's now an author too, The Path of Paganism is most excellent!) But John isn't the only Southern voice on the Pagan interwebs many of my favorite writers call the South home, and at least a few know how to drink their tea (sweet!).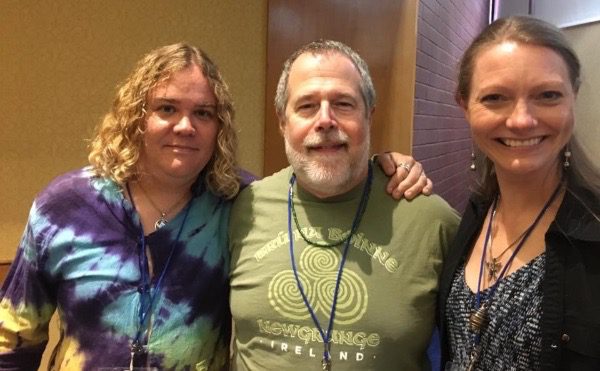 Dirty secret time, my favorite writer on Patheos is probably Thorn Mooney, though she doesn't write often enough. And my favorite under the radar Pagan community in North America is most likely Greenville North Carolina, due in large part to the efforts of my favorite Witch on Fire Heron Michelle. (Michelle also writes in such a way that she always takes me back to my high school days just outside of Nashville Tennessee).
Pagan politics are heavily influenced by the liberalism of the West and East Coasts, but Southern Pagans are a vital part of today's conversation, and are often drivers of that conversation! It's always been important to me that American Paganism is not dominated by any one region of the country. (And I'm sure I'm forgetting lots of other great Southern writers who reside online, I know ya'll are out there!*)
Festivals
The South also boasts a whole lot of really great festivals. East Tennessee is home to the Pagan Unity Festival (PUF), one of the most positively written about festivals I've ever encountered. It's also home to the brand new Mystic South, who have announced that they will be back next year! Yay! We can always use more conferences and events!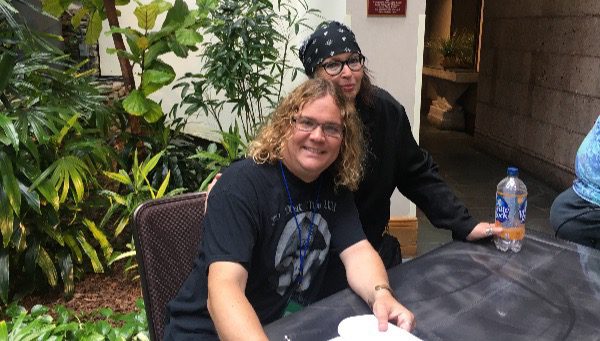 And before I forget, Florida has more big public Pan-Pagan events than nearly any other state. Florida Pagan Gathering meets twice a year, once a year is a big enough undertaking, but twice!?!?! (It's impressive, and I raved about their festival earlier this year).
Institutions
The home of CNN (Not Fake News!) has been Atlanta Georgia since it was started by Ted Turner in the early 1980's. So it's fitting that the current home of The Wild Hunt is also Georgia, and has been for the last couple of years since Heather Greene took over as managing editor. And yes, The Wild Hunt is an institution, it's our CNN!
But the Wild Hunt is not the only institution to call the South home, it's also where Cherry Hill Seminary is located. Go poke around Cherry Hill's site, they've got some great opportunities going on there.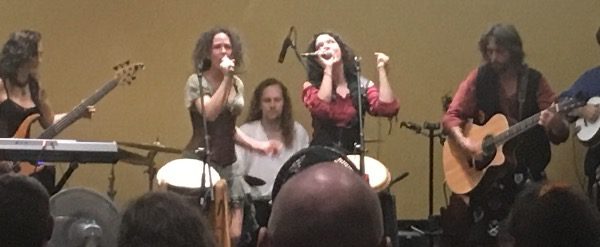 Music
If you were to ask me who the biggest name on the American Pagan Music scene is today I'd immediately reply with Tuatha Dea. They've been blowing up festival stages for several years now, and always put on a rocking, high-energy show.
There's also Atlanta Georgia's Spiral Rhythm, who feature not only great drumming but some of the most exquisite harmonies I've ever heard on a festival stage. It's all good stuff! If that wasn't enough, freaking S.J. Tucker is from Arkansas. The South might have the rest of Pagandom beat in the music category. Want more good Southern Pagan Music? How about Ginger Doss, and then there's her old band Velvet Hammer (which is nearly Pagan Classic Rock!).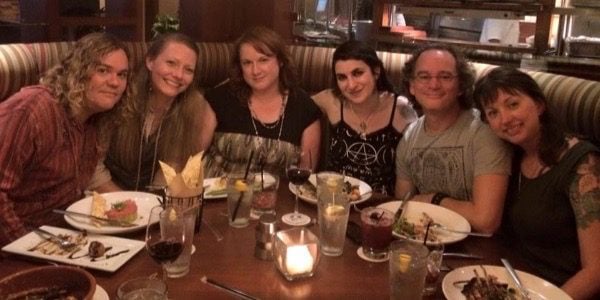 Thoughts on Mystic South
So yeah, I was at Mystic South over the weekend. It wasn't a huge event or anything, but you might have heard about it because it was kind of an adventure (more on that later).
-I had a couple of people ask me during the conference and once I got home if it was in any way different from conferences in the rest of the country. To be honest, not really. It had nice Pagans at it, interesting workshops (they really had a great speaker line-up!), and lots to do, that's pretty much par for the course. I think some people were expecting me to tell them that everyone there had a Trump sticker on and walked around with a Confederate flag. Nope. I think I did almost nothing but sit on panels, do workshops, and ritualize on Friday (with the exception of dinner). It was great!
-Yeah, the hotel that hosted the conference didn't have any water for about twelve hours on Saturday. The toilets and showers didn't work, and the much needed air conditioning conked out too because the chiller system it utilizes needs water. Was this a big deal? No. Was it the fault of the organizers? Absolutely not, and it was actually a city problem and not the the fault of the hotel.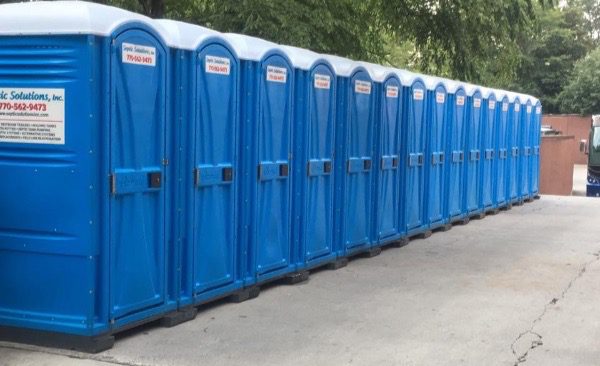 The organizers of Mystic South did a tremendous job of staying positive in the face of a tiny bit of adversity, and the hotel reacted well too. Heck, all the Pagans reacted like I thought they would, with class, good humor, and generally some laughs. If anything, the lack of water at Mystic South will go down as one of those legendary and unforgettable moments in the history of festivals. Definitely a first world problem, and if anyone is whining about it post-festival they are being silly. It was a nothing-burger to be honest, and besides, anything that gives me a good story is OK in my book.
-I got to spend some quality time with some of my absolutely favorite bloggers from Patheos Pagan, most notably John Beckett, Laura Tempest Zakroff**, and Heron Michelle (and we were joined at dinner by Sara Amis, one of our alumni so to speak). Those three folks are some of my dearest friends and absolutely favorite people.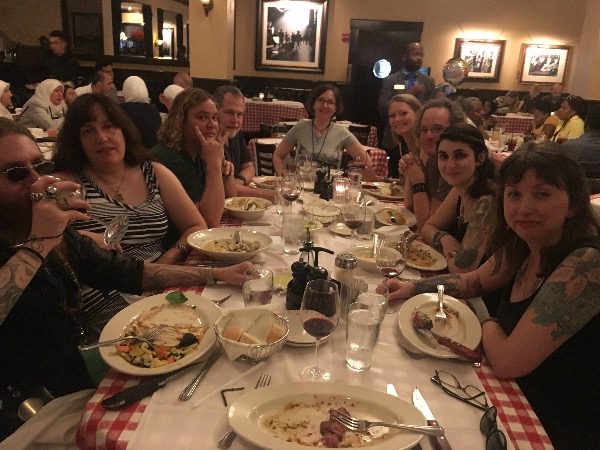 -If there's one tweak I wish every festival would make, it's that I wish they'd set up some neutral gathering spaces that run from the early evening until the clock strikes midnight (or later). I found myself unsure of what to do after 11:00 PM Friday and Saturday nights, and I know there were people who wanted to hang out (many of them ended up in my room!). Concerts, rituals, and even karaoke are all great, but sometimes you just want to have a drink and some conversation.
-All in all I was delighted to be in Atlanta this past weekend, and while I probably can't afford to make it a yearly pilgrimage, I do hope to get back!
*It took me about two days in Atlanta to begin saying "ya'll" again in polite conversation. My Yankee wife has gotten several laughs out of it.
**Tempest and I are writing a book together, more on that later.