The demise of the book has been much exaggerated. Physical books sales are up, digital book sales are falling. The number of independent bookstores grew by 35% from 2009 to 2015, and while thriving may not be the right word to describe them all, they are staying in business. It's not just growing booksales and outlets fueling this trend, in the magickal world there are more publishers now than ever.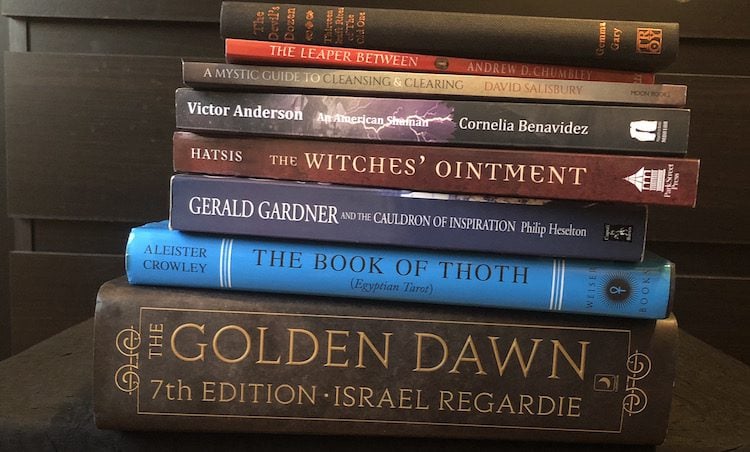 Twenty years ago there were only a handful of Magickal/Pagan/Witch publishing houses, most notably Llewellyn Worldwide and Samuel Weiser. Occasionally you'd see a magickal book published by a "mainstream" publisher, most notably Starhawk's The Spiral Dance published by Harper Collins, and there were sometimes books by Inner Traditions or Capall Baan (really hard to find in the USA!) floating around, but the selection was rather limited. Today there are dozens of Pagan and Magickal Publishers, so many that I know I'm going to forget a few in this article.
With the advent of self-publishing there are now hundreds (if not thousands) of Pagan and Magickal titles being published every year. The sheer amount of published material has made making a living as an author more difficult for writers, but it's been a blessing to readers. There are now dozens of books on almost every topic, from quick and easy introductions on certain deities and ideas, to more scholarly fare. If there's a topic that interests you, there's probably a (good) book about it somewhere.
Many in the magickal publishing industry have turned bookmaking back into an art too. I like to make the joke that most Traditional Witchcraft books are printed on gold-embossed paper and come complete with bat-leather bindings. I know it's not true, but many books in the genre from publishers like Troy Books and Three Hands press meet at least some of those criteria, and I buy a lot of them! Sometimes the physical book comes out just as magickal as its contents.

I thought it might be fun to take a quick look at the world of Magickal and Esoteric Publishing as it stands today. I own books from all of these publishers so I'm a fan of everyone listed below (Full disclosure: I write for Llewellyn Worldwide, but most of you already knew that.)
Not only has Avalonia Books published some of my favorite books on Witchcraft over the last ten years, they've are also owned and operated by Sorita d'Este who is one of my favorite people! Double score! But seriously, if you are looking for Witchcraft books, books on Hekate, or grimoires this is one of my favorite places to go. I was first introduced to Avalonia via Wicca Magical Beginnings one of the most dog-eared and referenced books in my (fairly big) library. I've also found Avalonia Books easy to get ahold of the States, not always with the case with a lot of UK publishers.
Titles: Wicca Magical Beginnings by Sorita d'Este and David Rankine, All Acts of Love & Pleasure: Inclusive Wicca by Yvonne Aburrow, The Complete Grimoire of Pope Honorius by David Rankine and Paul Harry Barron
It pains me to start this list out on a sad note, but the passing of Capall Bann co-founder Jon Day in 2015 has put Capall Bann on hold. Their last title was released in 2015 and many of their most popular books have not been reprinted in years. This is especially sad since there are many Capall Baan titles I look at as ESSENTIAL in the worlds of Witchcraft and Paganism. Capall Baan books have always been difficult to acquire in the United States, which made tracking one down all the more satisfying. For those of us interested in the works of Robert Cochrane for many years Capall Baan was the only place to get a lot of that information.
Founded: 1993
Sample Titles: Wiccan Roots by Philip Heselton, Genuine Witchcraft is Explained: The Secret History of the Royal Windsor Coven and the Regency by John of Monmouth, In Search of Horn the Hunter by Eric L. Fitch.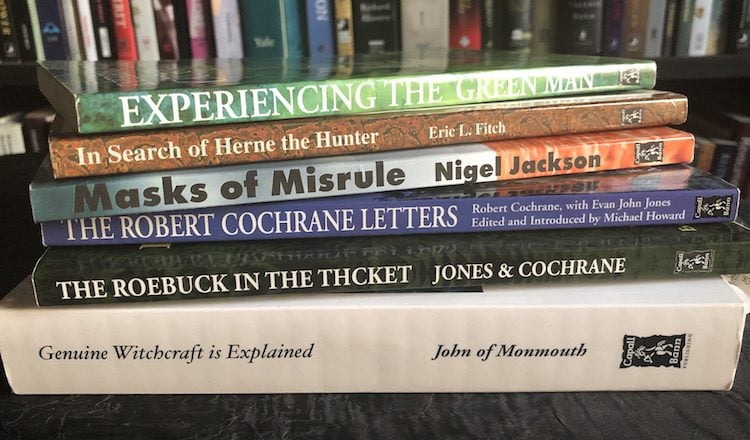 Copper Cauldron has been publishing books since 2010, and boats some of Witchcraft's most celebrated authors and practitioners, people like Laurie Cabot and Christopher Penczak. Copper Cauldron books are available just about everywhere, and in a short amount of time they've become a must have at most bookstores.
Founded: 2010
Sample Books: Feast of the Morrighand by Christopher Penczak, Laurie Cabot's Book of Shadows by Laurie Cabot (and others),
I started writing this article after ordering Alex Sanders Notebook from Hell Fire. The Sanders Notebook is a reproduction of one of Sanders's magickal (private) notebooks limited to just a few hundred copies. (How could I say no to that?) Hell Fire is a lot like other smaller esoteric presses, they specialize in books that probably have limited appeal (though not to me), and then turn them into works of art. All of their books are hand-bound and many feature leather and vellum covers. Much of the work on each book is done by founder Eamonn Loughran. (This article on the history of the publisher and how Eamonn puts things together is some great reading!) Hell Fire also publishes reproductions of some of Aleister Crowley's finest works along with several grimoires.
Founded: Loughran says that the genesis of the company began about 20 years ago.
Titles: The Alex Sanders Notebook, by Alex Sanders, THE MAGUS and the Cunning Man by Eamonn Loughran, The Book of Thoth, by Aleister Crowley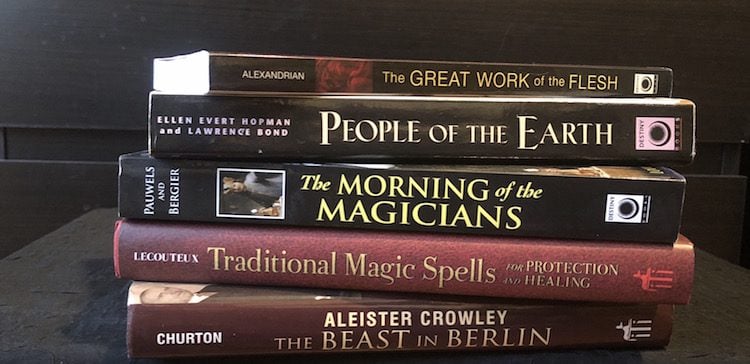 IMMANION PRESS/MEGALITHICIA
Immanion Press began as a fiction publishing house, founded by author Storm Constantine in order to get some of her novels back into print. In 2004 the publisher branched out with its Megalithcia imprint, releasing Pop Culture Magic by Taylor Ellwood. I'm probably most familiar with them today for their anthologies, titles such as Bringing Race to the Table, and The Pagan Leadership Anthology.
Founded: 2003
Titles: Victor H. Anderson: An American Shaman by Cornelia Benavidez, Pop Culture Magic Systems by Taylor Ellwood, Why Buddha Touched the Earth
by Tom Swiss
Inner Traditions has been publishing since 1975 and boasts a wide range of titles, along with several imprints. Though an independent company they are distributed by Simon and Schuster which means their titles can be found just about anywhere books are sold. One of my favorite imprints at Inner Traditions is Destiny Books, which often publishes English translations of French and German works such as The Great Work of the Flesh: Sexual Magic East and West by Sarane Alexandrian. Inner Traditions also publishes some great esoteric history too, along with many books on alternative history, medicine, and Eastern spirituality.
Sample Books: Runic Lore and Legend, Wyrdstaves of Old Northumbria by Nigel Pennick, The Real Witches of New England History, Lore, and Modern Practice by Ellen Evert Hopman, Occult Paris by Tobias Churton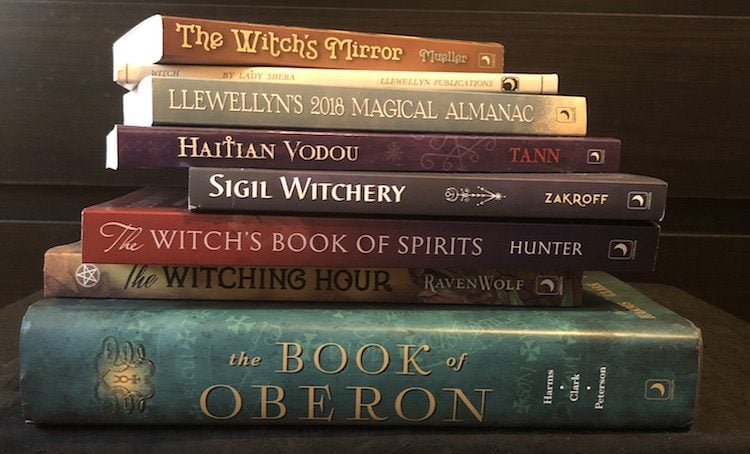 We all know I'm going to be a bit biased here, but Llewellyn has been doing really great stuff for many years now and I was saying that long before I was writing books for them. It's easy to talk shit about Llewellyn given their prominent place in the marketplace, but many of the criticisms directed at them today are about books printed over twenty years ago. Things have changed a lot since 1996 or whatever! Unbeknownst to a lot of people, Llewellyn also publishes some of the prettiest books in the occult marketplace. Do most people need The Complete Mystical Records of John Dee? Probably not, do I want a copy none the less? Yes. And Llewellyn publishes a lot of titles like this, their catalog goes far beyond the ten Witch books one generally sees at the local metaphysical shop.
Founded: 1901
Sample Books: To Ride a Silver Broomstick by Silver Ravenwolf, Betwixt and Between by Storm Faerywolf, Sigil Witchery by Laura Tempest Zakroff, Transformative Witchcraft by Jason Mankey (Yeah that last one is mine, but I'm so damn proud of it!)
Some of my favorite reads over the last ten years have come from Mandrake of Oxford. While many of Mandrake's books focus on Thelema, they've become a very diverse publishing house over the last thirty years, and now offer titles dealign with Traditional Witchcraft, Wicca, and True Crime. Many of my favorite Mandrake titles have been biographies or memoirs, titles such as Pan's Daughter by Nevil Drury and Firechild by Maxine Sanders. I've never had much luck finding Mandrake titles in American bookstores, but they can be easily ordered online.
Founded: 1987
Titles: The Black Toad: Alchemy of Body, Spirit, & Stone by Ron Wyman, Wormwood Star: The Magickal Life of Marjorie Cameron Spencer Kansa, The Arcane Veil by Shani Oates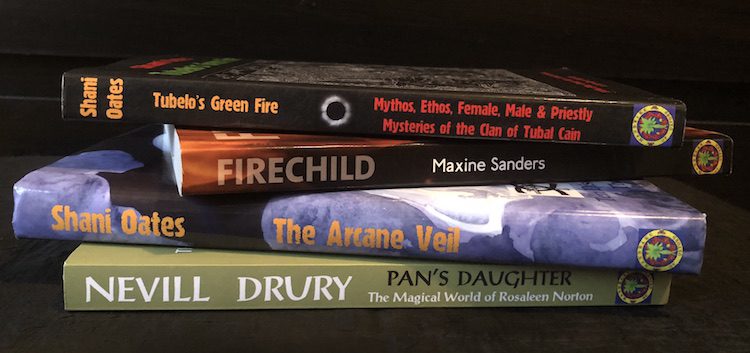 Scroll through any best-seller list online and you'll come across a plethora of Moon Books titles. Moon books are available on Kindle and as traditional paperbacks, but I've always felt that Moon's strength probably lies with e-books, many which sell for just a few dollars. If there's a Pagan or Witchy subject you are interested in, Moon Books has a title waiting for you. In recent years they've also published some fantastic anthologies focusing on the Goddess and the first anniversary of Gerald Gardner's Witchcraft Today.
Founded: 2001
Titles: Grimoire of a Kitchen Witch: An Essential Guide to Witchcraft by Rachel Patterson, Fairies: A Guide to the Celtic Fair Folk by Morgan Daimler, Witchcraft Today -60 Years On edited by Trevor Greenfield
Pendraig is most famous for publishing many of the works of Peter Paddon (he founded it after all), but the company has printed books by several other authors over the years. Perhaps the most famous the legendary Raymond Buckland, but there have also been titles by Ann Finnin and Robert Artisson. They also produce and release DVD's. Like many of the publishers on this list they don't release a lot of product, but when they do, their material is definitely worth hunting down.
Founded: 2005
Titles: Feasting from the Black Cauldron, by Amaranthus, Balkan Traditional Witchcraft by Radomir Ristic, A Grimoire for Modern Cunningfolk: A Practical Guide to Witchcraft on the Crooked Path, by Peter Paddon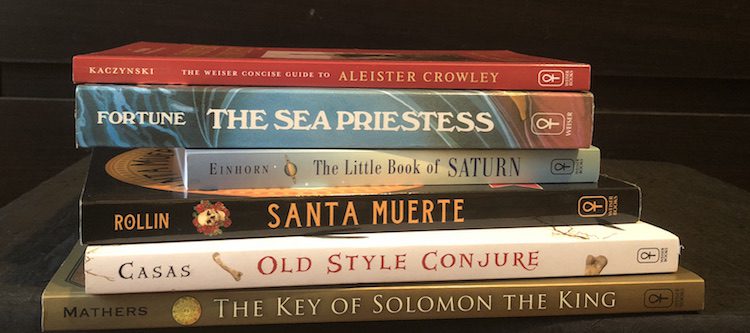 The Samuel Weiser ankh is as recognizable to me as Llewellyn's crescent moon, it's been that omnipresent in my life since discovering the Craft in the 1990's. Originally a spin-off of the Samuel Weiser bookstore (New York City) which opened in 1926, Samuel Weiser has been publishing esoteric and magickal books for over sixty years. The publisher has had a huge impact on the magickal community during that time, reprinting classics such as Dion Fortune's The Sea Priestess and publishing Raymond Buckland's The Tree, the first book ever published specifically for solitary Witches. Their recent Crowley compendiums (The Best of the Equinox: Enochigan Magick, Sex Magick, Dramatic Ritual) edited by Lon Milo Duquette are absolutely terrific.
Founded: 1956
Titles: The Little Book of Saturn by Aliza Einhorn, Santa Muerte: The History, Rituals, and Magic of Our Lady of the Holy Death by Tracy Rollin (probably my favorite magick-related book of last year), The Sea Priestess by Dion Fortune
Few publishers tap into the zeitgeist more than Scarlet Imprint. They might not sell the most books, but much of what they publish results in endless discussion online. Apocalyptic Witchcraft came out in 2013, and I still see it referenced more frequently than most other titles. Scarlet Imprint does a nice job of straddling the line between making books as works of art and making what they publish readily available. They print stunning limited editions, but also offer accessible standard paperbacks too, it's the best of both worlds!
Founded: 2007
Titles: Apocalyptic Witchcraft by Peter Grey, The Red Goddess by Peter Grey, Seeking Faust by Dale Pendell
I know this sounds redundant by now, but it's true, Skylight Press has printed some of my absolute favorite Witch and occult books over the last ten years. They have some great titles focusing on the works of Dion Fortune and William Gray for instance. And the Stewart Farrar biography they published in 2013 was beyond amazing. (I love living in a world where we have publishers who publish biographies of people like Stewart Farrar). I don't see Skylight Press books in a lot of Witch shops in the USA, but I they are easily available online. For book collectors Skylight also offers limited edition hardback editions of select titles (usually so select that I find out about such things after they've sold out).
Founded: 2010
Titles: Esoteric Training in Everyday Life by Gareth Knight, Dion Fortune's Rites of Isis and of Pan, edited by Gareth Knight (a Jason favorite!), Red Tree, White Tree by Wendy Berg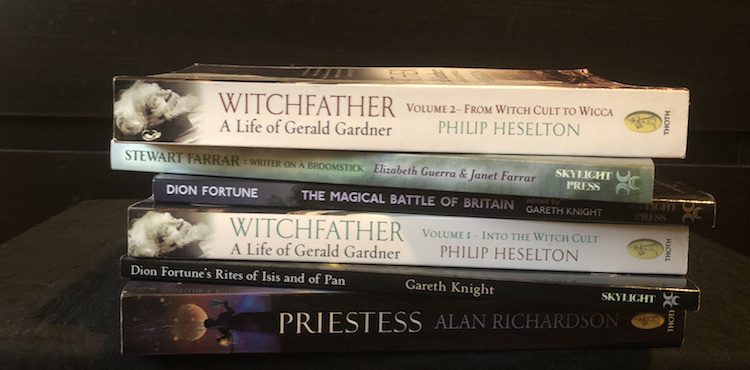 Though Thoth Books is not the first publisher to come to mind when I think of Pagan and esoteric books, they've printed a lot of great titles over the years. They've put out books by authors such as Gareth Knight, Dolores Ashcroft-Nowicki, Dion Fortune (helping to keep her books in print), and probably most importantly for me Philip Heselton. They are another UK-based publisher whose books can be tricky to find in the USA, but well worth the extra time spent hunting.
Founded: 1988
Titles: Witchfather: A Life of Gerald Gardner (Volumes One and Two), A Modern Magician's Handbook by Marian Greene, First Steps in Ritual by Dolores Ashcroft-Nowicki
When I think of "Traditional Witchcraft" my thoughts often go straight to Three Hands Press and their sister publishing house Xoanon Publishing. Three Hands Press is probably most famous today for printing most of Andrew Chumbley's work and a lot of material by Michael Howard. Much like Scarlet Imprint, Three Hands Press books run from the gamut from works of art, to traditional hard cover volumes, to reasonably priced paperback books. Also, would it be too much to ask to reprint the two Opuscula volumes one of these days?
Founded: 2003
Titles: Children of Cain by Michael Howard, The Luminous Stone edited by Edited by Michael Howard and Daniel Schulke, The Afflicted Mirror by Peter Hamilton-Giles.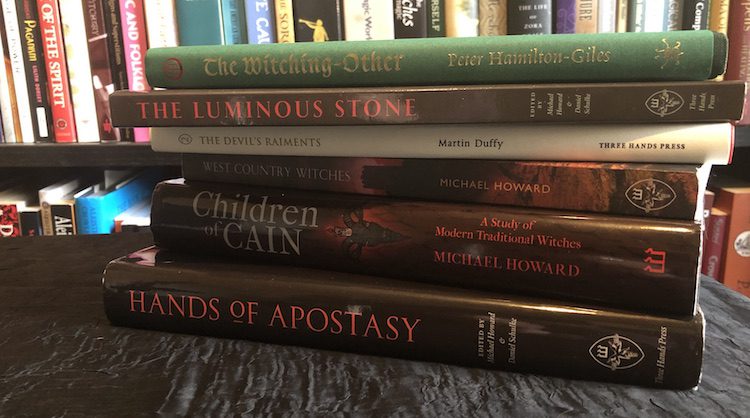 "Honey did you buy ANOTHER eighty dollar book from the UK again?" Those are often the first words my wife says to me when she comes home from work, and that eighty dollars is most often sent out to Troy Books. I'm weak, I know this, but they print so many interesting and crazy things, and at a lower price point than some of the other speciality publishers (at least it feels that way since everything is listed in pounds!) that I just can't resist. Did I really need that numbered limited edition "bound in a Butterscotch faux leather binding, with gold foil blocking to the front and spine, 90gsm white paper stock, black endpapers, with black head and tail bands?" No, but yes? Are Gemma Gary books cooler in hardback, limited edition, and special edition volumes? To me they are. Like many of the Traditional Witchcraft publishers in this article many of Troy Books' publications are more like mini-art projects than just books. I love my library and I love Troy Books.
Founded: 2009
Titles: The Charmers' Psalter by Gemma Gary, Treading the Mill: Workings in Traditional Witchcraft by Nigel G. Pearson, Cecil Williamson's Book of Witchcraft: A Grimoire of the Museum of Witchcraft by Steve Patterson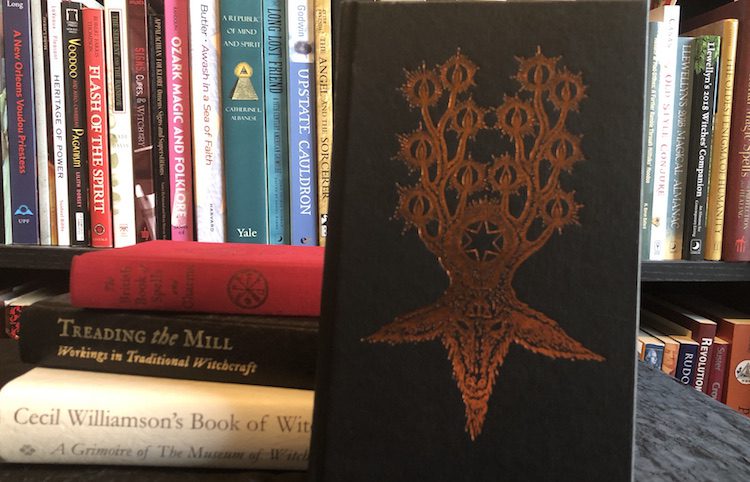 A Couple of Notes: In 2017 NEW PAGE books was purchased by Samuel Weiser/Red Wheel which is why they aren't on this list. ROCKPOOL PUBLISHING is distributed by Weiser/Red Wheel which is why they aren't here either. ROBERT HALE, who has published several books by Doreen Valiente and Lois Bourne was purchased by Crowood Press. I'm unsure if they are going to continue to publish Witch-related books. I'm also unsure if PHOENIX PUBLISHING (who published several books by Janet and Stewart Farrar over the years) is still an ongoing concern.
I realize that this lis is probably incomplete to come degree, and at 2600 words I just don't have the time to list every independent publisher. What's here represents what I can generally find at a bookstore of a Pagan festival, along with my mad passion for crazy limited edition, goatskin covered, gold leaf paper books.