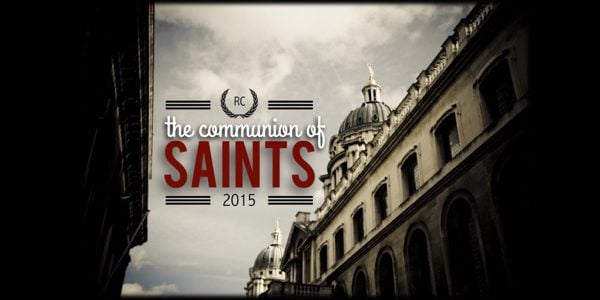 Every year my church spends the month of November studying the lives of the saints of the church. This was an attempt to commend to us the lives of those everyday saints all around us, who point the way to a good life, and give mercy and grace hands and feet in our world. The outline format reflects the way I manuscript my sermons… just makes it easier for me to try and memorize as much as I can.
---
Every year we take the month of November to remember the lives of the Saints who have gone before us:
Hoping to learn from them how to live as a Christian in this world.
It's important because it's not always easy to navigate life as a believer in the midst of a culture that wants to tell us how to live.
We have this faith, and this ancient tradition.
We have this life in which we're constantly interacting w/culture.
And the two seem to clash

constantly

in our lives.
I think the first time I felt this tension between the Christian life & the life of the culture around me was on Sunday afternoons as a child.
In my family we weren't allowed to play

outside

on Sunday.
This was part of how we observed the Sabbath.
I remember leaning over the couch, pushing the

curtains

aside, & peeking out the

window

as my friends rode bikes up & down the block…
…thinking to myself that Sabbath was just some horrible form of persecution my mom & dad thought up for me.
Of course, at that age, any demand my parents made felt like a horrible form of persecution.
Later on, I think I was in 7th grade, my best friend was a Christian, but he went and got himself a girlfriend… so I had to find some other friends…
One weekend I spent the night with a group of guys at a friend's house, and this kid's mom let us go to a party.
(I don't think I told my parents about that part of the deal).
The party was supposed to be a bunch of middle school kids, but when we got there it was like the party from 16 Candles.
Music blaring, jocks in the living room,

stoners

in the basement,
Girls in the kitchen (talking), and alcohol everywhere.
We walked in, made a loop through the house, eyes as big as silver dollars, & wound up in a huddle on the front lawn saying:
"Oh my gosh. Did you see that? Everybody's drinking."
We called his mom & got a ride back to his house & swore that we would never drink in High School…
Of course: Fast Forward to high school—My best friend had a new girlfriend now (I don't know what his deal was).
I wound up at another party with those same four guys.
This time, though,

they

were all drinking…
I think I've always had a little bit of an outsider complex…
(it's an artist thing).
But in Middle School, I had a group of friends & felt like I belonged.
Suddenly in High School… it was like they went a one way… & I couldn't go with them.
I remember

leaving

that party all by myself.
It was a lonely drive home… in my 1969 VW Beetle
(Yes, I was destined for social

failure

even then).
This began a long period of loneliness & isolation for me.
Anyone else have a similar experience?
I was talking w/Cole about it this week, & he said this is one of the main struggles he sees in High School kids today.
They feel like their faith

costs

them a lot of friendships… in fact:
Our Youth pastor, Cole, says a lot of students begin questioning God because of this.
It's the first time they've experience loss (or what feels like

persecution),

because of their faith.
They start wondering why God says I can't go drinking w/my friends at 16.
Why do my parents have these rules?
Why am I faced with so much loneliness when I'm just trying to do the right thing?
Some chuck their faith altogether. Others will embrace it more deeply.
Most will slowly distance themselves from church & youth group.
They don't totally

bail,

they just keep their distance…
Because getting too close to this Jesus guy & his crazy followers can sometimes come with a hefty price tag.
It's not just HS kids, is it… this is a temptation for all of us… distance
I think this is the exact response to the high cost of faith that is being addressed by the writer of

Hebrews.

Hebrews is written to a church that is experiencing a serious crisis.
Scholars aren't exactly sure who wrote it, but it seems to have been written to 2nd generation Xians who were living in Rome.
Hebrews is a kind of ½ sermon/ ½ letter addressed to a group of believers who've already been baptized & instructed in the faith.
In fact, we're told they've been following Jesus long enough that they should be teaching others by now, but they are not (Ch. 05).
And this is a

problem…

something seriously stunted their growth.
Hebrews is written in the latter part of the 1st Century.
It was a time of upheaval in the relationship of Jews to the Roman Empire, & the Xians (a Jewish sect at the time), to the other Jews.
These Christians had been experiencing very real

persecutions.

They were being shamed in public, viewed with suspicion, & relegated to the

margins

of culture.
Their response, it seems, was to slowly back away from their faith.
They didn't discard it altogether, they just began to hold their discipleship at arms length.
They stopped growing &

progressing

… and so:
PT: Somebody thought this was a big enough problem, they took the time to write the book of Hebrews, to address what was happening… CH 10:
"32 …recall those earlier days when, after you had been enlightened, you endured a hard struggle with sufferings, 33 sometimes being publicly exposed to abuse and persecution, and sometimes being partners with those so treated. 34 For you had compassion for those who were in prison, and you cheerfully accepted the plundering of your possessions, knowing that you yourselves possessed something better and more lasting."
Mediterranean culture was an honor/shame culture, so being "publicly exposed to abuse" wasn't like a Facebook shaming or celebrity scandal.
Public dishonor brought serious

social

consequences.
Xians who went against the norms of Roman culture would have to face hostile social

pressures.

One could easily lose their livelihood.
People would just stop doing business with them.
Public

abuse

, persecution,

prison,

the plundering of their

possessions,

this is not something one could just laugh off.
Some of them began to back away from their faith a little bit.
They stopped attending worship.
Their commitment to God and the other believers became thin.
So in one sense, the writer's hoping to encourage them, build them up, & cheer them on. In another sense… calling them out, reprimanding them.
Heb. 10:39, he says, "we are not among those who shrink back and so are lost, but among those who have faith and so are saved."
We don't shrink back… lose

heart…

that's not who we are.
We have faith! (Faith is a huge theme in Hebrews).
In fact in the beginning of ch 11 there's a famous definition of faith:
"Faith is the assurance of things hoped for, the conviction of things not seen. 2 Indeed, by faith our ancestors received approval…"
The goal toward which he's pointing them is this hope & conviction that flies in the face of their current situation.
And the way the writer does this is he reminds them of the saints who have gone

before

them, & the way they kept the faith.
He tries to remind them who they are… where they come from.
And he launches into this litany of saints… like a Hall of Fame list:
"By faith Abel brought God a better offering than Cain did… By faith Enoch was taken from this life, so that he did not experience death… By faith Noah, when warned about things not yet seen, in holy fear built an ark to save his family… By faith Abraham, when called to go to a place he would later receive as his inheritance, obeyed and went, even though he did not know where he was going… by faith even Sarah, who was past childbearing age, was enabled to bear children… By faith Abraham, when God tested him, offered Isaac as a sacrifice… By faith Isaac blessed Jacob and Esau in regard to their future. By faith Jacob, when he was dying, blessed each of Joseph's sons… By faith Joseph, when his end was near, spoke about the exodus of the Israelites from Egypt and gave instructions concerning the burial of his bones… By faith Moses' parents hid him for three months after he was born… By faith Moses, when he had grown up, refused to be known as the son of Pharaoh's daughter… By faith he left Egypt… By faith he kept the Passover and the application of blood… By faith the people passed through the Red Sea… By faith the walls of Jericho fell… By faith the prostitute Rahab, because she welcomed the spies, was not killed with those who were disobedient."
And then it's almost like he knows that he's belaboring the point but he can't help himself… so he says:
"And what more shall I say? I do not have time to tell about Gideon, Barak, Samson and Jephthah, about David and Samuel and the prophets, 33 who through faith conquered kingdoms, administered justice, and gained what was promised; who shut the mouths of lions, 34 quenched the fury of the flames, and escaped the edge of the sword; whose weakness was turned to strength; and who became powerful in battle and routed foreign armies… others [now he's given up on even recording all of their names… He just says "other" … the great unnamed saints] were tortured, refusing to be released so that they might gain an even better resurrection. 36 Some faced jeers and flogging, and even chains and imprisonment. 37 They were put to death by stoning; they were sawed in two; they were killed by the sword. They went about in sheepskins and goatskins, destitute, persecuted and mistreated—38 the world was not worthy of them. [I love that line, repeat] They wandered in deserts and mountains, living in caves and in holes in the ground. 39 These were all commended for their faith, yet none of them received what had been promised, 40 since God had planned something better for us so that only together with us would they be made perfect."
Two important things to notice: First: nobody was held up as an example because they were brave or virtuous or successful… but only because they were faithful.
You know, when Abraham & Sarah were living, they didn't think that thousands of years later we'd still be talking about them.
They weren't worried about how their lives would look on paper.
They were just living life, trying to be faithful in a strange land.
It's one of the requirements for sainthood.
You can't know that you'll be held up as an example for everyone.
It disqualifies you.
PT: The people on this list were plain old ordinary everyday people. They did not live their lives for an audience. They were just living their lives. But, because they walked by faith, God was able to use them in extraordinary ways. This means, I think, that some of the most powerful saints in our lives, will not be the hall of fame list from Heb. 11, but plain old ordinary everyday people in our own lives.
The second thing to notice comes at the end of this section. V. 39.
"These were all commended for their faith, yet none of them received what had been promised."
This is something every Jewish Xian back then would've gotten.
That we tend to overlook it.
ALL of the people on that list were commended for their faith…
NONE of them received what they had been promised by God…
It says, "God planned something better" which we know as Jesus.
They didn't have that, & still they walked in faith.
As I pondered this I kept thinking of Mellencamp song Jack & Diane.
"O yeah, say life goes on, long after the

thrill

of living is gone."
What do we do when things don't work out the way we thought…?
PT: These saints fostered in their hearts this inexplicable assurance of things hoped for… that God would come through in the end. And this conviction of things not seen… even thought they had no visible proof, they believed God was keeping his promises.
It's their faith that commends their lives to us. Not their heroics or courage or genius or success… it says:
"These were all commended for their faith, yet none of them received what had been promised" …in this life.
But, we have … we

have

received what was promised.
We have a savior… messiah… deliverer… so…
"Therefore, since we are surrounded by such a great cloud of witnesses, [from Abel, to Moses to Abraham all the way to Jesus] let us throw off everything that hinders and the sin that so easily entangles. And let us run with perseverance the race marked out for us, 2 fixing our eyes on Jesus, the pioneer and perfecter of faith. For the joy set before him he endured the cross, scorning its shame, and sat down at the right hand of the throne of God."
PT: He's saying, don't give up. Don't fall by the wayside. Run with perseverance the race marked out for us. Remember the great cloud of witnesses… & fix your eyes on Jesus, the author & perfecter of faith. V3:
The writer of Hebrews is asking us to let this great cloud of witnesses;
Both the Hall of Fame list & the

unnamed

saints—these holy men & women who have suffered in their obedience to God.
Let these saints inspire us in the current troubles we are facing in our lives.
Which is what the book of

Hebrews

is about.
A bunch of Xians who should be farther along in their faith…
But the cares & struggles of life are beginning to

wear

them down…
They're tempted to walk

away

from it… v.12
So, when WE are tempted to distance ourselves from God & each other;
Because it just gets too

hard…

or life is just so busy &

demanding…

Because we've been

disappointed

by our life…
Because other people have let us

down.

Or because we are

crashing

and

burning…

Whatever it is that

tempts

us to just cash it in…
We can remember this great cloud of witnesses…
And throw off the things that hinder us…
And run w/perseverance the race marked out for US…
PT: Often I think we look for a solution—a pragmatic way to solve our problem, or correct the situation. Here we're encouraged to look for a story of another person who has endured a similar situation faithfully.
There's so much power in remembering this great cloud of witnesses.
I read about a study

psychologists

were doing on how children are coping with increased levels of anxiety & stress.
The study got some press because the results were so surprising.
They found that the biggest factor that would help children to be resilient in the face of high stress…
Wasn't: enough

sleep

, or a good

diet,

or medication or

therapy…

The most resilient kids were the ones who knew the most about their family history.
They knew the

stories

about the great cloud of witnesses B4 them.
And they figured, if they could do it—I can… the article said:
"The more children know about their family's history, the stronger their sense of control over their lives and the higher their self-esteem… they understand that they belong to something bigger than themselves, and that families naturally experience both highs and lows."
PT: Isn't that wild? The writer of Hebrews knew this two thousand years ago. We need to know the story of God. The way God has worked in the past. And we need to know our own stories. And if your own family is all jacked up, then you have the entire family of God, the church… we can learn each other's stories & tell them to ourselves and do our children.
I've asked a few members of our congregation to come and share a story about a saint from their own cloud of witnesses.
(listen online to hear these at RedemptionChurchKC.com)
PT: Next time your energy is flagging & you can feel yourself pulling away; next time you are discouraged or struggling; when you feel lost or let down… Remember that you have been surrounded by such a great cloud of witnesses, and throw off the chains that bind you & the sin that so easily entangles & run the race marked out for you, and fix your eyes on Jesus, the pioneer and perfecter of faith."
Questions to leave you with:
1) Who is the saint for you that you most connect with personally? Could be from the bible… could be from your own life.
2) What is your struggle right now? What tempts you to distance yourself from God because the cost of following seems too high? Who could serve as an example of how to persevere… an example of faith for you?