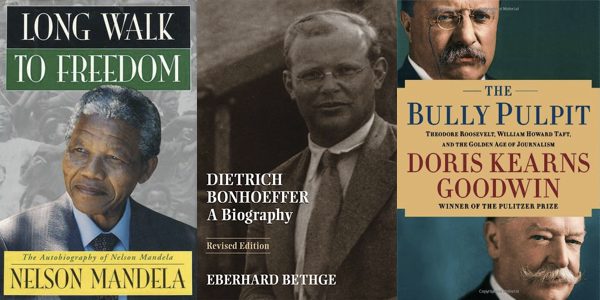 A good biography is a great way to study history. I've almost always got a biography either in my hands or in the upcoming stack.
I thought I'd publish a list of my 25 favorites from the past few years. The list draws from a wide range of types of people and time periods. I tried to just make a few comments about each of the books, and a bit about what I remember learning.
One confession: As I look at the list, although several of these books were written by women, I'm ashamed to see how few women and minorities were the subjects. That is a problem I shall have to remedy. Nevertheless, these are what I read… at least the one's I read that I will recommend, in alphabetical order by subject:
Steve Bannon
Devil's Bargain: Steve Bannon, Donald Trump, and the Storming of the Presidency by Joshua Green
Bannon is an interesting cultural figure, and this book is so interesting. I highly recommend it as a means of gaining a somewhat sympathetic understanding of the Trump moment.
Dietrich Bonhoeffer
Dietrich Bonhoeffer: A Biography By Eberhardt Bethge
Bonhoeffer is one of the greatest Christian figures of the 20th Century. Bethge was his close friend and student. When it became obvious that he was likely to die, Bonhoeffer entrusted his legacy to Bethge, who was also married to DB's niece. This book is the most reliable and complete account of DB's life.
David (biblical figure)
King David: The Real Life of the Man Who Ruled Israel by Jonathan Kirsch
This work was not too overly scholarly or demythologized to be of use for anyone who really wants to have a better grasp of the scope of Davids life & meaning to Biblical Israel.
Albert Einstein
Einstein: His Life and Universe by Walter Isaacson
This is one of my all-time favorite biographies. Einstein was a man so full of brilliance and contradiction. Isaacson is a great story teller and the book simply never bogs down.
Dwight Eisenhower
The Supreme Commander: The War Years of Dwight D. Eisenhower by Stephen Ambrose
Ambrose hasn't always been respected, but this is one of his early works—from before he got all famous. This is a scholarly work the exhaustively lays out the case for Eisenhower as the singular figure on the American side of WWII. I read this and then spent a whole day at the Eisenhower presidential library in Abilene, KS.
Francis of Assisi
Francis of Assisi: The Life by Augustine Thompson O.P.
Francis never disappoints. Thompson does a good job of wading through the history and the folk-lore. He gives you all of it & lets the reader decide what to do with it.
Alexander Hamilton
Alexander Hamilton by Ron Chernow
This book really surprised me. On one had it's a fascinating story of the one founding father that has gone sorely overlooked. On the other hand, I couldn't disagree more with Hamilton's life's work and legacy. Broadway musicals notwithstanding I think Hamilton was misguided & I wish Jefferson would've been able to dismantle his crazy banking boondoggle. This book helped me understand why.
Andrew Jackson
Andrew Jackson: American Lion By John Meacham
Meacham threads the needle in this book between holding the readers interest in the historical events of Jackson's presidency, and holding Jackson accountable to history. It's possible that Jackson did more to transform the executive branch than any president before or since. I have real problems with executive powers—now I know the back-story.
John F. Kennedy
An Unfinished Life: John F. Kennedy, 1917-1963 By Richard McGonagle
I don't really know how to review this other than to say that McGonagle paints a pretty sympathetic picture of a deeply flawed, but capable president who was well on his way to allowing the better angles of his nature win out.
C.S. Lewis 
C. S. Lewis – A Life: Eccentric Genius, Reluctant Prophet by Alistair McGrath
McGrath is a top notch theologian and scholar. He's also a pretty good storyteller. Lewis is fascinating. McGrath doesn't get squeamish about all the nutty sexual stuff Lewis had going on throughout his life. This is an exhaustive work.
C.S. Lewis & J.R.R. Tolkien
The Inklings : C. S. Lewis, J. R. R. Tolkien, Charles Williams, and Their Friends by Humphrey Carpenter 
Nothing was more important to Jack Lewis than his friends. None was more important than Tolkien. This is a fascinating story that functions like a time machine that takes you right back into the room where it happened.
Abraham Lincoln
Team of Rivals: The Political Genius of Abraham Lincoln by Doris Kearns Goodwin
Goodwin is the greatest living presidential historian. This is perhaps her finest work. She gets Lincoln like nobody ever has, and she does it by rooting him in this community.
Martin Luther
Luther: Man Between God and the Devil by Heiko A. Oberman 
Oberman's work is densely theological, giving special attention to the way all of Luther's disputations marked not only his theology, but his personal biography.
Nelson Mandela
Long Walk to Freedom: The Autobiography of Nelson Mandela by Nelson Mandela
This is the only autobiography on the list. He tells the story vividly, and patiently, bringing the reader's blood to a slow boil. I don't know how Mandela was able to forgive other than to say that he was so marked by God's grace that it somehow flowed naturally from his life.
Reinhold Niehbur
Reinhold Niebuhr by Richard Fox
I read this book for two reasons. First, Hauerwas has been quite critical of Niehbur. Second, all of these contemporary politicians say he's the one theologian they respect and read (Richard Nixon, George W. Bush, Bill Clinton, Hillary Clinton, Barack Obama, James Comey). I thought it was important to understand Niehbur's story.
Vladimir Putin
The Man without a Face: The Unlikely Rise of Vladimir Putin by Masha Gessen
This is one of the most disturbing books I've ever read, partly because I remember living through this, and partly because so many things that happened in Russia then, are happening in America right now.
George Price
The Price of Altruism: George Price and the Search for the Origins of Kindness by Oren Harman
This came out of my attempt to understand what evolutionary biological has to say about competition v. cooperation. Turns out that altruism is hared wired into the human genome.
Yitzhak Rabin
Killing a King: The Assassination of Yitzhak Rabin and the Remaking of Israel by Dan Ephron
I read this as prep to my trip to Israel. Rabin is a singular figure in the history of Israel. He's their JFK and MLK all rolled into one. The promise he represented for Israeli-Palestinian peace was significant. His death is still impacting the world.
Walter Rauschenbusch
The Kingdom is Always but Coming: A Life of Walter Rauschenbusch by Christopher H. Evans
I returned to this on the 5th anniversary of my own book on Rauschenbusch (An Evangelical Social Gospel). Evans is a great writer and this is a gripping story.
Franklin & Eleanor Roosevelt
No Ordinary Time: Franklin and Eleanor Roosevelt: The Home Front in World War II by Doris Kearns Goodwin
You can't go wrong with Goodwin. This book made me really love Eleanor, and helped me forgive FDR for being such a shit.
Theodore Roosevelt & William Howard Taft
The Bully Pulpit: Theodore Roosevelt, William Howard Taft, and the Golden Age of Journalism By Doris Kearns Goodwin
I'm not sure I've read any historical work that shed more light on our present day than The Bully Pulpit. Our present moment in history is so much like the one Roosevelt & the muck-raking journalists faced head on. What American needs more than anything is a new round of trust-busting politicians and journalists.
Harry Truman
Truman by David McCullough
This is a fascinating story, although I get the feeling McCullough isn't giving us the whole truth. It's also a mother-long book. I read this and then spent a day at the Truman library in Independence, MO.
Cornelius Vanderbilt
The First Tycoon: The Epic Life of Cornelius Vanderbilt by T.J. Stiles
This is another one of those timely biographies. Vanderbilt is the quintessential robber baron. What I loved about this book is it chronicles the way Vanderbilt mastered the new technology known as the corporation much like Zuckerberg mastered the new technology of social media. They were in the right place at the right time & they were incredibly ruthless.
William Wilberforce
Amazing Grace: William Wilberforce and the Heroic Campaign to End Slavery by Eric Metaxas

Metaxis is a really good writer. Seriously, he's so eloquent and entertaining. The problem is that he's a horrible historian. It's a very fun book to read, but Metaxas is such a crazy right-wing ideologue and a sloppy historian that you really can't trust anything he says… I did think it was a blast to read, so I recommend it. My warning is not to take it too seriously.
John Wesley
Wesley and the People Called Methodists: Second Edition by Richard P. Heitzenrater

This is as much a theological book as a history book. I appreciate that Heitzenrater doesn't go overboard trying to protect Wesley's legacy from his biography. He lets the history speak for itself, and it's an incredibly entertaining story.
Honorable mention:
McCullough's John Adams, fun read but bogs down several times.
Metaxas' Bonhoeffer book, EM butchers Bonhoeffer's internal motivation & makes him into a neoconservative (unforgivable), so you really should read Bethge.
Salt a World History by Scott Brick (it's a biography of salt… fascinating).