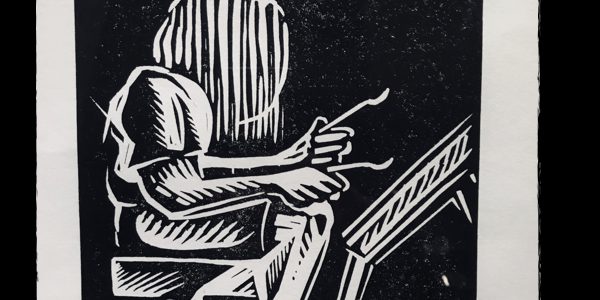 One of the things I loved about Rich Mullins was the way he refused to buy into his own hype. Rich was really clear about the fact that he was an entertainer and a musician (not a pastor or missionary). I think he had to make the distinction for his own integrity's sake. His job was to write and play music for the entertainment of anyone who wanted to listen. If he could trick them into loving and worshipping God in the process that was great. But he wasn't trying to sell Jesus. He was just trying to do what he was good at, sing, play, and maybe give people a fun night of music along the way.
Rich was obviously a deep person who read widely and chased wisdom, usually by asking really hard questions & trying to live the answers. He was a philosopher in his own right, and his wisdom came through in his music. I loved Rich's music because it made me want to know the God he sang about, to learn more about the bible, theology, and philosophy. He still makes me want to go camping. He still makes me want to chase the hard questions.
Rich sometimes complained that people would come up after shows and ask him all these existential questions about life and God. He started saying, Don't you have a pastor? Ask your pastor not me. It was his little rebellion–a way of saying don't make more out of me than you should. I'm just a minstrel. I'm not a cleric.
This clip is of one of my favorites. He didn't do Screen Door in every show, but when he did it was magical. Nobody who takes themselves too seriously as an artist could ever pull off this campy song. It was always such a great live moment. I love that my friends Cobra Joe & Mitch McVicker are in this one. Listen to the vocals on this. They were really, really good.
Happy Birthday, Rich. I'm so grateful for the music you made.