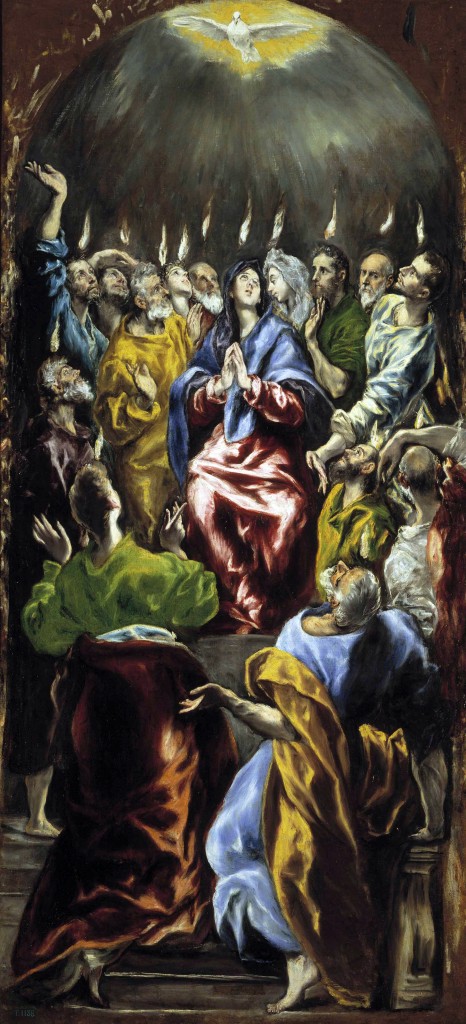 The beginning of Acts 2 reads like a breathless passage from a Hollywood screenplay:
When the day of Pentecost had come, they were all together in one place. And suddenly from heaven there came a sound like the rush of a violent wind, and it filled the entire house where they were sitting.
Like so many well-known passages from scripture, I thought I knew this one until I read it closely and repeatedly, and with a group. What emerged is that this Pentecost story has a perspective distinct from the passages in John and 1 Corinthians that also talk about the Holy Spirit.
While other passages offer long or short lists of spiritual gifts, the focus here and in some other places in Acts is on being filled with confidence, being emboldened.
I usually think about the Holy Spirit in one of two ways. The Paraclete of the Gospel of John is an advocate, intercessor, counselor and comforter promised to come after Jesus — to kind of make up for his absence.
More often, I think of the Holy Spirit almost as synonymous with God's Will/the Way/the Tao — or a pointer to it, if that makes more sense for you — the Holy Spirit as a guide, a touchstone to know what path to follow in life situations — discernment as recognizing what the Holy Spirit is telling you.
But the Spirit here in Acts, while related, is distinct, and exciting. "You will receive power when the Holy Spirit has come upon you; and you will be my witnesses." (Acts 1:8) It promises that with the Spirit in us, we will be able to boldly live out the Good News — whether this takes the form of speaking confidently, or of taking the leap to follow our calling.
I used to be terrified of public speaking. I once watched a job (and to some extent a career path) fizzle out because I couldn't do it. And I tried, but I was so nervous and unsure of myself that I was terrible. For years, this was an embarrassment, and I could do nothing about it.
But when I started working with the subjects of faith and recovery — subjects connected to my calling — the fear was just gone. Gone. It was as if I had no fear of speaking at all. Today I look out at an audience of 500 and simply see people with whom I want to share my message. Of course I have butterflies before I start, but that's not fear; that's because I want to do a good job.
Though the Paraclete of John is a different take on the Holy Spirit, they connect in the phrase from John 15:26, "the Spirit of truth." When I feel grounded in Truth, when I know what I'm talking about and I know that there's nothing insincere about what I'm saying or how I'm presenting myself, then I am fearless.
Have you had an experience like that? Where a usual fear or hesitance vanishes when your actions are grounded in capital-T Truth and in line with your calling? When the Holy Spirit was in you, empowering and emboldening you?