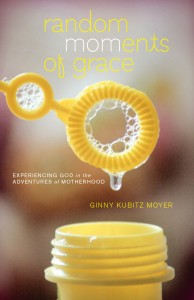 Being a new parent may be the greatest challenge to spiritual groundedness. Ironically, at the same time that you're participating in the miracle of life(!) you are so busy changing diapers and being attached to outcomes (including the health of your child) while being constantly achingly sleep-deprived that there's a good chance miracles and gratitude are not on your radar.
It will get better. One role for Ginny Kubitz Moyer's new book, Random Moments of Grace
, is as a comfort to new mothers who feel like the 24/7 duties will never end. Things do calm down; the work gets less chore-like and the love more reciprocated. You will find equilibrium again (though it won't look the same.) Just knowing that, even if it's a year or two off, can make the current chaos more tolerable.
People tell me all the time that they'd love to do more contemplative stuff but just don't have the time. When most "busy" people offer this excuse, I push back because, well… it's not true; they just have to make choices, or admit the choices they've already made. If contemplation is important enough to them, they'll get up earlier or leave work earlier or use their lunch break or cut into the time they work out or watch TV.
But when a parent of an infant tells me the same, they're probably right. Ginny faced this full force, with two kids two years apart. She takes us through the engaging story of how she found new avenues to God, even in the midst of what she calls the "vortex of parenting" when her world consisted of nothing but her child and husband and her own parents.
You can't always get what you want
And there is much spiritual growth to be had, even in the midst of the vortex. Parenting can be a crash course in the concept that you can't always get what you want. People who've spent their whole lives up to that point being self-centered discover the challenge and the joy of being other-focused. It's a difficult concept to articulate, and an even harder one to choose, but once experienced it changes you, as Ginny describes:
There's a phrase I've come across often in Catholic thought and doctrine: dying to self. I once hated this term. It used to make me think of old-school, guilt-based Catholicism, which I have spent much of my early adult life trying to transcend. When religious writing admonished me to "die to self," I took it to mean that, as an individual, I did not matter, that I had to give up my very personality and become a religious robot…

But now that I'm a mom, I see the phrase entirely through the lens of sacrifice. When you are a parent, you do die to yourself, over and over and over. You die to your desire to watch a TV show uninterrupted. You die to the long-awaited dinner with girlfriends that suddenly has to be given over to an impromptu visit to the pediatric after-hours clinic… And the whole point behind dying to self is that the death is not an endpoint. It always helps facilitate a higher purpose, some positive outcome, some resurrection that you may not be able to see right away.
If we don't learn humility and selflessness through parenthood, we need to learn it some other way or we never mature. As Ginny puts it later in the book in talking about enjoying being with her children even when they're difficult, "acceptance that life will hold both the good and the bad, sometimes all at once, is a worldview that we must grow into if we want to have more than a kindergartner's-eye view of the universe."
Practicing mindfulness in the midst of the day-to-day
Another core spiritual lesson of parenting, equally applicable in other situations, is noticing the little things — being fully present. It's an impossible thing to maintain. We always slip into routine and half-awakeness. But as often as possible, it's important to remember to stop and notice. Ginny talks about the special weightiness of this when the passing time is taking with it something irreplaceable — moments of your child's development:
Sometimes I don't realize how quickly time is passing until someone — a family member from out of state, an old friend — sees the boys after a long absence and comments on how grown-up Matthew is, with his ability to carry on a conversation, or how much Luke is looking like a little boy, not like a baby anymore. These comments always make me stop, look at my own kids anew, and notice what has slipped by, unrecognized, in the string of days as they passed. They are not the same little boys they were just a few months ago…

This, too, shall pass. Often that mantra is a comfort, just as my grandma intended it to be. But more and more, it's also a wake-up call. It's a reminder that the days that seem endless run into months that pass in a shot. And once they go, I will never get them back.
Eventually — once there were no infants — Ginny was able to reclaim some of her spiritual practices with a new appreciation for their importance, finding time again for contemplative work, and rebuilding a broader community. But mostly, Random Moments of Grace
focuses on exactly that: finding God in the day-to-day — in the beauty of a bubble or a child's giggle — in those perfect little moments.
Ginny Moyer is a deeply spiritual person, an astute observer, and a gifted writer. I've had the pleasure of being her editor, and debated with her about e-books and the merits of different 19th-century English romanticists. I highly recommend her longstanding blog, randomactsofmomness.com, to which I've had the honor of contributing. Her new book, Random Moments of Grace
, full of lessons she learned walking through early motherhood, makes an obvious and wonderful gift for new mothers and anyone who's been through motherhood, and it's a valuable and delightful read for any thoughtful traveller, male or female, parent or not, on the spiritual journey.