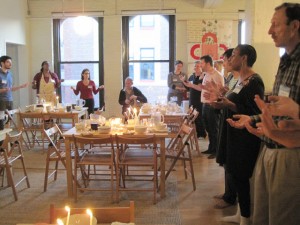 Working side by side making a meal, breaking bread, eating and sharing conversation around the dinner table, then cleaning up together creates community in a very real way. You get to know about each other, but there's something much more profound going on. Deeply connected to the Judeo-Christian tradition is the idea of the sacred meal: we show our bond as a faith community by sitting down to eat together, and we show hospitality to the stranger by cooking for them and inviting them to eat with us. In fact, once they sit down to eat with us and we share of ourselves with each other, they are no longer strangers. Every single week, I get to do this. While every Christian Eucharist is a symbolic meal, at my church, St. Lydia's in the Gowanus neighborhood of Brooklyn, New York, our service is an actual meal. As we gather, some folks join the designated cook and help chop vegetables, peel potatoes, or stir the pot. Others join our coordinator to set the tables and arrange candles and flowers. Our pastor Emily Scott blesses and breaks the bread and we share it around a large circle; then we sit down and have a meal together, catching up with old friends and getting to know new ones. As the meal is winding down, we read from Scripture, Emily preaches, she invites additional reflections, we share prayers, then Emily blesses the cup and we drink from it. Throughout, we sing together using a sheetless music method that makes first-timers and regulars equally at ease. After that, we all help clean up, there's a final hymn, we share the peace, and  head back to our homes around New York City by foot, subway, bicycle and car.
St. Lydia's is about five years old, and after initially meeting once a week at another church (Trinity Lower East Side), for the last three years we've been renting space at the Brooklyn Zen Center. We've continued to grow, expanding to two services a week, and sprouting a bible study, contemplative prayer group, movie club, and theology circle. Since we rent by the night, adding services adds cost, and there's very limited availability for time slots. And we've been constrained by not being able to use the space for small groups and special events. So now it's time to take a major step; a huge leap really. After much searching in the crazy New York City real estate market, we've found a storefront just three blocks from our old location — still in Gowanus, an emerging vibrant neighborhood in the heart of Brooklyn filled with long-time Italian residents, young artists, new families and the remains of its former industrial base around the canal, wedged between three other strong neighborhoods, Park Slope, Carroll Gardens and Cobble Hill, and adjacent to a large housing project. We put down a deposit and locked in a long-term lease, and we've started renovations. We'll move in to the semi-finished space in just three short weeks!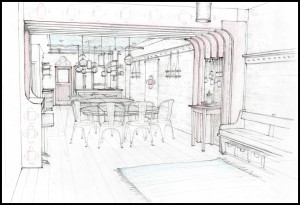 With our own space, we will have the opportunity to become part of our wider community. A visible storefront with a sign means the curious will see us as they walk past. Some of the small groups will move in-house and feel more connected with church. (The theology club may want to continue meeting in a bar. You know how those theologians are.) And during the day, we are going to transform into a co-working space for some of the thousands of New York freelancers who cannot work at home, or who prefer working side by side with others. On some evenings, we may host concerts or events by local organizations. And of course, we can add additional dinner church services without additional rental costs, allowing our community to grow and serve different communities (such as families who find the current 7 p.m. start time impossible.) My hope and expectation is that all of these things will feed each other and turn St. Lydia's into a hub of the broader community, serving it and bringing it together.
Pastor Emily Scott explains the theological and social justice aspects of her vision better than I could, so I encourage you to read her recent article "We've Seen Megachurch. But How About Micro-Church?":
I believe that every time a congregation sits down with someone from whom they would otherwise be divided, justice is made. The conversation between the recently homeless man and the recent college graduate. She may have passed him on a street corner earlier today, but tonight they are talking over a bowl of stir fry. Later, they will do the dishes together. And after that they may change their corner of the world for the better.
In order to fulfill this vision, working with an architect we've done some very cool things. The large oval tables for dinner church, break and transform into multiple workstations for co-working. The entry area has been transformed to create a sense of transition from everyday space to sacred space. Throughout, the feeling is comfortable and homey without being cutesy. Functional without being utilitarian. From its start with a handful of people in an apartment kitchen to multiple services of dozens each in this new space, in the midst of this bustling, busy and often impersonal city, St. Lydia's is home. We are community; we are people of God, sharing with each other and supporting one another, and more than anything, just being family.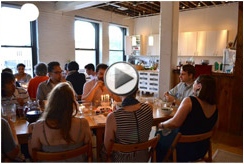 Check out the video I directed for our online fundraising campaign, which I think will give you a better taste of what we're embarking on, since it's in the voices of our congregants. There's also a lot more information about the new space there. And I encourage you to share this information with anyone else you think might be interested.