Jordyn Wieber Was Not Robbed — She Was Outperformed by Aly Raisman
I argued the opposite case in a previous post, but there's a strong argument to be made that Jordyn Wieber was a victim of nothing but her own mistakes and reasonable rules that everyone understood perfectly well in advance.
If you missed the first post, Jordyn Wieber is the reigning all-around world champion and a dominant American gymnast for years, who narrowly missed qualifying for the all-around finals at the London Olympics.  The rules stipulate that no more than two gymnasts from any single country can compete in the all-around finals, and Jordyn (though she had the fourth-highest score in the qualifying round) narrowly finished in third place on the United States team, behind Aly Raisman and Gabby Douglas.  Bela Karolyi was on NBC last night — predictably — denouncing the rule and arguing furiously that the best gymnasts should be in the all-around finals, regardless of the country from which they hail.  Television analyst Tim Daggett — predictably — argued that Wieber was under-scored on the beam and floor exercise.  Bela and Tim both argued that Shawn Johnson was consistently under-scored in 2008, and there is a long tradition of coaches and officials from just about any country arguing just about anything on behalf of their gymnasts.
Gymnastics enthusiasts hate and love these kinds of controversies.  They hate that there is presently no objective way to determine the superiority of two different routines from two different gymnasts.  They hate that it makes gymnastics look bad, especially when this extraordinary sport, which resides in its own extremely intense and deeply engrossing subcultural bubble, gets its day in the sun only once every four years.  But they also love to talk about them.  They love to criticize the judges and the ruling bodies of the sport.  And in international competitions, the soap opera only gets grander.  Did the East Germans use steroids?  Did the Soviet bloc judges unfairly dock the Americans?  Were the FIC rules crafted to give advantages to Russia?  Were the Chinese gymnasts really old enough?  (It's good to see some of the same Chinese gymnasts from 2008 competing in 2012.  Perhaps this time they're really sixteen.)
For the most part, there's nothing nefarious in this.  Coaches want the best for their gymnasts.  My coaches would argue vociferously for my interests on the competition floor — whether that meant more time in warmups, adjustments to the equipment, challenging a judge's decision, or just about anything.  Your coaches believe in you, any they always sincerely believe that you deserve more.  Sometimes, it's more than that.  Sometimes there really are exchanges of favors, power plays, turf wars.  But most everyone is trying to advocate for their gymnasts within the boundaries of the rules.  I saw nothing egregious in the judging last night.  Her scores on vault and uneven bars were exactly what I expected, and her beam and floor scores were slightly lower than expected but not dramatically so.
Jordyn was uncharacteristically sloppy.  It may have been nerves.  Jordyn is a famously formidable competitor; she has never seemed rattled or anxious or anything but perfectly focused and confident in major competitions.  However, her grip on first place had slipped at the Olympic Trials, where Gabby Douglas came in first, and she was under enormous pressure.  All her life she's been preparing for this moment, and all her life she's been told that she could win the gold.  When you're told all your life by hundreds of people that you're the future Olympic gold medalist, it's a bit easier to be confident in the pre-Olympics competitions and a lot easier to be anxious, perhaps for the first time in a long time, when the competition starts at the Olympic Games.  She would certainly not be the first steely competitor to find her nerves a little jangled at the Olympic Games.  Or perhaps she just had a bad day.  It happens.
Whatever the case, she was not sharp.  She did not really hit any of her routines.  Her vault was powerful and mostly clean, but off-center and she landed to the side with a step.  She nearly fell, and broke form, on the uneven bars, and again took a step on her landing.  There were lots of minor deductions on the beam and floor exercise, more missed landings, and on the floor she (by the tiniest of margins) stepped out of bounds.  Like the rest of the American team, she was not hitting her landings, and left the door open for the judges to take deductions at numerous points.  The judges could have been more lenient — but in an international competition you just cannot give the judges multiple excuses to pull down your score.
As for the two-from-a-country rule, everyone knew about this in advance, so it's not much use to complain about the rules afterward.  It's a common rule in the sports world.  Even if the United States has twenty of the best 30 divers in the world, they can only send a few to compete at the Olympic Games.  (Since gymnastics is a team sport, it has to bring more for the team rounds, and cut down for the individual rounds.)  It's a reasonable enough rule designed to get the best gymnasts from each country and make sure that as many countries as possible have a reason to tune in and root for their athletes.  Arguably, given the current structure of the competition in which only a few gymnasts from each team compete in the qualifying rounds in all four events (six events for the guys), they could allow the top 3 from each nation instead of the top 2.  But arguing that the top 3 should have been included, instead of the top 2, just because your favored gymnast finished third, is weak.
The same rule was also in effect in 1996, when the Magnificent Seven won the Olympic gold.  Dominique Moceanu, who was expected to compete for the all-around title, finished third on the team and did not qualify for the finals.  Fortunately for her (not so fortunately for Kerri), Kerri Strug was (famously) injured and had to withdraw, so Dominique went on to the finals.  I've lauded Dominique ever since we traveled to Brazil together for the Junior Pan American games in 1992, but the reason she finished third on the US team became clear in the all-around finals: a leg injury had just left her less sharp than usual.  She finished ninth.
Similarly, it's possible — possible — that Jordyn is just not the best American gymnast right now.  She has been the best American gymnast in general for the past several years, yes but right now….well, Gabby Douglas beat her at the Olympic Trials and now Aly Raisman beat them both in the qualifying round.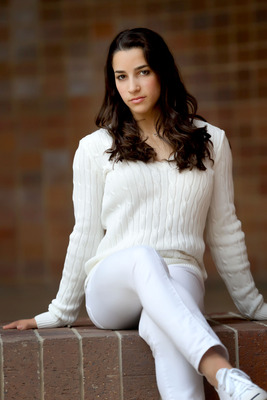 So it's unfortunate and unfair that lost in the hubbub here is the ascendance of Aly Raisman.  Aly is a kind and lovely girl, a beautiful gymnast with an outstanding combination of elegant technique and powerful tumbling on floor and vault.  She was my favorite gymnast yesterday, and I was pleased that she qualified for the finals.  She earned it.  Do you think it makes her a little uncomfortable that people are arguing that Jordyn Wieber should be in the finals instead of her?
Now, since I argued the opposite case in an earlier post, what do I really think?  Jordyn Wieber made some mistakes, and gymnastics is a ruthless sport.  It all came together at the right moment for Aly Raisman.  I'm rooting for both American girls; Gabby Douglas could interest more African American girls in gymnastics, and Aly Raisman can put the doubters to rest and establish her place in gymnastics history.  Perhaps she's peaking at just the right time.  Let's hope so.
Note #1: Tonight, with the men's team finals, I'll begin live-blogging the Olympic gymnastics competition.
Note #2: Check back throughout the week for interviews with Dominique Moceanu and Shawn Johnson.