Jordyn Wieber was Robbed!
Such were the cries of outrage after yesterday's women's gymnastics qualifying rounds at the Olympics in London.  Jordyn Wieber, the reigning world champion and indisputably America's most dominant gymnast for the past couple years, helped the United States team qualify for the team finals, and qualified herself for the Floor Exercise finals, but failed to advance to the all-around competition.  Did she perform poorly?  Not particularly.  She stood in fourth after the qualifying rounds were over.  The problem, rather, was that the gymnasts in second and third place were Americans Aly Raisman and Gabrielle Douglas.  The rules stipulate that only two gymnasts from any nation can advance to the all-around finals.  Since Jordyn finished third — just barely — she cannot compete for the sport's biggest prize, the title of Olympic all-around champion.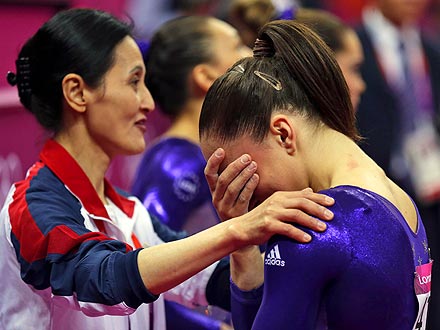 Appreciate the context.  In gymnastics, the Olympics Games are what you dream about day and night.  Olga Korbut, Nadia Comaneci, Mary Lou Retton, Carly Patterson, Nastia Liukin — if you're a female gymnast, these names resonate in your mind because these were the Olympic all-around champions.  Devoting many thousands of hours (most elite gymnasts will train around 40 hours a week) at such a young age, enduring countless injuries and aches and pains, shredding your hands and bruising your body and spraining your ankles and tearing your muscles or breaking your bones more time than you care to reveal to anyone, and conquering your fears daily to perform skills that risk life and limb, aiming for a single competition that takes place every four years is merciless.  Possibly insane.  Yet such is the sport.
If you're not one of the world's most talented gymnasts, sure, you may set your sights a little lower.  You may be happy to win a state title, or to earn a scholarship to college, or to compete for the national team.  If you're exceptionally talented like Jordyn Wieber, however, you've heard the words "Olympic talent" or "potential gold medalist" all your life.  You've imagined the Olympics thousands of times.  You've visualized the routines you want to perform while lying in bed at night.  You've stood in front of the mirror and gone through the motions of sticking your dismount on your last event in the Olympic all-around final and hearing the crowd roar its approval as everyone in the arena knows that you just claimed your place in gymnastics lore forever.
I know because I did all of this myself.  (I tell the story here).  I rarely spared a moment's thought for the World Championships.  National titles were nice, but nothing to be satisfied with.  It was Olympic glory — or failure.
There are particular gymnasts who have won affection and respect without a gold medal.  Kim Zmeskal was a beloved Karolyi-trained gymnast (and a three-time national champion) who fell behind Shannon Miller at the Olympics, and neither won the gold.  Dominique Moceanu was hugely popular for her charm and spunk, and though she was the youngest member of the gold-medal-winning "Magnificent Seven" in Atlanta she made several mistakes (after struggling with injuries) in the all-around finals and finished ninth.  Shawn Johnson was an all-American dynamo with a winning smile who fell just short to teammate Liukin but went on to win Dancing with the Stars.
But none suffered this indignity.  Jordyn Wieber was a junior national champion, two-time senior national champion, three-time American Cup champion, and reigning world champion.  She had only lost in the all-around once (when she finished second in an insignificant meet) in the last four years, spanning junior and senior competitions, until the Olympic Trials (where she finished second again).  Now she, beyond question one of the greatest gymnasts in the world, will not be able to compete for the title of Olympic all-around gold medalist.
Her response was heartbreaking.  She tried to cheer for her teammate but quickly dissolved into tears.  While the floor reporter interviewed the two Americans who finished ahead of her, Wieber was — brutally — weeping right behind them (and still visible on camera) while her teammates described how thrilled they were with the results.  I wished that one of the girls who qualified for the all-around finals would have spoken a public word of sympathy and support for their teammate and friend who was sobbing behind their backs.  But they had just as much a right to that spot in the finals as Wieber did, and they were just a little better on that particular day.
Do the judges engage in favoritism?  Is there ever favor-trading?  You bet.  Is it possible that one or more of the judges — particularly on the floor exercise, her last event, where the judges consulted (indicating there was probably some confusion or disagreement over how to score her) for a while before revealing her score — saw an opportunity to eliminate one of the favorites, in order to improve the chances of their own country's gymnasts?  It's certainly possible.  Jordyn's scores seemed low.  It would be interesting to know who was judging the floor exercise, and which country they came from.
The best gymnasts should be in the all-around finals.  It's absurd that the fourth-best in the qualifying rounds will not be allowed to compete.  Jordyn should have been slotted later in the lineup on the floor exercise (scores tend to rise with each competitor), and she — like Shawn Johnson in 2008, a stereotypically "American-style" gymnast who is less lean and elegant than powerful and dynamic — was judged mercilessly for minor mistakes.  Landings are massively over-emphasized in gymnastics judging.  When you perform skills that only a handful of people in the world can perform, skills that take extraordinary power and precision, skills for which you have trained so many thousands of hours, it seems unfair that a tiny movement of the foot on the landing should prove your downfall.  I'd rather see daring and rare skills performed, with height and power and beauty, than lesser skills performed that are easier to "stick."
As it is, one of the best gymnasts in the world fell victim to a silly rule meant to keep powerful teams like the American team from dominating the all-around finals, to international judging standards that tend to punish Americans and reward more classically-trained gymnasts like the Russians, and to a judging system that seems arbitrary and inscrutable.
Note #1: See Part Two, where I argue the opposite case.  
Note #2: Tonight, with the men's team finals, I will begin live-blogging the gymnastics competition. Please tune in!
Note #3: I'll be posting interviews with Dominique Moceanu and Shawn Johnson later this week.  Look to the sidebar to subscribe.