A Guest Post by Lela Gilbert:
A rather startling headline appeared recently in Lebanon's Daily Star:  Iraqi Christians fear fate of departed Jews. The story, by Salam Faraj, went on to report:
After 10 years of attacks on Iraqi Christians, Monsignor Pios Cacha wonders if the ancient community's days are numbered. 'Maybe we will follow in the steps of our Jewish brothers,' he says. The priest's reference to Iraq's Jewish population — once a thriving community numbering in the tens of thousands but now practically non-existent — neatly sums up the possible fate of Iraq's Christians.

The 2003 US-led invasion of Iraq ended Saddam Hussein's disastrous rule, but also turned the country into a battleground between insurgents and foreign troops, unleashing a wave of bombings and killings by militants in which Christians were not only caught in the crossfire, but targeted themselves.
Not many weeks ago I had a conversation with an elderly Iraqi Jew who lives in Europe. He was visiting Jerusalem to pay his last respects to a departed friend. He asked what I, a Christian woman, was doing in Jerusalem, and I told him about my book Saturday People, Sunday People: Israel through the Eyes of a Christian Sojourner. I started to explain the meaning of the title, but he stopped me, nodding his head in understanding. "First comes Saturday, then comes Sunday," he said, quoting a jihadi slogan meant to incite religious cleansing in non-Muslim regions.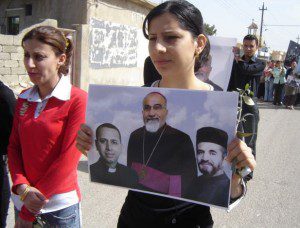 He told me that he and his family had fled Baghdad in the late 1970s, driven out of Iraq like hundreds of thousands of other Jews from Muslim lands between 1948 and the early 1970s. They escaped ever-increasing dangers – matters of life and death.  He said, "The Christians saw what happened to us. But they didn't read the writing on the wall about what would happen to them."
The cruelties experienced by Iraq's "Saturday people" diminished after the 1970s, as did the size of the Jewish population until today, when it is close to zero. In the meantime, other forces have since swept across the world, including two Gulf Wars, and more recently the emergence of a new Iraq—one that has experienced a decade of explosive violence since Saddam Hussein's demise. Although he was a notoriously cruel dictator, for his own purposes, Saddam managed to keep some forms of religious persecution under control. Once he was removed from power following the US invasion of Iraq, Shia vs. Sunni violence accelerated alarmingly. And it wasn't long before Iraq's "Sunday people" began to pay with their lives in the chaotic aftermath of "Operation Iraqi Freedom."
It is estimated that since then, 2/3 of the Christian population of Iraq has left the country, leaving less than 500,000 believers behind. To make matters worse for many of the Iraqi Christians, when they fled, they went to Syria. Today their lives are once again in grave danger as a battle rages between the Assad regime and a coalition of rebel forces.
The Daily Star article goes on to say,
 "The coming years will be very difficult for Christian groups in the Middle East and the Arab world. There will be challenges for how to secure them and protect their rights, privacy of religion and traditions," said Saad Sirop Hanna of Mar Yusuf Church in central Baghdad. "I don't know how mature the political leaders and politicians of the Arab Spring are to understand this challenge," he said.
Those who closely watch the ongoing upheaval in the Middle East express deep fears about the terrible risks Christian minorities face. With the Muslim Brotherhood in power, Coptic Christians in Egypt are under tremendous pressure. The Syrian war has caught the Christian community in a deadly barrage of weaponry. And, as the Daily Star article predicts, Iraq's "Sunday people" may well be driven out of their ancient homeland. None of this is especially surprising to the Jews who – after millennia of history in the Middle East – were were expelled from their homelands half a century ago.
*
Lela Gilbert is the author of Saturday People, Sunday People: Israel through the Eyes of a Christian Visitor (Encounter 2012), and the co-author of Persecuted: The Global Assault on Christians with Paul Marshall and Nina Shea (Thomas Nelson 2013). She is a Fellow at Hudson Institute's Center for Religious Freedom. Note: This was cross-posted at Huffington Post.