You know that "Five Love Languages" thing? Those books and seminars that tell you how you and those you know are wired to demonstrate and receive love? Well, according to the little quiz in the back of the very first book written in the series, one of my primary love languages is gift giving.
I'll buy that.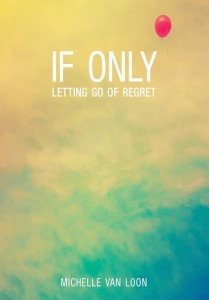 Today is the release date of If Only: Letting Go Of Regret. It's been available for a few weeks (here, here, and here for starters), but now it's really, truly, officially available. I'm not sure what the difference is between being available, and being officially available, but in any case – welcome to the world, If Only. I am praying you will find a home with those who need your message.
In a convergence of my gift-giving love language and this prayer, here's how I'm celebrating this day: If you or someone you know is involved in caring for people who struggle with regret, I'd like to send you or that someone an autographed copy of If Only with a note letting them know that you were thinking of them and wanted to gift them with the book. I'm thinking of recipients who'd benefit from If Only's message like staffers at Crisis Pregnancy Centers, Hospice chaplains and volunteers, Women's Ministry leaders, Counselors, Pastors, and those who are in a mentoring role in someone else's life. Click here to shoot me your name, your email address, and the name and snail mail address of the person to whom you'd like me to send the book. I have a total of five copies to "gift away".
By the way, if you've had an opportunity to read If Only before today's "really, truly official" release date, I'd sure appreciate it if you could stop by the book's Amazon page or hop on Goodreads and give it a quick review.
Thank you. Each one of you reading this is a gift.