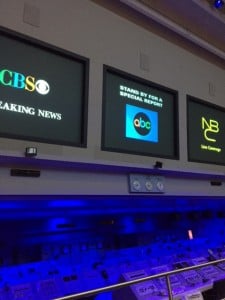 After a couple of false starts thanks to early February blizzards, my husband and I finally got to use those frequent flyer tickets for a trip to Florida. We've had a couple of overnight trips in the last year, but haven't been away just to get away in a very long time. We've had lots of fun visiting with friends who live here or just so happened to be "in the neighborhood" while we were here. A definite highlight for me was a visit to the Kennedy Space Center. Who knew those Gemini and Apollo rockets I watched being launched over Walter Cronkite's shoulder when I was a kid were actually three miles away from his broadcast booth? A couple of days later, standing on Cocoa Beach in the darkness, we watched a live rocket launch. It was a once-in-a-lifetime thrill to see the controlled explosion light the sky, feel the percussion as it crossed overhead, then trace the projectile's trail as it disappeared into space.
That rocket knew exactly where it was going.
My husband and I used some of our precious days to drive around central Florida exploring towns, condos, and even trailer parks manufactured home communities (I'm not kidding). Bill will be 60 this year, and with the loss of our home nearly three years ago, we recognize that we probably won't be able to afford to live in Chicago as we approach the time when Bill won't be working full-time anymore. Jobs or churches have been the reason we've moved to this point in our lives; for better or for worse, those things have clarified why we've moved where we've moved. Where do you go when you don't have anyone asking you to be there to work for them or to serve with them?
Many at our life stage move to be near family. Though our children and grandchildren all live within an hour's drive of our current home, the winds of change are blowing in their lives. Those winds may blow some of them to jobs or school opportunities that are far from where we are. We wonder if we're feeling the winds uprooting us, too.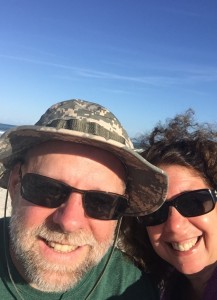 It was an interesting preliminary exercise to drive into a neighborhood and city about which we really didn't know a thing, and try to imagine what it is like to start a life there at our ages. There were no neon signs saying, "Move Thou And Thou Couches To This Address And All Will Be Well." Some of what we thought we might be able to afford was a little scary in a Breaking Bad sort of way. Driving around did get us talking about what mattered to us (church as a connecting point, creative and intellectual life, a low ratio of pawn shops to residents, diversity including other Jewish people, a screened porch, space for friends).
Here's what I know about God: He usually doesn't give us a peek at his long-range plans for our lives. So maybe this was an exercise in burning up some $2.35/gallon gas. I do know that many of our age peers are asking the same questions, and some have gotten a jump on things by moving or purchasing a second home in a new place. Others are wandering like we are, asking the same kinds of questions we are. (Many of them have more financial resources or a centrally-located family than do we, which has sometimes bred anxiety, jealousy or low-grade despair on one or both of our parts as we inevitably compare our ragged journey to theirs.)  Mark Twain once said that comparison was the thief of joy. I'd add that comparison is also the mute button on God's voice.
I've written in this space about our housing experiences. The need for shelter is at the base of Maslow's hierarchy of needs. The question isn't going to disappear. But as we climb on that plane and head back to Chicago in a few hours, I am struck again by the fact that even if I knew what the future held, it wouldn't change what God requires of me today. No big marching orders. No master plan. Just the daily bread of this:
…Jesus said, "I praise you, Father, Lord of heaven and earth, because you have hidden these things from the wise and learned, and revealed them to little children. Yes, Father, for this is what you were pleased to do.

"All things have been committed to me by my Father. No one knows the Son except the Father, and no one knows the Father except the Son and those to whom the Son chooses to reveal him.

"Come to me, all you who are weary and burdened, and I will give you rest. Take my yoke upon you and learn from me, for I am gentle and humble in heart, and you will find rest for your souls. For my yoke is easy and my burden is light." (Matthew 11:25-30)
A question for you readers who are at this life stage: How are you praying about and possibly preparing for a possible change in housing and location as you look ahead to retirement? Are you hoping to stay put? In what way is goal-setting helpful to you?