I wish I could say we are following cloud by day, fire by night like our forebears in the Sinai did. My husband and I are seeking God, but our journey lacks a clear destination at this point. All I know is that we are facing another move in the next few weeks.
When we received word that our lender had approved our short sale in 2012, they gave us 10 days to get out of our house. As we didn't have any idea if or when we'd receive that approval during the months-long wait, we hadn't looked for a new place to live. We imagined our buyers might be willing to rent back to us for a month or two until we secured a new place to live. We imagined wrong.
It was a crazy scramble then to find a new place to live, pack, and move all within a week and a half's time. The prayers of many and the helping hands of a few friends carried us through a process I hope never to repeat. The process carried with it an unexpected gift – a rental town home in an upscale suburb, a significant upgrade from the economically-depressed blue-collar town we'd left behind. Our new address was close to my husband's workplace, near to the grandsons we'd soon be watching 2+ days a week, and as a lovely bonus, within walking distance to the grocery store and two coffee shops. I connected with a couple of old friends living in this area, and have been enriched my many new friends and acquaintances during our time here.
We always knew this wouldn't be a long-term home for us. The property has been on the market as long as we've lived here, though until recently, there haven't been many showings. About two months ago, that changed. We've had nearly 20 possible buyers traipsing through here (including one who came to look at the house at 3:00 PM on Christmas Eve). Our lease agreement mandates we must allow the property management company to show and show and show the place. Two weeks ago, the management company told us it was time for us to begin looking for a new place to live.
I didn't cry when we left Wisconsin in 2004, nor our short-term rental in Gurnee, IL in `06. I was too whiplashed emotionally to weep after two years of deliberation about whether to list our Round Lake, IL townhome as a short sale, then 10 days of frenzy to move out. But I cried when they told us two weeks ago it was time to move. We knew it was coming, but have loved living in this quirky rental.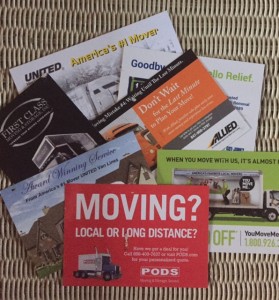 God has provided a single-family home to rent in an adjacent town for the next couple of years. I'm looking forward to planting flowers, herbs and tomatoes this spring. We're praying that this next chapter time will lend clarity to where in the world we should settle down, sink our roots, and unpack those boxes once and for all as my husband approaches retirement.
We'd value your prayers as we move…again. Specifically, that we'd be a blessing to God, one another, our family and friends, and our new neighbors – and that we'd gain some discernment about what the next move (because there will be at least one more) will look like for us. We're not asking for a pillar of fire. Really, we'd settle for a lit match.