Since Moments & Days released three-ish weeks ago, most of the questions I've fielded from Christians have to do with the Jewish calendar portion of the book. (The book also covers the Christian calendar, but this one is more familiar to these readers.) So many people are interested in being more intentional about learning about the Jewish and Christian calendars, but don't quite know where to start. I'm very happy I can commend a resource that offers a thoughtful historical and devotional overview of each calendar, but also know that many people feel as through attempting to participate will be a pile-on of extra stuff to do (and extra guilt to feel if they can't do it).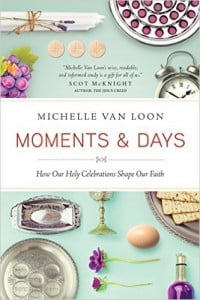 As I noted in the book, we can't all do everything, but it behooves us all to learn a little something about each calendar – and then begin allow the rhythm of one to shape our discipleship journey, one step at a time. My goal in the coming year is to offer one small, do-able step here in this space you, your family, small group, or church can use to move their learning from the page to your experience. I'll offer the info well in advance of the holiday or season so you'll be able to consider how you might incorporate a bit of holy celebration into your moments and days. And, where appropriate, I'll include a fun recipe you may wish to try. There are a few recipes in the back of Moments & Days, but the recipes you'll find on this blog didn't make it into the book.
I covered Rosh Hashanah earlier here. Today, I'll be offering a single practice (and a recipe) Christians may wish to do if they're interested in learning about Yom Kippur, which takes place this year beginning at sundown on Tuesday, October 11th. I'm also including a recipe – the "to eat" part of this post – which may at first seem odd considering that Yom Kippur is a day given to fasting. But when the fast ends, you eat. So…here's a recipe you may enjoy any time of year.
For a 5-minute overview of the holy day, click here.
To Try
Many Messianic Jews choose to fast on Yom Kippur as a way to both stand in solidarity with and intercede in prayer for their not-yet-believing Jewish friends and family. Followers of Jesus understand that fasting is not a transaction that demonstrates how serious a person is about repenting from sin, but is a spiritual discipline that allows us to focus our desires on God. Jesus told his followers, "When you fast, do not look somber as the hypocrites do, for they disfigure their faces to show others they are fasting. Truly I tell you, they have received their reward in full. But when you fast, put oil on your head and wash your face, so that it will not be obvious to others that you are fasting, but only to your Father, who is unseen; and your Father, who sees what is done in secret, will reward you." (Matthew 6:16-18)
If you'd like to consider the meaning of Yom Kippur more fully, consider prayerfully reflecting on the words of Isaiah 58. How did Jesus' life and ministry reflect this kind of fast? What kind of fast might God be calling you to do?
You may also wish to seek out some hymns or worship songs that focus on the atonement. "There Is A Redeemer" (Melody Green), "And Can It Be?" (Wesley/Campbell), "O Sacred Head Now Wounded" (Bernard of Clairvaux) are a few titles to get you started. If you gather with others on Yom Kippur, thank God together for the once-and-for-all salvation he's given you in Jesus the Messiah. He has inscribed your name on the palms of his hands (Isaiah 49:16) and written it in his Book of Life (Revelation 21:27).
To eat
Yes, it's funny to talk about food on a day given to fasting. But when the fast ends, you gotta eat. To tell you the truth, I've ended fasts with potato chips and M & M's, but I don't recommend it. It is traditional to end a Yom Kippur fast with a dairy-based meal. For some, it's "breakfast for dinner" of bagels, cream cheese, lox (smoked salmon), and an array of side salads and garnishes. Others include brunch-type casseroles as well. The recipe below can be baked a day ahead, cooled and refrigerated, then reheated for a few minutes before serving. It's a very forgiving and flexible recipe.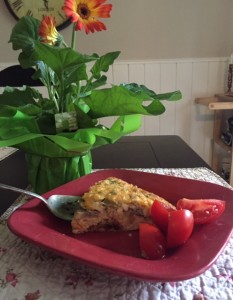 Cheese-Veggie Crustless Quiche
Preheat oven to 350 degrees. Spray or grease with butter a deep 9″ pie plate or 9″ square baking dish. .
In glass measuring cup, melt in microwave:
In saute pan over medium heat, melt:
Stir in your favorite combination of fresh veggies to total about 2 cups. I used:
6 oz sliced mushrooms
1 red pepper, seeded and diced
1 bunch of green onions, white parts only, sliced
Cook until wilted and lightly browned. Set aside.
In medium mixing bowl, whisk until frothy:
Stir in:
8 ounces of grated cheese. I like a combination of swiss and sharp cheddar, Reserve 1/4-1/2 cup to sprinkle on top of the finished quiche
1 cup cottage cheese
Add:
1/2 stick butter you melted and cooled earlier
Mix in until well-combined:
1/4 C flour
1/2 teaspoon baking powder
1 teaspoon dried thyme leaves
1 teaspoon sweet paprika
salt and pepper to taste
Fold in the veggies, then pour your mixture into your prepared pie plate or casserole dish. Sprinkle your reserved cheese on top, and bake for 25-30 minutes, until browned and puffy. Let the casserole sit for at least 10 minutes before cutting into wedges or squares to serve. If making it ahead, let it cool completely before wrapping and refrigerating it. Reheat it for about 15 minutes, until heated through.