In many traditions, there is a customary period of study and reflection for novices before initiation.  Then there is the dreaded mire of "armchair occultism."  What about those of us whose insatiable hunger for occult wisdom drives us to reconcile the endless quest for knowledge with the desire to put that knowledge into practice.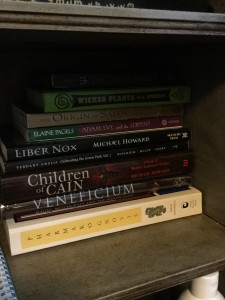 Drawing many of its customs from Western Esoteric traditions and ceremonial magic, it is customary in many Wiccan traditions for a novice to go through a period of study and reflection before initiation takes place.    The standard amount of time is a year-and-a-day, which has its origins in ancient marriage contracts undergone by various pre-Christian societies such as the Celts, before the official ceremony would take place.  it seems that the majority of initiatory traditions and covens have adopted some type of initiatory probation for new members.  This is a beneficial practice that ensures that the aspiring novice is dedicated to the pursuit of knowledge.  This period of study provides them with a basic metaphysical understanding upon which to build an esoteric framework from which they can study other paths before making a commitment.
Many solitary practitioners will also undergo an informal period of study which is begun with a ritual of dedication before actual initiation is undergone.  After the three-hundred and sixty-six day period the initiate receives a formal initiation from their coven or in solitary ritual before the gods.  It is during this time that new practitioners will learn the basic history of witchcraft and the universal foundations of magic.
There is usually some adaptation of the Hermetic Principles, the elements, casting a circle, and various mythologies and histories that usually start out most introductory readings.  Students of the craft will learn about the use of natural materials in spellcraft, raising energy, and the basic parameters of spell casting.  This information is often repackaged in a cultural or completely generalized New Age context.  The majority of information online and in popular books has an entirely New Age and neo-Pagan viewpoint, which caters to the majority of New Age "seekers."
My fascination with magic and witches goes as far back as I can remember.  It was around 1999-2000 that I began discovering magic and witchcraft outside of the movies and my imagination.  I was young, and so was the internet.  In retrospect, I have learned that there were more occult communities online than what I was aware of at my young age, however my twelve-year old mind probably wouldn't have benefitted from, or had much to contribute to such conversations being held in these communities.
Since I was brand new to the world of magic and the internet, my searches were fairly general; things like "witchcraft, Wicca, and spells" were common key words that led me to the same sources.  There were some well-made websites on Angelfire and Geocities that were independently run.  However, the majority of websites that I had to sift through to get to those with quality content all followed the same generic "witchcraft 101" format.  Not to say that this didn't occupy me for sometime, it did help me to build a foundation until I was able to purchase my own books on the topic.  Some of my first spells were cast using the foundation I built from what I learned online.  The more I learned the more specialized my searches became and I was able to focus my studies in a more specific, less generalized direction.
Ironically, my year-and-a-day has lasted nearly twenty years, and I feel like I have still just barely scratched the surface.  I know that I am not alone in this.  It is in our very nature as witches and magical practitioners that we seek to understand the Unseen-to continually peel back the layers of the Universe and the spirit, discovering that on the deepest of levels they are one and the same.
I think we all start out about the same when it comes to our affinity for magical studies.  Many of us felt called to something at a young age, and our preconceptions in regards to the paranormal came from popular culture or religious upbringing. These early concepts are what gave us the initial vocabulary to begin our investigation.  A beginner's investigation of magical practice will often start with an understanding of universal esoteric laws and principles.  The generalized way that many books on eclectic/solitary witchcraft present their information allow for a new student to develop a more cohesive foundation to build from.  Neo-pagan philosophies and Eclectic Wicca appeal to a wider audience, and provide a panorama of the many different paths that one may choose from.
Everyone eventually reaches a point in their studies where the words of the authors seem to repeat the same general concepts.  This point will be different for each individual; when a solid foundation is achieved the "witchcraft 101" that we devoured so ravenously will cease to inspire the same awe.  It is at this point that the individual would either focus solely on beginning their practice, and/or simultaneously delve deeper into more specialized topics.  While, I began practicing witchcraft at an early age and continued to maintain that practice somewhat sporadically over the years, my occult studies have always remained a consistent part of my magical lifestyle.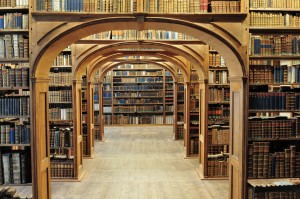 In fact, I have no doubt spent more time practicing "armchair occultism" than I have actually practicing magic itself.  Because of this realization, I have often questioned myself.  Should I really call myself a witch if I don't cast spells on a regular basis?  Am I an "armchair occultist" because of my insatiable curiosity and desire for knowledge?  In my mind it evokes imagery of a medieval sorcerer in a dusty library pouring over ancient scrolls collecting bits of magic from every corner of the world, to me that is one of the enchanting images I have always held in my mind.  Also, the image of the witch, wild with power drawn directly from the earth, primal and instinctual.  For me my journey has been about reconciling these two archetypes into one.  There is the masculine archetype of the trickster-sorcerer god of intellect and knowledge, and the feminine archetype of the chthonic-earth goddess of emotion and intuition which have been themes throughout my practice.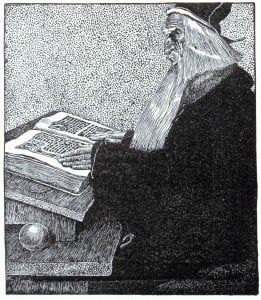 These archetypes can also be seen in the two distinct ways of receiving occult knowledge.  The intellectual side uses information that has been previously experimented with and recorded for future use, the magician seeks knowledge that resonates with the current of practice that fits them.  This is how we build our foundation, learn our history, and form traditions.  On the other side, we have that knowledge and inspiration that comes directly from a spiritual agency whether it be a deity, ancestor spirit, or familiar.  There is also that which comes instinctually, the natural unspoken instant magic that is passed down family lines, or awakened by some transformative experience.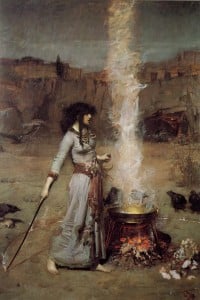 For some reason there is this human need to separate these into opposites instead of integrating them into a balanced spectrum.  Probably because it is easier to label and compartmentalize especially when it comes to these esoteric concepts. There is the division between ceremonial magic and folk magic, high magic and low magic, black and white, traditional and modern etc. The main motivating force that has driven the direction of my studies has been finding or building a tradition that resonates with me.  I have studied many diverse schools of magic and witchcraft looking for material that felt historically accurate, innately powerful, and also a path that matched my mixed Western European heritage.  I began like most solitary practitioners do.  I started with Wicca and witchcraft in general, reading those titles by the "big name Pagans."  I read anything I could get my hands on.  So many different ideas coming from Eastern and Western Mystic traditions, and pseudo-histories that it became confusing.  I am thankful that my studies introduced me to so many different topics, but now that I am a little older I see the value in building a more focused practice when it comes to my personal witchcraft.
After developing a broad understanding of various practices, I began to narrow my focus.  One thing that I noticed in many of the New Age witchcraft books that I read was that there was a lack of continuity when it came to the creation of plant based formulas and their correspondences.  One could pick up three different books, and find three totally different recipes for a basic Full Moon Oil, for example.
This lack in continuity gave me the feeling that the things that I was reading were less than genuine with little historical basis.  While these formulas may have worked fine for the person that created them, they had little or no meaning to me.  I ran into a similar issue when it came to a lot of the spells I would come across in these books as well.  It was through my investigation of condition oils and the botanical lore of rootworkers that I began to research and experiment with Hoodoo or Conjure.  These traditions had the historical basis and continuity that I was looking for.  I also thought that conjure practices beautifully blended the practices of ceremonial magicians with the earthy crossroads magic of the African American south.  My only problem was that I didn't feel personally connected to these practices since I don't have any African ancestry.  Although, European practices did influence Hoodoo along with Native American and Judeo-Christian lore, something was still missing.
However, it was through my study of Hoodoo that I was introduced to the European Grimoire Tradition and eventually Modern Traditional Witchcraft. Traditional Witchcraft combined many of the eclectic ideas that I had gathered throughout my studies, it encompassed those aspects of modern witchcraft that resonated with me.  Also, its origins in Western Europe and influences from antiquity made me feel like I was following a traditional that was more culturally appropriate, and knowing when praying to the ancestors of that tradition that I was praying to my ancestors, not someone else's.
In traditional witchcraft we combine knowledge from the written works of medieval occultists, renaissance magicians, and philosopher's of antiquity with newer recensions of elder knowledge gained from spirit congress at the Witches' Sabbath.  That is one of the main goals of the modern practitioner of traditional or Sabbatic witchcraft, to grow in knowledge and power through increased spiritual congress.  There is also an emphasis on the written works of the tradition's influencing figure's such as Robert Cochrane, Austin Osman Spare, Kenneth Grant, Andrew Chumbley, and the list goes on.  From philosophers of antiquity such as Pythagoras, theologians of the middle ages Albertus Magnus and Heinrich Cornelius Agrippa, and a multitude of Renaissance and Early Modern occultists.  Many of these names were not only influential on traditional witchcraft practices, but went on to influence many prominent modern occultists of the eighteenth and nineteenth century with groups like the Hermetic Order of the Golden Dawn.
These names and many more have impacted Western Occultism and both traditional and modern witchcraft practices.  These are the great "Armchair Occultists" who have helped to preserve and develop our lore just like the great minds of today will do.  I go back to my image of the sorcerer in his library study pouring over his books, he goes out into the night and meets a witch at the dark crossroads under a moonless sky.  She gives him a bundle of poisonous herbs and berries that he will take back to his workroom and use to create a salve that will carry him to the same Sabbath Circle where she will be with other brothers and sisters of the Arte.