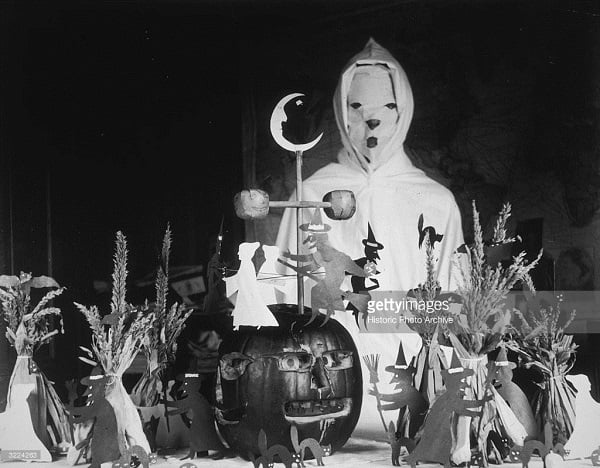 Weird Spirits
Is there an archetype for Hallows Tide?  The dark-forest god of death and decay, the counterpart to the Green Man of the growing season, is a quintessential example of this dark and strange time between fall and winter.  Perhaps it is the spirit of Halloween that has persisted over the centuries.  A weird spirit of backward revelry and reverence for the dead, not unlike the Roman's Saturnalia.  I would say that there is not one single spirit of Hallows tide, but a collective of many dissonant trickster spirits.  Their glowing Jack-o-Lantern faces dancing in the night watch over the celebrations taking place.
These spirits are masters of illusion and deception, their favorite forms are goulish and gaunt evoking images as diverse as the costumes their human counterparts don. These spirits are also costumers, masquerading about changing their shapes, and leading the unsuspecting on a nightlong ride of frightful visions.
The ancestors and the Mighty Dead aside; the elementals of All Hallows Eve are beings of a specific energy and sort.  In this case the magic and wonderment felt during this mysterious time, tinged with a sadistic and frightful aura.  They are the whisper in the wind on a cool fall day, the smoke from harvest fires mingling through the last of the leaves hanging onto their trees.  The smells of this time are intoxicating, like the divine ambrosia of the gods the air is thick and rich with sorcery.  The sweet aromas of candied apples and pumpkin pie entice these entities to draw nearby warming themselves by our hearth.  They sate themselves on the smokes and aromas wafting from the crisp fires of the last harvest.  They gather and swarm around the last flickering candle light in this time before darkness. These are the denizens of All Hallows Eve.  These are the ancient messengers of the eldritch spirits of the strange and arcane.