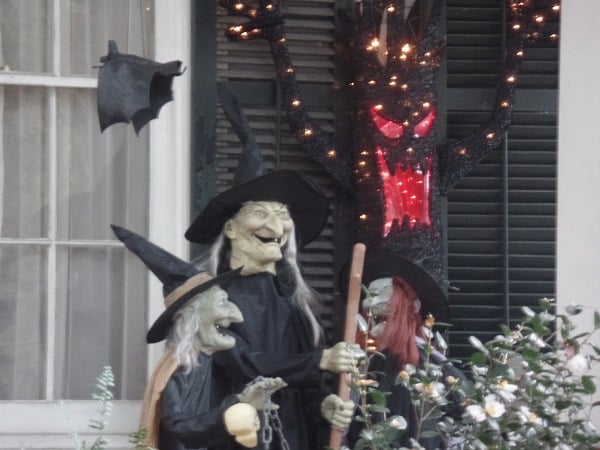 I am first and foremost a polytheist and pagan practitioner; I observe many of the sacred festivals that have roots in Ancient Rome, as well as the Neo-Pagan Wheel of the Year.  I incorporate a lot of local folklore and my own creativity into my work when it comes to daily devotionals.  Being raised in a modern American society I was of course exposed to both views regarding the observance of All Hallows Eve.  I distinguish between the mainstream Halloween Festivities, the harvest rites and sacrifices of All Hallows and also the neo-pagan revival of Samhain.
Halloween is fun, we call it Gay Christmas after all it is all about candy and costumes, and awesomely spooky décor.  Christmastime can be magical with the twinkly lights and all the glitter, but there is something beautiful about the little old lady down the street who has a bubbling cauldron on her front lawn.  Don't forget that young family around the corner with matching headstones with each member's name and cause of death scrawled across its face, proudly displaying their makeshift graveyard.  There will always be those who simply do not observe Halloween, but that is not to say that there are many other similar ways in which people honor the spirit world.
Samhain is the ancient Celtic festival of the ancestors and the final harvest, storing food and asking for winter long protection.  It was the predecessor to the Catholic All Souls Day.  I enjoy celebrating both because one is fun and creative and the other holds the occult roots of the Halloween Tree and its origins.  I love the season so much because of the magic that hangs in the air.  Those who participate and decorate their homes welcome this Halloween magic.  During the month of October strange things occur; people's minds are directed toward the Unseen, feeding its collective with our thoughts.  Jack-o-lantern's and spooky effigies of Frankenstein's monster, witches dancing and mummies wrapped up in their coffins; all serve as spirit houses and points of connection with the other worlds.
There are many doors and many windows and they are all thrown open during this auspicious time, perhaps by our own unconscious magic.  Maybe we give too much credit to the Dead and the Unseen Host who thin the Veil this time of year.  Possibly it is the result of an ancient symbiosis of living consciousness bound in matter and palpable spirit force combined.  Together this communion of compliments creates an access point on both sides of the veil simultaneously.  Together this unique communion of energies witnessed most often during Hallows tide.  Although I observe and understand the historical distinctions between these separate practices-the seed and heart of Halloween was planted and honed in the Samhain fires of old.