Opening Sentences
It's about meaning, not preference.
I must have typed that a hundred times here on the blog in response to the accusation that I just want everyone to worship like I do.
Affirmation of Faith
Traditional worship includes a wide and diverse spectrum of practices that span the history of the Christian church. If you were to visit ten different traditional services, you would probably come away with ten different ideas as to what exactly traditional worship is; what it values and what it detests, what it champions and what it eschews, what is permissible and what is taboo.
But, and honestly the purist in me struggles to admit this sometimes, that's a good thing. It's not all about me and my preferences. It's about meaning. For sure, I do have my preferences, but I've served six churches in five denominations in a paid capacity, and not a single one of them has done corporate worship just as I like it all the time. But at core, all of their worship practices were derived from deep meaning (not preference) that I could honor and support on a theological and contextual basis.
Of course, music is where the biggest divide is. It's not that anything goes when it comes to worship, and music is no exception. Music, of course, carries meaning, just as words do, although perhaps slightly more subjectively. But we simply cannot deny this fact like some do. Even my elementary students could articulate that music caused them to think and feel a certain way. Each congregation must first acknowledge this, and then choose music that does justice to the heart of the gospel, that is true to the meaning of the text it's paired with. Many styles, genres, and influences can find a place in a "traditional" setting. The more we deny this, the more we make ourselves into a museum piece. But the more we say the style of music doesn't matter, the more we make ourselves slaves to the current and the commercial.
We've done ourselves and the church a disservice by insisting that there are two camps of worshipers, traditional and contemporary, and that everyone belongs to one or the other in accordance with their personality or preferences or however they happen to feel when they wake up on Sunday morning.
I especially find it telling when individuals claim a so-called "worship style" as a intrinsic to their identity, as if it was imprinted on their soul. Whereas people once aligned themselves with a particular denomination or faith tradition based on the meaning behind that group's theology, they now often align with whichever church pairs Jesusy words with their favorite commercial musical genre.
It's true that on the renewed earth we won't be bound by denominational labels, but in the meantime, they help us align ourselves according to deep faith convictions. And while I have respect for many different denominations, there are reasons why I am where I am and not someplace else, and it has little to do with music preference.
I think it's safe to say there are a few qualifications for historically traditional Christian worship.
A Historic Homily
Worship should be liturgical. We can trace this back to the upper room, and perhaps even further. Liturgy recalls the divine events of our collective history and collapses the span of time that separates us from them, placing us in union with Christ and the whole of the Christian church. In worship, we come together at God's holy invitation, proclaim our sacred story through Word and Sacrament, and are sent back out to be a church for the world.
Oh, and it makes us work. Corporate worship is not time to sit back and veg out on Jesusy entertainment. No, much is expected out of us.
Worship shouldn't be stuck in the past, present, or future. Because of the false worship dichotomy, "traditional" worship has in many cases been turned into meetings for old people; sentimental, self-indulgent hours of pining for how things once were.
Possibly the greatest temptation facing the church in worship is to be thoroughly modern. I think it's safe to say that when all of our music must be modern, or be made to sound modern, when our words must fit the parlance of our day, when we always feel the urge to be fresh, current, and relevant, we have committed the sin of chronological snobbery. We've refused to participate in communion with those who have come before.
Both of these extremes are toxic. All worship is historic because it recalls the creative and redemptive acts of God. All worship is contemporary, because we're doing it now. All worship is future, because it foretells the coming resurrection, when the curse will be broken and all will be set aright.
Worship should be inclusive. Churches often spend a lot of time and energy attempting to woo a particular demographic.
"We're all about families!"
"We need a pastor who can bring in the young people!"
"We're the church that loves kids!"
Enough already. Christian worship in its simplest form is the most inclusive and relevant act, as its invitation is extended to divine image-bearers from every walk of life. Open up the doors. Learn to see Jesus in people who don't look like you, don't talk like you, and don't vote like you. Don't make an idol out of kids. Love them by nurturing them in this kind of environment.
Worship should be vitally important. I'm a little surprised how often I people say that we shouldn't talk about how we should worship. "You're being divisive over the little things while people out there need to know Jesus!" And there seem to be a lot of churches for whom worship is an afterthought; a low expense, low preparation endeavor. But if we don't worship well, we can't live our faith well, and we won't be the church we're called to be. Our time, thought, creativity, and financial investment should reflect the importance of our gatherings. It might seem like a waste, but it's our life and breath as followers of Christ.
Worship should be determined by theology.
Everything we do in corporate worship should be dictated by what we believe about God and God's mighty acts in Jesus Christ. Bluntly, music's job is to serve the liturgy, and nothing else.
Worship should tell the Christian story. As I've said so many times, this is our calling: to remind ourselves of who we are as people shaped by the Christian story.
And, once we've established these generous parameters, our question is not "What is the right (or wrong) way to worship?" Instead, we must ask "What elements and forms best represent the meaning of worship?" So, when I tout the helpfulness of hymnals or hymns or choirs or organs or the liturgical calendar, I'm not saying they are absolutely necessary for authentic Christian worship, only that they ably support task of worshiping God.
Hymn of Response
I'm often drawn to the hymns of Fred Pratt Green, and this one beautifully captures the importance of corporate worship and how vitally important it is to our kingdom mission.
God is here! As we your people
meet to offer praise and prayer,
may we find in fuller measure
what it is in Christ we share.
Here, as in the world around us,
all our varied skills and arts
wait the coming of the Spirit
into open minds and hearts.
Here are symbols to remind us
of our lifelong need of grace;
here are table, font, and pulpit;
here the cross has central place.
Here in honesty of preaching,
here in silence, as in speech,
here, in newness and renewal,
God the Spirit comes to each.
Here our children find a welcome
in the Shepherd's flock and fold;
here as bread and wine are taken,
Christ sustains us as of old.
Here the servants of the Servant
seek in worship to explore
what it means in daily living
to believe and to adore.
Lord of all, of church and kingdom,
in an age of change and doubt
keep us faithful to the gospel;
help us work your purpose out.
Here, in this day's dedication,
all we have to give, receive:
we, who cannot live without you,
we adore you! We believe!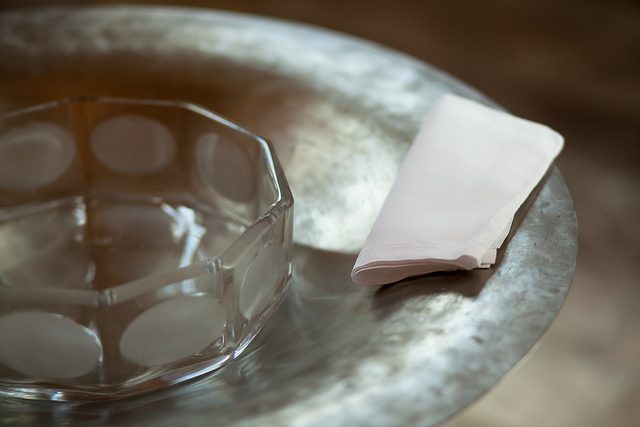 For further reading, click one of the images below.
If you like what's happening on Ponder Anew, please share by clicking your choice of the buttons below. Also, like us on Facebook or follow on Twitter by clicking one of the buttons in the top of the right sidebar.