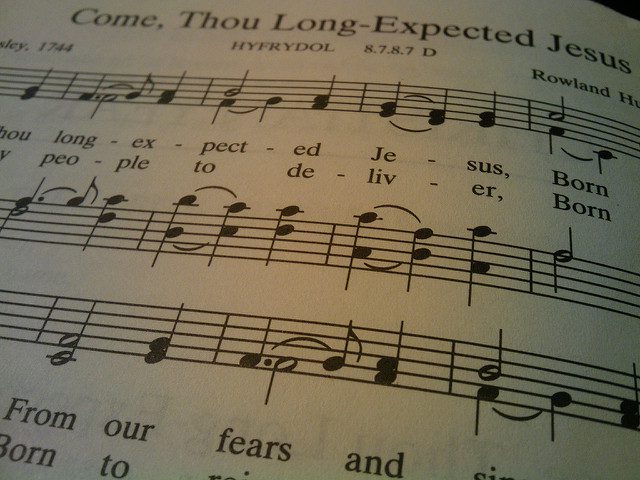 Fourth Sunday of Advent

O Come, O Come, Emmanuel
Text: Latin prose, pre-9th c.; trans. composite
Tune: VENI EMMANUEL
This hymn is drawn from a group of seven medieval Latin texts known as the "Great or "O" Antiphons, from the fact that each opens with the word "O." The original prose versions of the antiphons date from the ninth century or earlier. One antiphon was to be sung before and after the Magnificat at Vespers on each of the seven days from December 17 to 23. The antiphons were turned into Latin verse, probably during the 12th century, and these versifications were published in Psalteriolum Cantionum Catholicarum (1710).
– David W. Music, Handbook to the Baptist Hymnal
The antiphons, sometimes called the 'O antiphons' or 'The Great O's', were designed to concentrate the mind on the coming Christmas, enriching the meaning of the Incarnation with a complex series of references from the Old and the New Testamements. They begin as follows:
O Sapientia
O Adonai
O radix Jesse
O clavis David
O Oriens
O Rex gentium
O Emmanuel
The last of these is entirely appropriate, for it takes the sequence from a series of Old Testament images (Wisdom, Adonai, Stem of Jesse, Key of David, Day-spring, King) to the Old/New Testament 'Emmanuel' (from Isaiah 7:14 to Matthew 1:23). But the sequence is more ingenious than this: the first letter of the second word makes the acrostic SARCORE, which when read backwards is 'Ero cras', meaning 'I will be present tomorrow'. Thus the final antiphon, sung on 23 December, revealed the complete message on the night before Christmas Eve. The hymn, as it is usually printed, is a rare opportunity for modern congregations to be in touch with an ancient form of worship, rich in symbolic and imaginative reading, and dense with biblical references.
– J.R. Watson, An Annotated Anthology of Hymns
O come, O come, Emmanuel,
and ransom captive Israel,
that mourns in lonely exile here
until the Son of God appear.
Rejoice! Rejoice! Emmanuel
shall come to thee, O Israel.
O come, thou Wisdom from on high,
who orderest all things mightily:
to us the path of knowledge show;
and teach us in her ways to go.
O come, O come, thou Lord of might,
who to thy tribes on Sinai's height
in ancient times didst give the law
in cloud and majesty and awe.
O come, thou Root of Jesse, free
thine own from Satan's tyranny;
from depths of hell thy people save
and give them victory o'er the grave.
O come, thou Key of David, come,
and open wide our heavenly home;
make safe the way that leads on high,
and close the path to misery.
O come, thou Dayspring, come and cheer
our spirits by thine advent here;
disperse the gloomy clouds of night,
and death's dark shadows put to flight.
O come, Desire of nations, bind
all people's in one heart and mind;
bid envy, strife, and discord cease;
fill the whole world with heaven's peace.
Photo:
Flickr, creative commons 2.0