According to the CCLI website:
"As we state in our history, CCLI began as a ministry of the church and a service to the church, in order to better educate and equip the church about copyright laws, to protect the church from the consequences of copyright infringements and to encourage greater utilization of copyrights in church services."
Call CCLI to continue its ministry by not licensing content that is at odds with the nature and purpose of corporate worship in the church. "Make America Great Again" is not a Christian worship song, and it doesn't belong in such a database.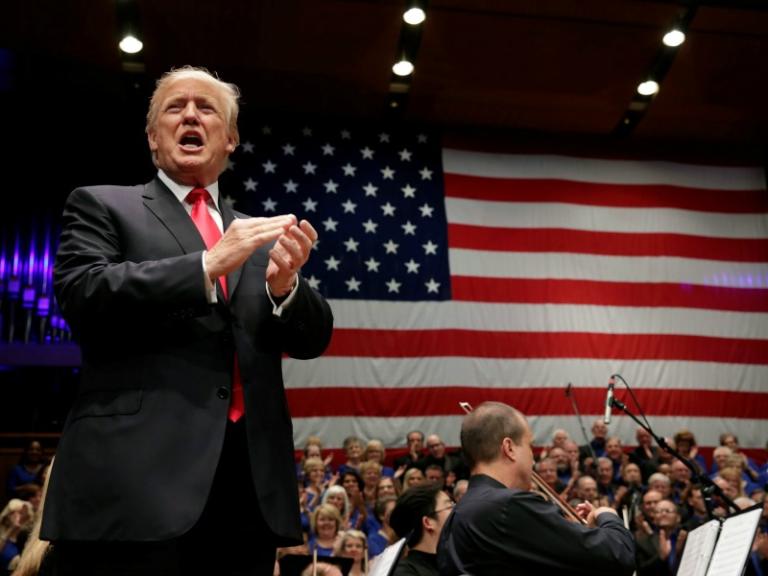 This afternoon, I mailed the following letter to CCLI leadership:
The President and Chief Executive Officer
The Chairman and Founder
Christian Copyright Licensing International
17205 SE Mill Plain Blvd, Suite 150
Vancouver, WA 98683
Dear Sirs:
I am writing to request that you remove the new song "Make America Great Again" by Gary Moore from coverage under your copyright license. As is stated in your general agreement "CCLI reserves the right to withdraw from any Program any Work (Song) that, in its sole discretion, may be interpreted as objectionable, defamatory, obscene, blasphemous or unlawful." "Make America Great Again" has no legitimate place in the context of Christian worship; in fact, if anything is being worshiped, it is the country itself. The purpose of corporate worship is the strengthening of the only Christian nation in history, the Church, so that it might be made into the likeness of Christ, its living Head. When the Church meets locally, its allegiance lies solely with Christ and his kingdom. While prayers of peace, justice, and blessing for the whole world are certainly appropriate as part of the Church's gospel mission, the call to align ourselves in support of one particular country is blasphemous for those of us that pray with our Lord, "Your kingdom come. Your will be done, on earth as it is in heaven." It is further blasphemous and insulting to our Christian commitment that such a song be based on a U.S. presidential campaign motto.
I implore you to live up to your history and stated purpose as a ministry and service to the local church. Remove "Make America Great Again" from your list of covered songs, and all of its associated resources from your SongSelect database.
Sincerely,
Jonathan Aigner
Writer, Ponder Anew
Patheos Evangelical Channel
www.patheos.com/blogs/ponderanew/
I also emailed it, shared this post on Facebook, tweeted it to Mr. Hawker and CCLI, and posted the letter on the CCLI Facebook page.
If you're concerned about "Make America Great Again" being a licensed Christian worship song, if you're bothered by the persistent dilution of American Christianity with nationalistic fervor, if you think a presidential campaign slogan doesn't make for good church music, then join me. Take a moment to let CCLI know you're not okay with this. Please feel free to use any part of what I've written.
Christian Copyright Licensing International
Leadership
Malcolm Hawker, President and CEO (Twitter: @mhawker)
Howard Rachinski, Founder and Chairman
Global HQ Address
17205 SE Mill Plain Blvd, Suite 150
Vancouver, WA 98683
Phone
1 (360) 553-7500
Toll-Free: 1 (800) 234-2446
Fax: 1 (360) 553-7205
Email
support@ccli.com
Facebook
www.facebook.com/CCLI.Global/
Twitter
@ccli
Photos:
REUTERS/Yuri Gripas