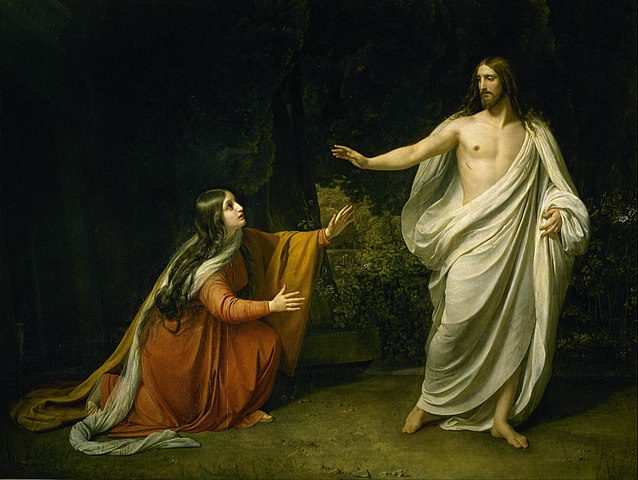 This Sunday was my 34th time to hear an Easter sermon.
Well, I was probably in the nursery for the first couple, but still, I'm assuming I caught a word or two at least.
I've heard some great Easter sermons, including one just two days ago. I've heard some awful ones, too. Some have been pretty short, others far too long.
But they've all had this one thing in common. They've all been preached by men. Every single one.
Not once in my life have I ever heard a woman preach on Easter morning.
For the longest time, this didn't seem like a problem. Sadly, until more recent years, this reality didn't even register with me. Where I grew up, women didn't preach, didn't do much leading, and didn't exercise any real authority. It wasn't until I sat under some courageous professors at Wheaton College that I realized what a tragedy this was, that someone could grow up in a Christian home, in a Christian denomination and never hear a women preach on Easter, or any other Sunday
Just a few days ago, I noticed a post circulating on Facebook written by Tim Fall. The words appearing in the featured image were striking and convicting:
"You should make sure a woman is preaching in your church on Easter morning.
Why? Because that's who Jesus chose for the first Easter sermon and it's always good to follow his example"
I know there are a number of you saying right now, "But I just don't believe women should preach. That's what the Bible says, after all."
If this is you, you're likely arming yourself right now with a tiny epistle crumb to throw back in my face. Please save yourself the effort. I've heard all the arguments before. To my own shame, I've used them myself before beginning my Southern Baptist recovery. For centuries, men have ranted off the "I suffer not a woman" line to subjugate, restrain, and spiritually abuse women in the church. That must end now, and not just because they misrepresent those biblical texts, but because right here, we have a commentary from the ultimate primary source. This is the resurrected One, very God of very God, saying, "Go preach the most important sermon in the history of the world." The signature on Mary's certificate of ordination belongs to none other than Jesus the Christ, crucified and risen.
Of all the messengers he could have chosen, Jesus chose Mary to be the first to preach the good news. And preach she did.
Maybe it's time to put an end to any one-sided winning streaks like mine. Let's follow Jesus' example. Next year, let's have a woman in every pulpit, preaching the good news of the resurrected Christ. In fact, let's do the same thing every year.
Until no little girl grows up in the church believing that she is less than her male peers.
Until the church ceases to raise up generations of men and boys who cannot accept influence from women.
Until the church repents for the awful offense of baptizing women, yet refusing to ordain them.
Until open hostility against women clergy is no longer tolerated.
And until there is no congregation, no denomination, no affiliation daring to call itself by Christ's holy name in which women are automatically disqualified on the basis of their gender.
Photo:
wikipedia