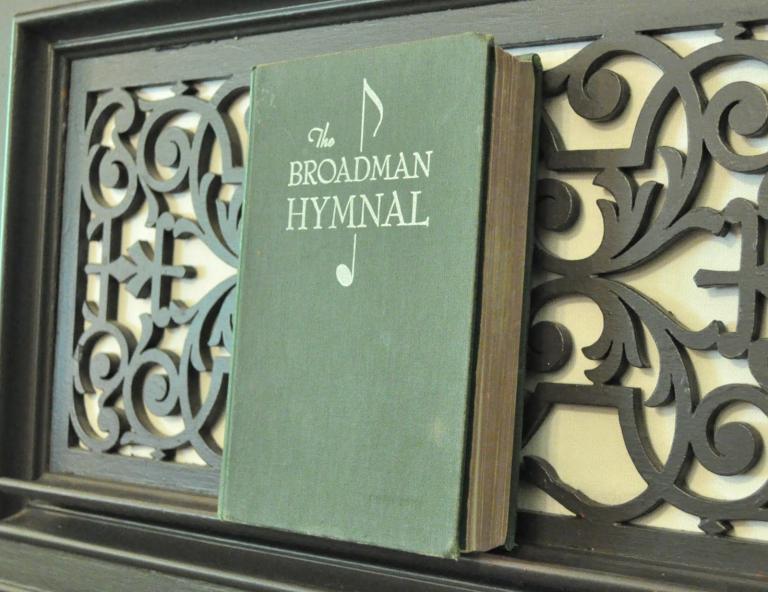 In my last post, I talked about the weird, unnecessary, overly pragmatic reasons we have for omitting stanzas of hymns. Of course, I forgot about my Southern Baptist background and some of their weird idiosyncrasies:
They think you have to bring a covered dish to heaven with you when you die.
They think the promised land is in Nashville, Tennessee.
They think they should abstain from sex, lest it lead to dancing.
They think it's in the Bible somewhere that the pastor must remove his or her watch and places it on the pulpit before preaching.
And then there's that one rule, which to break it would be the worst sin imaginable, and would certainly result in eternal damnation, and worse, arriving at Luby's after the Methodists:
You must never, ever sing the third stanza to any hymn.
First, second, and last. That's the rule.
In fact, that's why the two-stanza hymn 24, "Let All the World in Every Corner Sing" (of course I'm using the '75 hymnal, because that's the best one) presents such a conundrum for Baptists. Somebody would have to add another suitable stanza to George Herbert's 17th century masterpiece, and nobody's done that yet.
But, my Baptist friends, what treasures you miss. What peace you've forfeited, what pain you've borne, all because you do not carry the burden of singing the other stanzas.
Just think about it.
It might come in handy when singing a trinitarian hymn, because Baptist churches are usually a no-fly zone for the Holy Spirit. So though it might take some baptistic dissonance, leaving out "Come, Holy Comforter" in hymn 2 or "Holy Spirit, we adore thee!" in hymn 3 is really quite convenient.
But then there's cases, like in "Praise, My Soul, the King of Heaven" (By the way, can someone tell me how the Baptists' LAUDA ANIMA can't be like everyone else's LAUDA ANIMA?!?!) You have the first stanza, declaring how fitting it is for the congregation to praise its King, the second stanza, lauda anima-ing God's matchless, unmerited grace, consistency, and lovingkindness. The third stanza perfectly contrasts God's immutability with the frailty of our own human husk.
Frail as summer's flow'r we flourish;
Blows the wind and it is gone;
But, while mortals rise and perish,
God endures unchanging on:
Alleluia! Alleluia!
Praise the high eternal one.
That's a real loss, Baptists. And the same thing happens when we ditch this beauty:
To all, life thou givest to both great and small;
In all life thou livest, the true life of all;
We blossom and flourish as leaves on the tree,
And wither and perish – but naught changeth thee.
And I should mention that the title of this blog wouldn't mean a thing without the third stanza of hymn 10 "Praise to the Lord, the Almighty." And I literally have no other ideas for names! Thanks a lot, guys!
Sometimes it completely screws with the coherence of the text. Like in "A Mighty Fortress Is Our God." the last line of stanza 3 reads, "One little word shall fell him." And then the first line of stanza 4, "That word above all earthly pow'rs / No thanks to them, abideth." Without stanza 3, we don't know what "that word" is, or who "them" is supposed to be.
And seriously, this is, like one of the best hymns of all time. So just sing the whole thing.
Without stanza 3 of hymn 40 (or 41, or 42, but really, how often do good Baptists sing DIADEM or MILES LANE?), we'd never be introduced to the term "terrestrial ball," and that would just be a tragedy.
Stanza 3 of this hymn never fails to dissolve my heart when extolling Christ's unattainable beauty:
Fair is the sunshine, fairer still the moonlight
And all the twinkling, starry host;
Jesus shines brighter, Jesus shines purer
Than all the angels heav'n can boast.
Without 2 of the 5 stanzas of hymn 55, the wondrous story would be a bit shorter and, well, we'd get home at a reasonable hour.
Charles Wesley might come out of his grave and bring all the other scary Wesleys with him if we forget stanza 3 of one of his finest:
Come, Almighty to deliver,
Let us all thy grace receive;
Suddenly return, and never,
Never more thy temples leave.
Thee we would be always blessing,
Serve thee as thy hosts above,
Pray, and praise thee without ceasing,
Glory in thy perfect love.
And without stanza 3 of "Ask Ye What Great Thing I Know" we'd be without 3 of the 8 all-important questions:
Who is life in life to me?
Who the death of death will be?
Who will place me on his right
With the countless hosts of light?
Jesus Christ, the crucified.
The great Baptists who gave us the '75 hymnal committed the grievous sin of only including three stanzas of "Of the Father's Love Begotten." Then again, they knew which ones would be sung anyway, I guess.
Is it right to leave out these words?:
He took my sins and my sorrow,
He made them his very own;
He bore the burden to Calv'ry,
And suffered and died alone.
How marvelous, how wonderful….
No. No, it's not.
There is one exception to the 3 stanza rule. Because we all know that "One Day" should have been included in the canon.
And if I'm ever again blessed to sing the gospel hymn "I Am Resolved," I want to sing all 5 of those stanzas, because three times just isn't enough to bellow out the bass line's "free, has-ten glad and free-hee."
Now, sometimes, Baptists don't sing stanza three because they don't want to admit some bad things about themselves. The third stanza of "Out of My Bondage, Sorrow, and Night" is a bit of a gut-punch:
Out of unrest and arrogant pride,
Jesus, I come, Jesus, I come;
Into thy blessed will to abide,
Jesus, I come to thee;
Out of myself to dwell in thy love,
Out of despair into raptures above,
Upward for aye on wings like a dove.
A number of years back, I was asked to fill in and lead the music at the church that adopted me when I was a Baylor student, First Baptist Waco, and I picked this hymn for no better reason than I just wanted to do it. If you know anything about Southern Baptists, particularly Texas Baptists, you know a thing or two about that church's history, and what a grace it was to hear those lovely folks sing this stanza 3. One particular chap, not sure who he was, caught my eye as I was doing my best arm-waving Baptist song leader impression. We got to the third stanza, and he sang, hymnal down at his waist, the third stanza by heart. That was worth the trip right there.
To me, stanza 3 of "Savior, Like a Shepherd Lead Us" is far and away the best.
Thou hast promised to receive us,
Poor and sinful thou we be;
Thou has mercy to relieve us,
Grace to cleanse and pow'r to free:
Blessed Jesus, blessed Jesus,
Early let us turn to thee…
Same with "Abide with Me:"
I need thy presence ev'ry passing hour;
What but thy grace can foil the tempter's pow'r?
Who like thyself my guide and stay can be?
Thro' cloud and sunshine, O abide with me!
Or what about this one:
My sin – oh, the bliss of this glorious tho't:
My sin not in part, but the whole
Is nail'd to the cross and I bear it no more,
Praise the Lord, praise the Lord, O my soul!
The beautiful prayer in Fanny Crosby's "Near the Cross," would be lost without stanza 3:
Near the cross! O Lamb of God,
Bring its scenes before me;
Help me walk from day to day
With its shadow o'er me.
Speaking of ol' Fanny, while not being one of her best hymns, the 3rd stanza of "Redeemed" always seemed like the best one:
I think of my blessed Redeemer,
I think of him all the day long;
I sing, for I cannot be silent;
His love is the theme of my song.
The list goes on and on.
Now that we've counted the cost of omitting stanzas, Baptist friends, let's look at the benefits of cutting them out.
The preacher has more time to preach.
That's all you need to know.
So, you can keep your rules about dancing, drinking, cardplaying, mixed bathing, and everything else. But let's rethink this one, okay?