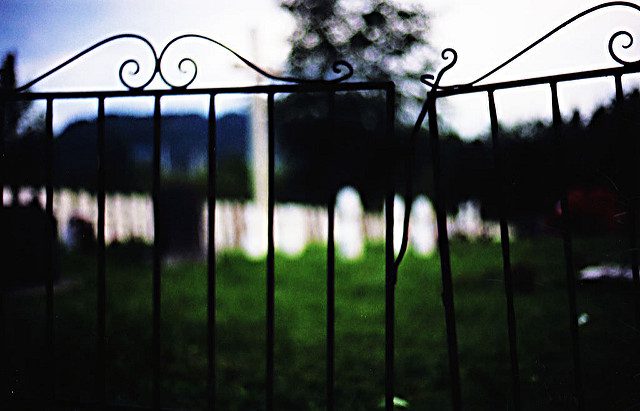 One of the things the baby boomer generation has introduced into the liturgical sphere is the "celebration of life" service. That's quite unfortunate.
A "celebration of life" points to a dead person. A funeral points to the cross.
A "celebration of life" sidesteps grief. A funeral confronts grief head-on.
A "celebration of life" ignores resurrection. A funeral depends on resurrection.
Funerals aren't celebrations of human life. Funerals are proclamations of another life, a life that ended in a death that ended in a life.
That is the life worth celebrating. The music you choose must point to Jesus, not to the casket.
Unfortunately, when it comes to choosing music, many individuals and their families just don't know how to go about the task of preparing for funeral. So here are a few pointers from someone who does this for a living.
Choose Christ, Not Sentimentality
Of all the funerals I've attended or worked, most of them in the free church tradition, I've found that good music is rarely chosen. It usually comes from one of two categories:
1. Non-sacred music.
I'll tell you what, and I'm a huge Frank Sinatra fan, but "My Way" isn't appropriate for a funeral. I'll sing it with you loud and proud at the next karaoke night (as long as we're not in the Philippines!), but
I went to a funeral a couple of years ago, in a church, for a young person who had tragically taken their own life. The final "hymn?" "Hello, Goodbye" by the Beatles. What a waste. I don't blame the blindsided and grieving family; it was nothing short of gross pastoral misconduct. There were at least 1200 people present at that funeral in various stages of sorrow and grief..  Instead of allowing everyone to proclaim their faith and hope in the resurrection of Christ, the pastor allowed them to proclaim:
You say "Yes", I say "No".
You say "Stop" and I say "Go, go, go."
Terrible.
A funeral is a service of worship, and self-laudatory, self-referential, self-indulgent down-but-not out anthems to the chaff of human existence just don't belong.
What is the most common bad funeral choice right now?
Maybe it's the polarizing juxtaposition of the sacred and profane; the Hebrew Bible imagery. Maybe it's the irresistible swing of the twelve-to-the-bar compound meter. One thing's for sure: people really love Leonard Cohen's "Hallelujah."
But just because the refrain features nauseating repetitions of a church-y word doesn't mean it's a Christian song in any sense.
And if you're a person of faith, you'd have to be a real freaking narcissist to have this song sung at your funeral. Seriously, you'd be admitting some sobering truth about yourself. The whole thing is just another anthem to utter human futility.
2. Gospel songs about heaven.
It's easy to see why these would be chosen. The problem is that most of them have nothing to do with Jesus, other than presenting the idea that we will see him when we get "up" to that place we like to call heaven, where we will all live pain-free for eternity. He claims he saw literal examples of what are almost certainly intended to be symbolic imagery, and things that are not to take place until the final resurrection.
Above that, most of them describe literal examples of things that are almost certainly intended to be symbolic imagery, and things that are not to take place until the final resurrection, the life
after
life after death. Where our departed loved ones are now, there are no pearly gates. There are no redeemed bodies. To be absent from the body is to be present with the Lord. They are with Jesus in the place (room, not "mansion," by the way) he has prepared for them. It's not their final destination. Contrary to what you've probably heard, this world, redeemed and restored, IS our home. Songs like "When We All Get to Heaven" and "Sweet By and By" have catchy tunes that might make you momentarily forget your sorrow, but the theology in their words is suspect at best, and they don't contain enough meat to sustain us through the toughest times.
3. Escapism.
Another element that is prevalent in gospel songs and hymns. Jesus didn't come to save us from toils and snares. The gospel isn't about enduring a few more weary days, and then flying away like some intergalactic fowl.
Choose Carefully From The Deceased's Favorites
They are gone. They don't care if you sing their favorite hymns. Which is good, because their favorite hymns might not be the best choices for a service of death and resurrection.
I'm looking at you, "On Eagle's Wings" and "Here I Am, Lord."
So, do you go against your loved one's final wishes? Or, to borrow a line from Walter Sobchak's brilliant eulogy, "what you think their dying wishes might well have been?"
Well, I mean, they're dead, so…
In all seriousness, their favorite hymns might be just fine, but how do you know? Ask yourself these three questions:
Are they about Jesus' redemptive work and final victory?
Are they robustly theological? Simplicity can be just fine, but not vapidity.
Do they proclaim hope in the resurrection?
Choose Congregational Singing, Not Performance
The funeral is for the family, yes, but we often forget that it is also for the whole church. While cousin Jonathan may possess a bell-like, strikingly clear lyric-baritone with enough squillo to soar over a choir of elephants, don't take the privilege of singing good theology away from the congregation. I'm not saying there isn't room for a solo, but there is nothing more frustrating and squelching to worshipers as being denied participation in the funeral liturgy.
Choose To Rely On Your Pastor and Church Musicians
Again, the funeral is a function of the church, not some sort of arbitrary remembrance. Good clergy will know the liturgy, will understand its significance, will probably have attended and officiated many funerals. Good clergy will also know how to tactfully and sensitively guide the planning away from music that is less than idea for the occasion.
Death sucks. It just sucks. And when we lose someone we love, we remember how badly it sucks. And we helplessly face the fact that we can't do a damn thing about it.
It's not supposed to be that way.
But Jesus lives, and so shall we.
And that makes all the difference.
Photo:
Flickr, creative commons 2.0