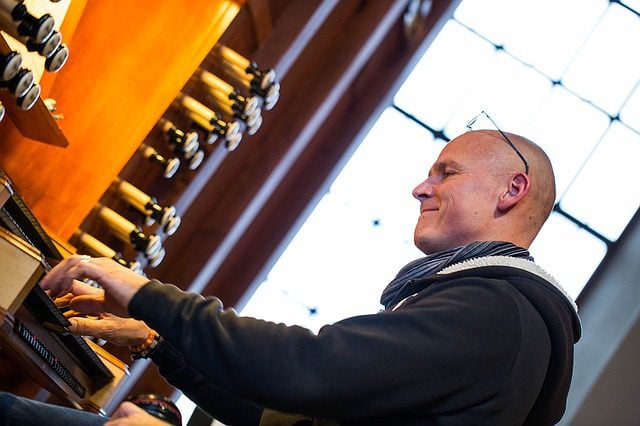 I'm a member of a few Facebook groups for professional musicians, and every once in a while someone will share a job posting for a choir director or an organist or a church music director.
Obviously, I would think this is a good thing. I'm glad there are still opportunities for people like me in churches that value good liturgical music over the jesusy pop fluff that has taken over many churches.
There was a troubling detail hidden in this post, though, and that's why I bring this up. My goal isn't to embarrass anyone, so I won't reveal this particular congregation, but it was a relatively large mainline Protestant church in a major US city with an above-average cost of living index of 113.4 for this year.
Responsibilities include:
Conduct and administer the training choir for the Community Choristers program.
Assist the DOM in rehearsing the RSCM choristers.  (7 rehearsals per week.)
Substitute for the DOM or ADOM in rehearsals and services when away.
Recruit, maintain, and direct the handbell choir seasonally.
Oversee maintenance of bells and equipment, and handbell music library.
Staff singer in all choirs.
Assist in administering a large-scale chorister program, both Day School and after school, including: recruitment, collection of yearly fees, rehearsal logs, rosters, communication with parents of choristers, maintain attendance and calendar, vestment & folder maintenance, holding auditions, training etc.
Assist at all choral rehearsals including choristers and adults as needed.
Collect payments, coordinate lesson registrations, and scheduling for church music school.
Maintain music portions of church and school websites.
Copyright and recordings manager (shared with DOM).
Record keeper for finances, attendance, staff payroll.
Proofreader for bulletins and communications (shared).
Maintain choir library (assisted by volunteers).
Assist in preparing and maintaining contracts for staff and guest musicians.
Organist for the 7:30 a.m. liturgy on Sundays.
Substitute organist on Saturdays & Sundays as needed.
Substitute organist for funerals and weddings.
Required skills:
At least a bachelor's degree in Music, preferably choral or organ music.
Experienced choral ensemble singer.
Strong Experience working with youth choirs.
Experience working with choirs of all ages.
Well-organized and task-oriented administration skills.
Computer desktop publishing skills.
Ability to lead hymns from the organ.
Preferred skills:
Master's degree in Music, choral or organ.
Strong keyboard skills as an organist.
Experience working with youth in an RSCM-style choral program.
Experience with music administration.
Not only is this list more than one person could reasonably handle, it gets worse.
The salary range is $40 to $45K per year.
So let me get this straight. You want an educated and experienced professional, an organist and choral director who is capable of accompanying services, directing choirs, doing admin busy work, who will constantly practice to maintain their skills, and who will work every weekend and on all Christian holidays, and you want to get a bargain in the process?
If this is all the budget space you can manage, you really should be looking for more volunteers.
There are mountainous regions of the country where this salary range might be adequate. Or maybe if there was a housing allowance in addition to the salary. But that doesn't seem to be the case here. This is a city in which the cost of living is well above average.
Now, there may be some of you who are thinking this really isn't a big deal. They're going into church work, so money really shouldn't be much of a priority. Heck, there are some folks that don't think we should be paid at all.
But these are people who have invested at least tens of thousands of their own dollars in learning their craft, and likely more than that. They likely started training for their vocation since their early childhood, and continue doing so throughout their professional lives. They are people who need a safe place to call home, healthy meals, and reliable transportation. Like you, many have spouses, children for whom they nurture dreams.  They hope to be able to put some away for the other end of our lives, as well.
And they're people who have dedicated their lives to service in the church.
Listen, none of us expect to get rich. We're not asking for a huge payday. We simply need to be paid fairly, with the opportunity to take care of ourselves and our families.
And, churches, if you don't pay your musicians fairly, the day will come when you're going to run out of qualified candidates. It's already happening. Organ and choral music tracks are disappearing from music schools. The number of MSM programs in the US is in the single digits. Before you know it, they may disappear completely. The pool of qualified candidates will run dry. No longer will children grow up learning the tradition of sacred music, and none of them will arise to use their gifts in the service of the liturgy.
Then you'll be forced to hire some guy with skinny jeans and a six-string Ovation who thinks he'll be the next Chris Tomlin. You'll pay him like it's a gig. With no one able to direct them, your choirs will disband. The organs will fall silent, collecting dust until they're scrapped altogether. Your liturgy will become a mini rock concert by the house cover band. Your congregation will go from participants in liturgy to casual observers of knock-off entertainment.
And then you'll be really sorry.