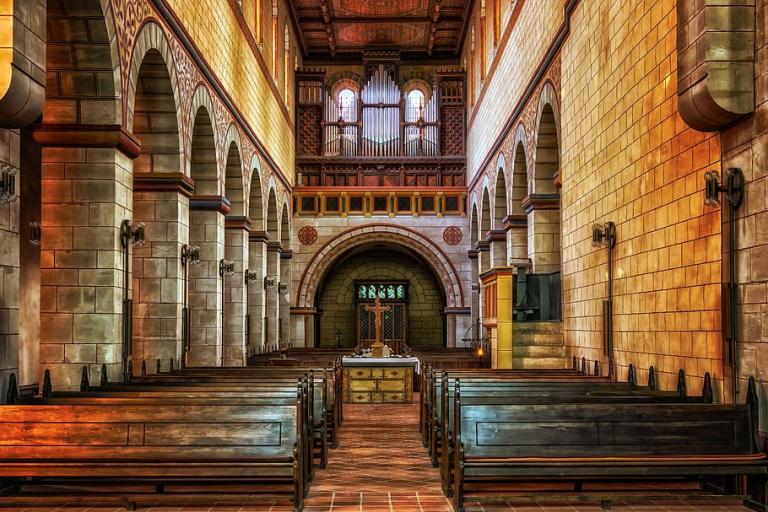 During this time of fear and uncertainty in the COVID-19 wilderness, I've decided to do something a little different. I'm going to be daily using my blog to share texts and videos of hymns that pass along hope and comfort until the restrictions are lifted, and we can worship in our buildings once again. I hope you find them to be encouraging and edifying during this time.

Take care, everyone. Wash your hands. And keep the faith.
Today's hymn is one of the gems to come out of the Sunday School tradition in the 19th century. William Bradbury, one of the most prolific composers of that movement, wrote the tune HE LEADETH ME to go along with this text. Once again, we have the robust Aeolian-Skinner and full-throated choir of Houston's First United Methodist Church, Downtown Campus leading the congregation in song. While most Protestant denominations abandoned downtown Houston during the past half century, First United Methodist has remained, faithfully serving its original community in varying economic climates.
He leadeth me: O blessed thought!
O words with heavenly comfort fraught!
Whate'er I do, where'er I be,
still 'tis God's hand that leadeth me.
He leadeth me, he leadeth me,
by his own hand he leadeth me;
his faithful follower I would be,
for by his hand he leadeth me.
Sometimes mid scenes of deepest gloom,
sometimes where Eden's bowers bloom,
by waters still, o'er troubled sea,
still 'tis his hand that leadeth me.
Lord, I would place my hand in thine,
nor ever murmur nor repine;
content, whatever lot I see,
since 'tis my God that leadeth me.
And when my task on earth is done,
when by thy grace the victory's won,
e'en death's cold wave I will not flee,
since God through Jordan leadeth me.
– Joseph H. Gilmore, 1862