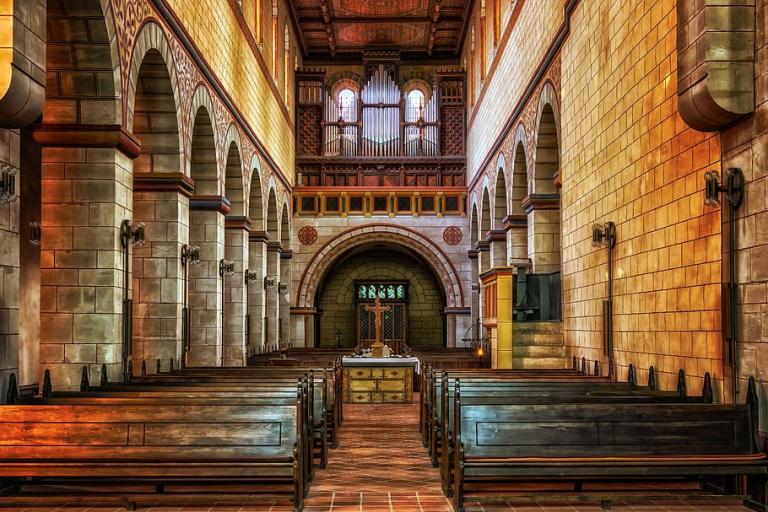 During this time of fear and uncertainty in the COVID-19 wilderness, I've decided to do something a little different. I'm going to be daily using my blog to share texts and videos of hymns that pass along hope and comfort until the restrictions are lifted, and we can worship in our buildings once again. I hope you find them to be encouraging and edifying during this time.

Take care, everyone. Wash your hands. And keep the faith.
It's somewhat unfortunate that this hymn is known as the Navy Hymn, and is thus associated primarily with American patriotism. In fact, this was written as a superb trinitarian text, with stanzas invoking Father, Son, and Holy Spirit, and a final stanza confessing faith and reliance in the most Holy Trinity. Here again is First-Plymouth Church in Lincoln, Nebraska, and the beautiful organ accompaniment of Tom Trenney.
Eternal Father, strong to save,
Whose arm does bind the restless wave,
Who bids the mighty ocean deep
Its own appointed limits keep;
O hear us when we cry to Thee
For those in peril on the sea.
O Savior, whose almighty word
The winds and waves submissive heard,
Who walked upon the foaming deep,
And calm amid the rage did sleep;
O hear us when we cry to Thee
For those in peril on the sea.
O Holy Spirit, who did brood

Upon the waters dark and rude,
And bid their angry tumult cease,
And give for wild confusion peace;
O hear us when we cry to Thee
For those in peril on the sea.
O Trinity of love and pow'r,
Your children shield in danger's hour;
From rock and tempest, fire, and foe,
Protect them where-so-e'er they go;
Thus, evermore shall rise to Thee
Glad hymns of praise from land and sea.
– William Whiting, 1860
Photo:
pixabay