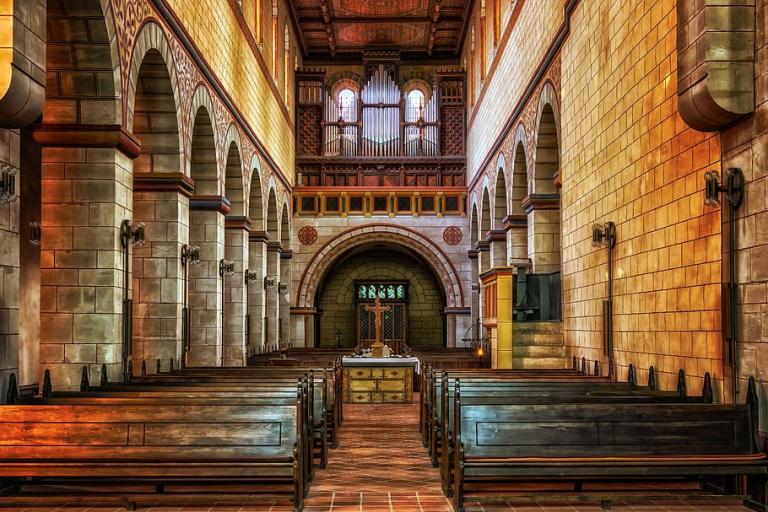 During this time of fear and uncertainty in the COVID-19 wilderness, I've decided to do something a little different. I'm going to be daily using my blog to share texts and videos of hymns that pass along hope and comfort until the restrictions are lifted, and we can worship in our buildings once again. I hope you find them to be encouraging and edifying during this time.

Take care, everyone. Wash your hands. And keep the faith.
Starting today and lasting at least through the octave of Easter, I'm going to shift the direction of Hymns of Hope and Comfort to follow more closely with the liturgical calendar. Of course, today is Palm Sunday, and we turn the corner into Holy Week. This hymn is one of the most poignant and unsettling ever written, and I think is the perfect choice for this day. Of course, it is still a hymn of hope and comfort, because "while we nothing heeded, God interceded."
Here is the congregation and landmark Aeolian-Skinner organ of the glorious Church of the Advent in Boston, Massachusetts. I'll always be grateful for this church and the one Sunday in 2018 I was blessed to worship there. It changed my life. You can read my post about the experience here.
Ah, holy Jesus, how hast thou offended,
that man to judge thee hath in hate pretended?
By foes derided, by thine own rejected,
O most afflicted.
Who was the guilty? Who brought this upon thee?
Alas, my treason, Jesus, hath undone thee.
'Twas I, Lord Jesus, I it was denied thee:
I crucified thee.
Lo, the Good Shepherd for the sheep is offered;
the slave hath sinned, and the Son hath suffered;
for our atonement, while we nothing heeded,
God interceded.
For me, kind Jesus, was thy incarnation,
thy mortal sorrow, and thy life's oblation;
thy death of anguish and thy bitter passion,
for my salvation.
Therefore, kind Jesus, since I cannot pay thee,
I do adore thee, and will ever pray thee,
think on thy pity and thy love unswerving,
not my deserving.
Photo:
pixabay