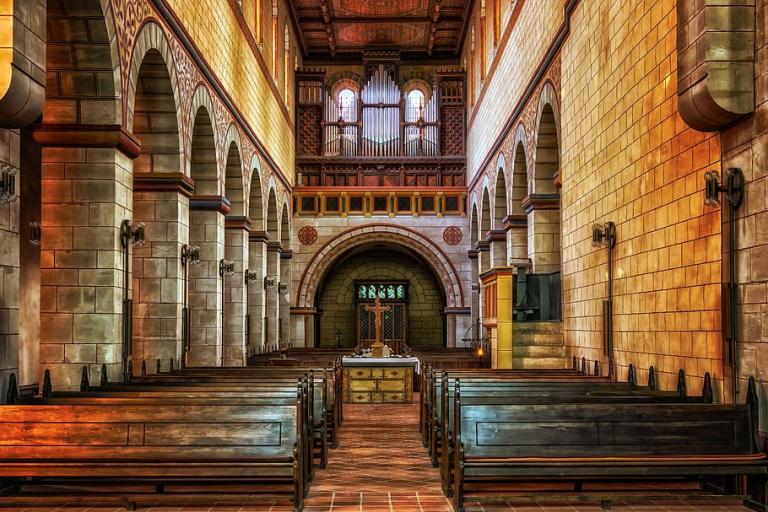 During this time of fear and uncertainty in the COVID-19 wilderness, I've decided to do something a little different. I'm going to be daily using my blog to share texts and videos of hymns that pass along hope and comfort until the restrictions are lifted, and we can worship in our buildings once again. I hope you find them to be encouraging and edifying during this time.

Take care, everyone. Wash your hands. And keep the faith.
Well, okay, so here's a gospel hymn, and one by Fanny Crosby, too! It's not even one of my favorites from this era, and I'm certainly not thrilled by the "sing-along-with-Mitch-Jesusy-jumbotron" screens, but they can really sing, and Dr. John Gearhart can really make that 947-rank Aeolian-Skinner sizzle like a side of bacon in a giant frying pan. (That's not a gulf-moisture thunderstorm, that's the 32-foot Contre Basson!) So here's "To God Be the Glory" written by Crosby, and revived from relative obscurity by the Billy Graham crusades.
To God be the glory, great things he has done!
So loved he the world that he gave us his Son,
who yielded his life an atonement for sin,
and opened the life gate that we may go in.
Praise the Lord, praise the Lord,
let the earth hear his voice!
Praise the Lord, praise the Lord,
let the people rejoice!
O come to the Father thro' Jesus the Son,
and give him the glory, great things he has done!
O perfect redemption, the purchase of blood!
To ev'ry believer the promise of God;
the vilest offender who truly believes,
that moment from Jesus forgiveness receives.
Great things he has taught us, great things he has done,
and great our rejoicing through Jesus the Son;
but purer and higher and greater will be
our wonder, our transport, when Jesus we see.
– Fanny J. Crosby
Photo:
pixabay