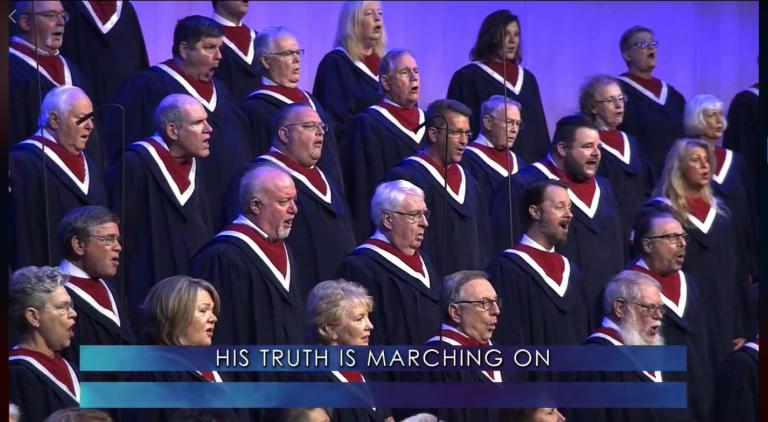 As multiple news outlets have reported, First Baptist Church in Dallas, Texas held their annual "Freedom Sunday" event yesterday on their campus. The observance featured Mike Pence and Ben Carson as guest speakers, but the biggest headline from the event was the unmasked choir of approximately 150 singers which performed numerous musical numbers throughout. The choir was accompanied by a full orchestra on the platform, including wind instruments.
I connected on social media with a woman who sang in the choir, as well as another choir member who was present in the service but did not sing. They were both gracious in their communication with me, even though I disclosed that I am not generally a supporter of FBC Dallas or its leadership's decision to ask the choir to sing during a pandemic.
The woman who sang reported the following:
I was in the choir. All of us had our temperature taken. We all brought our mask but they gave us one so they would all be the same. We wore the masks unless we were singing. We took them off for that and then put them back on as soon as we finished.
There are 300 people in choir when we all sing. There were only 140 today. For each section of the benches in the choir loft 2 people sat on each section so there is space between us.
Practices leading up to today were done on zoom. Virtual choir practice.
She also reported that, while leadership did not encourage elderly singers or singers with health concerns to stay home, they "let them know it was ok if they didn't feel comfortable participating." Until yesterday, only smaller ensembles of 24-32 had been used after reopening for live worship.
I asked if she was aware, or if music leadership at FBC Dallas was aware, of the guidance offered by the medical community, including reports sponsored by professional organizations like the American Choral Director's Association, which has strongly recommended not singing together. She indicated that she was not aware of such information, nor was she aware that many reopening churches are not currently singing chorally or congregationally.
While it appears some precautions were taken, such as the lack of gathered rehearsals, temperature checks, and mask use while not singing, it does not appear that serious consideration was given to distance, considering the singers appear to have been within arms reach of each other.
According to the choir member who did not sing yesterday:
We [the congregation] entered with masks required and temperatures taken. We were at our state's 70% required occupancy and spread out.
Here are a few screenshots of the congregation.
Photos:
livestream screenshots