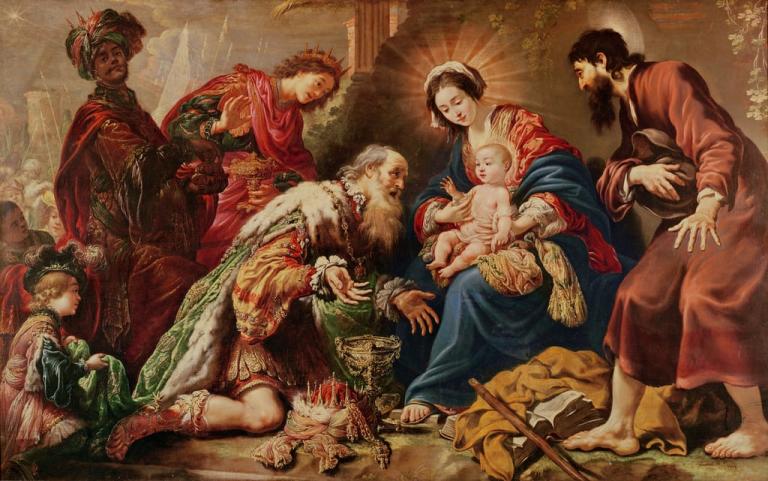 If there ever were a perfect hymn besides those found in Holy Scripture, I think it would be this one. If you learn all the stanzas, you will have learned the most important elements of Christian theology. Looking ahead to the Feast of the Presentation of the Lord tomorrow, which draws the Advent/Christmas/Epiphany cycle to a close, I couldn't help thinking of what it would have been like for Simeon to finally see Jesus, and the line from stanza 2 came immediately to mind: "And the Babe, the world's Redeemer / first revealed his sacred face."
*chills*
Here it is, sung by a conference of the confessional Lutheran group Higher Things, which teaches young people that the gospel is for them, and leads them to a mature faith, which they proclaim in traditional, orthodox, liturgical worship.
Of the Father's Love Begotten
Of the Father's love begotten
Ere the worlds began to be,
He is Alpha and Omega,
He the source, the ending he,
Of the things that are, that have been,
And that future years shall see,
Evermore and evermore.
O that birth for ever blessed,
When the Virgin, full of grace,
By the Holy Ghost conceiving,
Bare the Saviour of our race;
And the Babe, the world's Redeemer,
First revealed his sacred face,
Evermore and evermore.
This is he whom seers in old time
Chanted of with one accord;
Whom the voices of the prophets
Promised in their faithful word;
Now he shines, the long-expected;
Let creation praise its Lord,
Evermore and evermore.
O ye heights of heaven, adore him;
Angel hosts, his praises sing;
Powers, dominions, bow before him,
And extol our God and King;
Let no tongue on earth be silent,
Every voice in concert ring,
Evermore and evermore.
Christ, to thee, with God the Father,
And, O Holy Ghost, to thee,
Hymn and chant and high thanksgiving,
And unwearied praises be:
Honor, glory, and dominion,
And eternal victory,
Evermore and evermore. Amen.
– Aurelius Clemens Prudentius, 348-413;
tr. J.M. Neale, 1854
DIVINUM MYSTERIUM, 13th c. plainsong
https://www.youtube.com/watch?v=EARuhXybBzM


Photo: Adoration of the Magi by Claude Vignon, c. 1619, creative commons 2.0