You know you've got a problem, if you're a university, when people lose track of the sports scandals plaguing your institution. The new documentary, Disgraced (directed by Pat Kondelis) traces the 2003 death of Baylor basketball player Pat Dennehey and the ensuing attempts by head coach Dave Bliss and members of the University to cover it up. In the process, it sheds light on the corruption of much of college athletics, the hypocrisy of Christian institutions like Baylor, and the ways in which the fervent devotion to sports and faith contributes to a toxic environment that has allowed further abuses to take place.
From the SXSW description: Only one time in the long history of U.S. intercollegiate athletics has an athlete murdered a fellow athlete. Solving the murder would normally be the end of the story, but the murder of a Baylor basketball player at the hands of a teammate is where the mystery begins. In 2003 the world's largest Baptist university had the worst team in a power house Big 12 division. To build a more competitive basketball program and thinking he would be a perfect fit, Baylor hired renowned coach Dave Bliss. Just as the entire Waco community was optimistic about the 2003-2004 season, quietly and suddenly, a Baylor player vanished without a trace.
Carlton Dotson and Dennehey were not only teammates, they were apparently fast friends. Which made Dennehey's disappearance and Dotson leaving school all the more bizarre. After authorities spent three weeks search for Dennehey's body, Dotson finally admitted to killing his friend, claiming it was in self defense. This is problematic for three reasons: players and friends say they never saw them argue or fight, Dennehey's wounds show an execution-style killing, and Dotson exhibits increasingly erratic behavior (claiming to be a prophet and suddenly breaking into demented laughter). Dotson is currently in jail for Dennehey's murder, but by the end of the film, no one watching can be quite sure that he is or that, at least, key parts of the story are missing and may never be uncovered.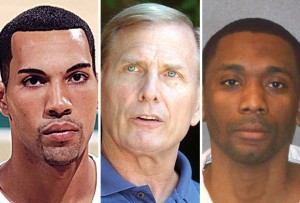 Disgraced takes what seems like an open-and-shut case–on the surface–and weaves a complex narrative that leaves viewers unsure of what or who to believe. But two things are completely clear. The first is that Dave Bliss is a reprehensible person–and probably mentally disturbed. His behavior during Dennehey's disappearance is negligent at best. After Dennehey's body is found, his behavior is nothing less than evil. He attempts to frame Dennehey for his own death, repeatedly referring to him as a rampant drug dealer, something he still clings to even now, without any evidence to support that claim.
Second, Baylor University–like many many other Division 1 collegiate athletics programs–is unwilling to take the hard, necessary actions to clean up their program. Given the recent sex abuse scandal with the Baylor football team, it is clear that theirs is a toxic environment that prides athletics over anything else. This is all even more troubling given Baylor's Baptist Christian heritage.
And Bliss has used that same Christianity to rebuild his career. Suspended from coaching for 10 years for paying players, he is now the head coach for the Southern Christian University men's basketball team. Bliss even wrote a book called Fall to Grace, which is another example of scandal-ridden influencers using Jesus to boost their PR campaign.
On the other hand, Disgraced witnesses another side of Christianity, one that speaks truth to power, or at least is grave enough to expose the powerful's acts of corruption. Bliss' former assistant coach Abar Rouse, stood up against Bliss and recorded his unraveling, did so from a place of deep faith and moral conviction.
Finally, Disgrace doesn't address the reality that so many abuses–and Dennehey's death–could be avoided if the NCAA would get its act together and clean up the rules that govern these athletes'–and coaches'–lives. Men like Bliss take every available angle and advantage to succeed, and if there's one honest comment from his mouth, it's his feeling of getting sucked further and further into that "darkness" in his pursuit to win.
Disgraced will air Friday, March 31st on Showtime.