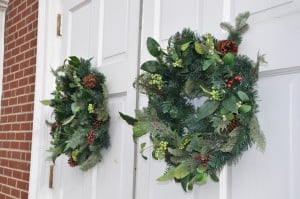 Last week's post on the herb, rosemary, brought requests about other symbolisms of plants in our Christian traditions. The meanings of evergreens in the language of flowers will be new to some of you, and familiar to others who may have read this column before.
During the Christmas holidays I love how the fragrance and beauty of evergreens adds to celebrating this holy season. Many of us add Christmas trees (originally called the Paradise tree), wreaths, or garlands to our homes. Collectively, evergreens for early Christians symbolized everlasting life because their boughs stay green all year.
A wreath, being a circle, has no beginning or end and symbolizes the eternity of God, the immortality of the soul, and the everlasting life found in Christ. The wreath, when decorated with evergreens, which are symbolic of life itself, points to God's gift of life even as the world grows dark and plants die back with the lessening of sunlight hours.
Many kinds of evergreens are used in the wreaths, swags, and garlands that decorate our churches and homes. Each type of evergreen has its own meaning in the language of flowers.
The most commonly used evergreen for wreaths is balsam and it has the symbolic meaning of eager anticipation–a familiar emotion associated with Advent.
Frequently used in garlands as well as wreaths and swags are fir boughs, symbolizing a lifting up, and pine that conveys the meaning of eternal life.
Spruce boughs represent hope in adversity, and isn't that a lovely sentiment when we think of what Mother Mary faced before the birth of Jesus.
Cedar is one of the more fragrant and longer lasting evergreens and indicates incorruptibility and healing, and so it is associated with eternal life through Christ.
Juniper symbolizes protection, and that they do well!  If you've ever had to trim juniper branches you know how prickly and harsh they can be. (A great shrub to plant under windows to ward off intruders!)
Holly carries a few different symbolisms. In the language of flowers it means to foresee as in to understand in such a way as to predict, to prophesize. Holly is also used as a reminder of where Jesus' birth and life will lead; its prickly leaves are reminiscent of the Crown of Thorns and the red berries of the blood He shed upon the Cross.
There are other non-evergreen plants often used in Christmas decorations. Bay laurel symbolizes a just reward, a victory over death. The delicate white-berry mistletoe is said to represent overcoming difficulties. And the unpresumptuous ivy holds one of the dearest images; that of clinging to God. It also symbolizes protection, joy and fidelity…all consistent with "to whom we cling."
Any cones, nuts, or seedpods used in decorations symbolize new life and resurrection, pointing Christians toward Easter.
So now, when you look at your decorated tree, the wreath on your door, or the lovely evergreen arrangement on your table, you know they say more to you and your guests than Merry Christmas.