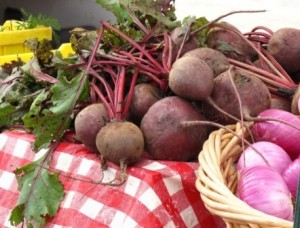 A delightful story from Michelle Dawn Jones, a mother and farmer in Canada.
I love beets. Pickled or plain they please me. I like the greens too. My husband professes a dislike for beet greens, a fact which I can't quite get my head around. This winter, sing the bags upon bags of beet greens in the freezer, we shall find our way to his stomach by so many circuitous routes that when we are gone he will miss us. I smile knowing at some point he will read this and think himself forewarned. Determined do I rise to the challenge.

I did up beets for the freezer this week. Beets aren't like beans, rinsed and tidy. Beets come with dirt and grit and infinite red juices. I can only wipe the oozing red pink from the counters so many times without remembering my mother over a boiling pot of pink.

It was Halloween, a definite NOT holiday for us. My mother the minister's wife had helped the church get an All Saints Day party off the ground instead. Kids were asked to go as a character from the Bible. My mother suggested I go as Lydia, the seller of purple, and promised to make me a purple tunic. By make, she meant dye a sheet and towel the appropriate color and wrap it around me. I can still picture us standing in the aisle at the drugstore reading directions on different colors of purple Rit dye.

At home in the kitchen, my mother stirred my sheet in a canning pot of water and dye, less than impressed.

That's not purple, it's beet red. Could have made this color myself for free, she said.

We dried the sheet and towel, and dressed me for the party. All along the way she muttered about throwing in a few beets for free and $5 for something that could hardly be called purple.

I didn't mind the wrong colored garments so much as being twelve and wondering if I really belonged anymore at something for little kids, but being twelve turned out to be an advantage. The woman assigned to run the evening, leader of all games and parties, upon whom all eyes would be fixed at all intervals requiring direction . . . being twelve, it was hard to miss the horror in my mother's eyes when they saw each other. My awkwardness changed to absolute delight as our host's bright red lips and ample bedecked bosom jiggled over to greet us. A fifty something, slightly overweight church lady host, enthusiastically dressed as Rahab, the prostitute. I gazed at her very fine impression of a hooker and felt glad indeed to have agreed to come. Thirty years later, I'm still slicing beets and smiling.
See more from Michelle at County Road 21.