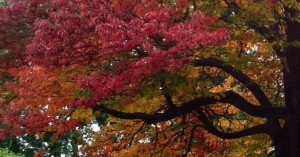 Autumn moves in with its usual quiet grace. I took note the other day that the shrubs and trees have become peppered with color. I smile to myself and think of my own autumn-of-life with hair becoming peppered gray—and the next thing I knew, almost white! I had changed and like the trees, in due season and incrementally.
In Michigan, and throughout the Midwest, there are visual seasonable changes in nature. There are also expectations of what each season brings. The greening in spring and the coloring dormancy before winter, the migration of birds into a region and their eventual return to warmer climates as the temperatures drop, are just a couple of the things I know and anticipate each year.
I like the rhythm of it all, when everything is not always the same. This shift leads me to alter my perspective, to see things differently, to pray in different ways. The energetic prayers of springtime are not the same as those said during times of slowing down entering winter.
I find that age—young or mature—dictates my response to change. The sudden shifts that took place in my youth would be harder to manage these days. I like change in moderation and can adapt well with a show of grace. It is dramatic changes that are jolting; when the scenery becomes unfamiliar and uncertainty skews my view.
There was a time as an adult when I came to fully embrace Catholicism. It was then that I was jolted by the reality of my relativistic decisions as compared to the new scenery of faith, and found myself disoriented in my ethics.
The prayers of my early years, chronologically and spiritually, were vigorous, eager, and thrust unto the Holy with certainty of specified resolution. The prayers that I now pray are much less frenetic and are presented with fullness and patience. I have no less confidence that they are being heard, but my expectations of how they will be answered are less defined.
Like the gentle, slow and steady pace of changing leaves at the end of a season, my prayers are slowly spoken, and hopefully more graceful in their petition. Seasons change as do our lives and how we pray. We live in all our seasons with assurance of the rhythm—day by day, familiar with the pace.
Image by Margaret Rose Realy, Obl OSB. All rights reserved.
(Reprint 10/2012)