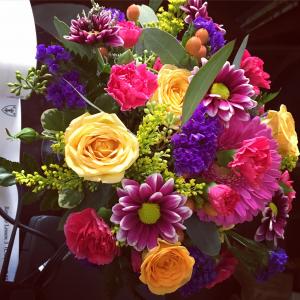 [These arrived at my house shortly after I did–a gorgeous present from a lovely friend.]
Good morning, on this gray and rather mournful day. Woke up feeling very sad and anxious about the shooting in Texas yesterday. In defiance of the haters on twitter, I Am Praying, because it's the best thing to do, along with whatever else comes along. Anyway, we did up a short podcast about my sudden trip, and my dad, and how hard it is to get children to do anything. So grateful for your prayers. So so grateful.
And let me see, how 'bout just a few links.
I must get a copy of this book.
This is completely fascinating.
This is fantastic, and makes me feel better about the huge stack of books I've been avoiding.
I don't usually link myself, but when I do it's because I needed to hear myself say it again.
Here is a helpful talk Matt gave on Friday.
And here is his excellent sermon from Sunday.
Sorry it's not much today, but I didn't have the intelligence to push save on all the reading I did this week. I did finish a couple of books, though, and am working up a robust end of year book notes to help you with your Christmas shopping.
Have as good a day as is suitable for the occasion. Pip pip.