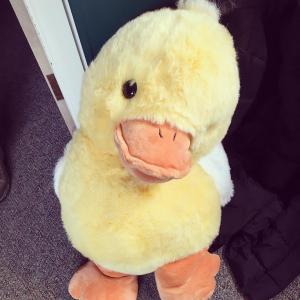 I was going to write about Anthony Trollop's The Warden but I'm going to delay that pleasure to rejoice over the fact that my duck has been restored to the familial nest after almost a decade of languishing in the church bat cave.
In the terrible lonely days following the death of my grandmother, I requested, in the dividing up of her hundreds of wooden and stuffed giraffes, that as my inheritance I would get the big huge one from her kindergarten room. Unfortunately, I was going to the other side of the country and lugging it with me on an airplane was not practical. This secondary loss grieved me immensely. To lose one's grandmother, and then lose her giraffe, was too much.
So I moved east, which was fine because it put me in close proximity to my grandmother's sister, my great-aunt Kathryn who, I am pretty sure, was the bestower of the big duck. The details are fuzzy, cough, in my mind.
Anyway, my first three children loved the big duck, and then we moved in a chaotic frenzy to the new church, having lost our lawsuit with the Episcopal church. Everything was in a fowl muddle all those years ago. We were scrambling to set up an office, flying around setting up Sunday school space, and feathering out some sort of a nursery. I ducked, sorry, decked out a dingy space with a big box of blocks and a junky plastic kitchen, flinging in the duck as a bright comforting propinquity. Time went on and someone with real nursery organizing skills replaced my strange array of helpful items with actual toys children wanted to play with and plunked the duck thoughtfully in a cupboard, and then the bat cave.
And there he lay, a seed planted in the ground, an egg hidden in a nest, a golden sun hidden behind a cloud, a lost duck waiting to be found. And yesterday, the day when I particularly needed this duck, we were reunited. The younger children have been introduced, and the past has been put to rest. Praise the Lord!