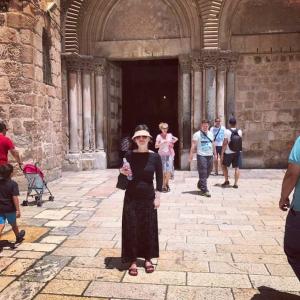 Day is dawning here in Jerusalem. The light gradually emanates up and over the white-stone-dwelling-clad hills and contends with a thick covering of cloud. If this were Binghamton the sun would struggle (that's the Christian word for failure) and then give up, retreating in defeat to some other realm. Here, the sun wins. It is only six in the morning and it is already winning. So much winning. I never tire of all of the sun's winning.
Today we will make our way back to the conference center for worship and a plenary session and then take the enormous lunch box that's handed out every day at 12:30 onto a bus for the afternoon tours. We had a choice between visiting Bethlehem, the City of David, the Holocaust Museum, and the Dead Sea/Caves of Qumran. Wanted to see them all, of course, but being forced to choose we signed up for the Dead Sea. Expect it will be the best thing that has ever happened to me, at least since all the splendid events of yesterday.
Which also dawned bright and fair. I was in excellent position to discover this, having awakened at two, feeling, wrongly, that the hour must really be some time in the afternoon, and remained thus until six when it was too late to go back to sleep. Therefore I set my face, plastered the dark circles under my eyes with concealer, adjusted my name tag, and muscled through the day, determined to stay awake at all cost.
Each day begins with Morning Prayer, enlivened by a Nigerian Choir of splendor and magnificence. If you are feeling tired or confused at all they transport you into a heavenly, exultant, and energetic realm. Even if you can't, in your weakness, properly join in, their voices carry you along. Then bible exposition, a tea break, a plenary, lunch (the aforementioned substantial box including delicious roast beef sandwich and, to my complete joy, a tiny glass jar of olives, eaten perched on the conference venue steps with Matt, who everybody wants to talk to, and members of the Church Society—Lee Gatiss and colleagues, who have brought stacks and stacks of their book on the 39 Articles—which you should buy and read—and also jokes, very funny jokes), another plenary, at which point I succumbed to fatigue, to my humiliation and shame, and began to nod off. Faded in and out to snatches of fascinating updates from around the world and then staggered back to the hotel to collapse in the lounge, reviving my spirits with lashings of tea. Managed, in this way, not to really go to sleep until 10pm, aided by the caffeinated miracle of providence.
The Rt. Rev. Dr. Alfred Olwa of Uganda powerfully preached about the trial and rejection of Jesus and then The Most Rev. Nicholas Okoh spoke astutely about the gospel for today—how the various cultures and regions of the world distort and corrupt the good news about Jesus, and what to do about it. There is a 
GAFCON livestream

 
, which I assume should allow you to watch talks even after they've happened. Twitter was plentiful with excellent Okoh quotes—he is the master of the tweetable line, and you can read Jeff Walton's recap 
here 
*.
The main point, of course, is that Anglicanism is alive and well all around the world. Not the tepid, watered down, wrung out version of the West—the one where it doesn't really matter what you believe as long as you behave properly, or adhere faithfully to the secular doctrines of the day. No, rather the robust, cheerful ancient Christian Anglicanism that is willing to lose everything, to die perhaps, for the only truly good person who ever lived (that's Jesus), for his work, his life, his love, and his glory. The whole day culminated with clips of congregations—full to the brim with children incidentally—from around the world, crying out GAFCON's rallying message, "We want to proclaim Christ faithfully to the Nations." And not just that, we are actually doing it. It's not just the dream wish of helpless modernism. It is happening in every corner of the globe.
And now I must rush. The breakfast bar's astonishing yoghurt selection is calling my name. Also the caffeine.
*Two of the greatest shocks of my life have been the discovery first that Bart Gingrich (who so ably manages this channel) is very tall, and second that Jeff Walton (of IRD  fame) is very tall. Not more than usually tall, but certainly taller than I ever expected.